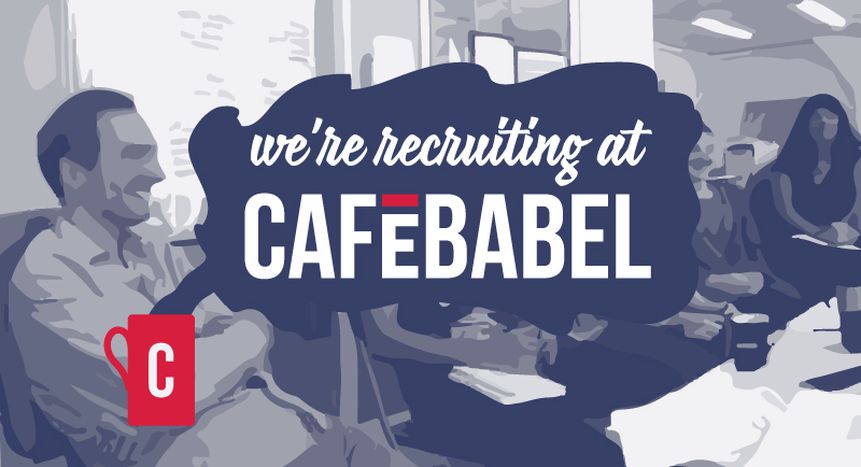 JOB! Cafébabel recruits Communications and Partnerships Officer (apply before 18 September 2015)
Published on
Who wants to take over the communication and partnerships levers of cafébabel, the European magazine? The position is open to all those who dream of leading European communications campaigns and building associative partnerships, especially to enhance Cafébabel's European Network.
Babel International is the non-profit association that publishes pan-European online magazine "Cafébabel."
Created by Erasmus students in 2001, Cafébabel is an online participatory magazine written by young people for young people in Europe.
Available in six languages - English, French, German, Spanish, Italian and Polish - the site is supplied daily by a network of 1,500 authors, translators, photographers and videographers. On Cafébabel, we speak of Europe as the lives lived by young people everyday. Always in a dynamic and quirky style, sometimes fun and sometimes serious, we cover topics of society, politics, culture and lifestyle.
Cafébabel organises events (debates, parties), trainings for the members of its network of volunteers, and feature reports which we send young journalists 'on the ground' in different European capitals. These actions are organised in cooperation with a network of 20 local teams across Europe.
Today, cafébabel recruits:
COMMUNICATIONS AND PARTNERSHIPS OFFICER H/F
(CDI EMPLOI TREMPLIN)
Within the team Cafébabel in Paris, you will work closely with the Executive Director and the Development Officer, and in collaboration with journalists and the graphic designer. You will be in constant contact with network members.
YOUR RESPONSIBILITIES
• partnership management: managing existing partnerships and developing new partnerships with associations and media partners in Europe to promote the Cafébabel brand and attract a new audience;
• European Project Management: writing calls for tenders and calls for European projects in collaboration with the Development Officer, operational implementation of projects, preparation of narrative reports;
• Online Communication: coordination and monitoring of journalists' publications on Cafébabel's social networks (for all 6 language versions), visibility exchanges with partners, adverts. Implementation of mobilisation campaigns for a European audience and developing communication tools in collaboration with the graphic designer;
• Events: organisation of seminars and training courses for members of the network and European journalists, organisation of events (photos exhibitions, parties)
The communications and partnerships officer will put forward proposals for new, innovative and original activities. He or she will participate directly in the development of services offered by the association and its ability to guide our volunteers. He/she will find ways to promote further the youth volunteerism of our network and propose new activities to them.
YOUR PROFILE
You adhere to the values of non-for-profit organisations, you have excellent interpersonal skills and know build support around a collective project.
With previous experience in European project management or associative events, you are able to co-ordinate a project taking into account the respect of deadlines and deliverables.
With a good editorial skills in French and English, you know how to communicate on social networks and have the ability to negotiate partnerships.
A good knowledge of media associations and/or European associations would be a plus.
An international profile is welcome.
EXPERTISE
Online communication: ease on social networks
European project management: project planning tools, budget management, meeting deadlines
Languages: English and French; another European language would be a plus.
PERSONALITY
work in multicultural team associative spirit creativity autonomy
Able to work in multicultural team
A collaborative spirit
Creativity
Autonomy
CONTRACT/BENEFITS
Permanent contract ("Emploi tremplin" from the Ile-de-France region)
Position beginning: mid-October 2015.
Compensation: €21,000 gross per year + meal vouchers + 50% off your travel card (passe navigo).
Location: in the heart of Paris (75002)
Imperative: the candidate must fulfill the eligibility criteria for the 2013  "Emplois tremplins", namely:
• Young job seekers (16-25 years inclusive) across all categories registered at Pole emploi (French job center) for over 12 months
• Job Seekers (26-44 years inclusive), across all categories registered at Pole emploi (French job center) for over 12 months
• Job Seekers: (45 year-olds and onwards)
• People with disabilities
For questions of eligibility, closer to your Pole Emploi job centre.
CANDIDATURE
Send your application by email only (CV and your cover letter in English) before 18 September 2015 quoting: COM in the email subject line, to the attention of Alexandre Heully, Executive Director (job@cafebabel.com) + copy Emeline Mauduit, Communications and Partnerships Officer (e.mauduit@cafebabel.com).
Translated from Job! Cafébabel recrute un/une chargé-e de communication et de partenariats (postulez avant le 18 septembre 2015)