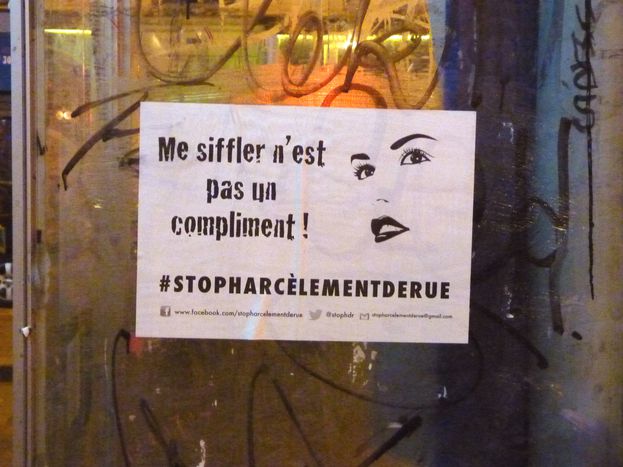 "Jerk-free zones" fighting street harassment. 
Published on
Sick and tired of being whistled at or receiving unwanted compliments in the street, these girls took things into their own hands and created Stop Street Harassment, a community group that gathers together girls and guys in the fight against "jerks". Their goal? To create "jerk-free zones" in bars and festivals, but also more importantly, on the street. A four-person interview.
After their first cam­paign ac­tion on the 8th March for In­ter­na­tional Women's Day and an­other on the 4th June in Rue Jean-Pierre Tim­baud (11th ar­rondisse­ment of Paris), the com­mu­nity group Stop Street Ha­rass­ment came to­gether on Thurs­day 10th April to con­sider their lat­est ac­tions. With twenty-odd peo­ple pre­sent at the time, the as­sem­bly de­cided to adopt "Jerk-free zones" as the cam­paign name. Heloise, Del­phine, Ce­cile and Stephanie talk about their aims and their vi­sion for ha­rass­ment-free streets.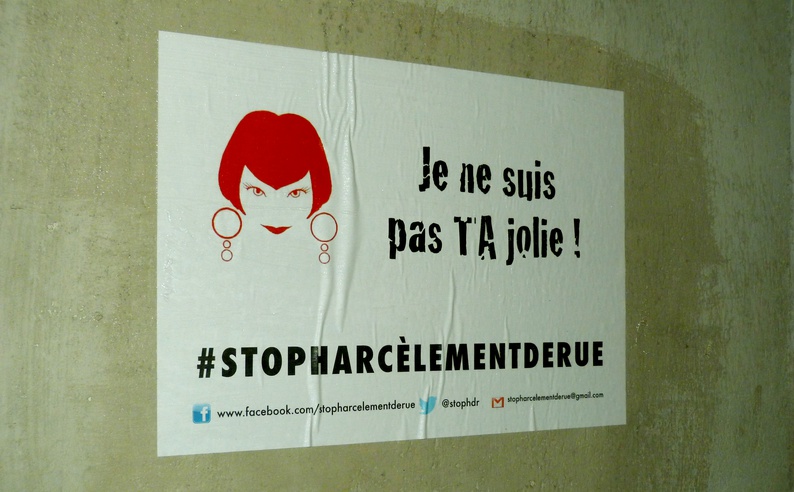 cafébabel: How do you react when faced with "jerks" that ha­rass you?
Cécile: That de­pends. Some­times I turn it into a learn­ing ex­pe­ri­ence ex­plain­ing to the guy that this isn't the way to suc­ceed in se­duc­ing a girl. But the last time I didn't know what to reply. I was with my baby and some guy asked me if he had a fa­ther. Even at 8 months preg­nant I was ap­proached, they re­ally have no lim­its!
Heloise: It's just be­cause you're a girl. We all have our per­sonal re­ac­tion mech­a­nisms but I don't know what works best!
Stéphanie: Me, I al­ways go straight for ag­gres­sive­ness. Be­fore I ig­nored the com­ments, but I haven't worn a skirt for two years.
Del­phine: I play the good buddy. When they ask me if I had a good night, I ask them how theirs was. I aban­don the "thanky­ous" and other po­lite words, in other words, I go to­tally for de­sex­u­al­i­sa­tion.       
cafébabel: Where did the idea for the com­mu­nity group come from?
Héloïse: Daniele and I were dis­cussing how we feel we can't re­late to the fem­i­nist move­ment. We wanted to do some­thing con­crete that would ad­dress a large pop­u­la­tion but that would be out­side of the per­pet­ual fem­i­nist de­bates. We started off with a mo­bile ap­pli­ca­tion and then we launched the group on Face­book and Twit­ter on the 23rd Feb­ru­ary. Sev­eral peo­ple joined us and we were able to put up our first posters in Paris on the 8th March. They read "I'm not your pretty thing", "My skirt doesn't mean yes" and "Whistling at me is not a com­pli­ment". After that there was an opin­ion piece in the Lib­er­a­tion the 2nd Avril and a new protest on the 4th April. We went into the bars on Rue Jean Pierre Tim­baud and asked them if they would allow us to put up our posters. 8 ac­cepted, as well as 12 oth­ers in the Bastille.
cafébabel:  What is your goal?
Del­phine: We want to make it un­der­stood that an un­wanted com­pli­ment, al­ready counts as ha­rass­ment.
Héloïse: And that wolf-whistling isn't a com­pli­ment! We want the dis­course of de­nun­ci­a­tion that is com­mon on the in­ter­net, like on the blog Paye ta shnek (a blog where women post com­ments said to them in the street), to ap­pear at street level. The aim is for fe­male clients to no longer be pestered in bars and also that they can speak out about it if nec­es­sary. These places should serve as ex­am­ples to show that a "jerk-free zone" is pos­si­ble!
Cécile: Even if we have fem­i­nine at­trib­utes, we are not va­cant sex­ual ob­jects. There is a sense of good­will that is ab­sent when a guy throws a com­pli­ment at you in the street or if he hits on your in­ces­santly, as if you were a piece of meat!
Stéphanie: We would love to to­tally erad­i­cate street ha­rass­ment, but it's so wide­spread that firstly we just want to re­duce it. The real goal would be to have both men and women re­act­ing when they are con­fronted with this type of ha­rass­ment.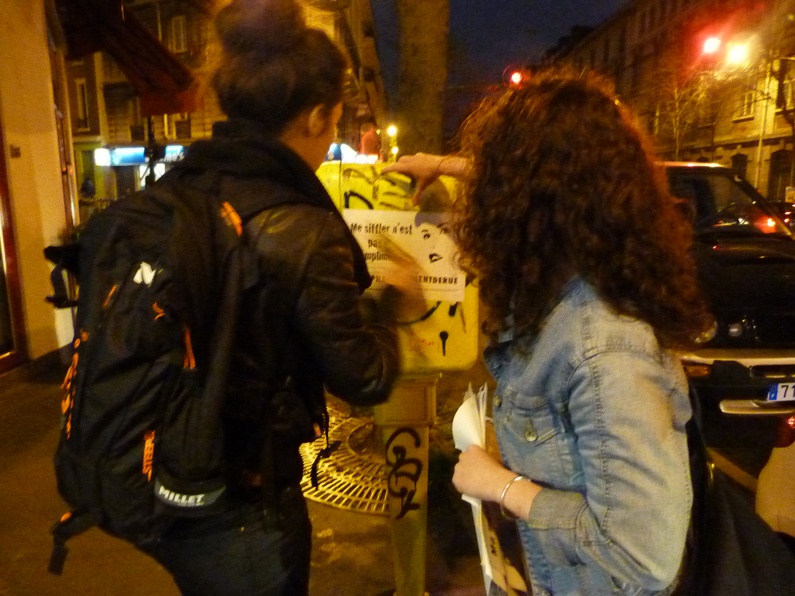 cafébabel: What are your next cam­paign ac­tions?
Del­phine: We would like the bars to re­ally get in­volved. For the mo­ment, they just make it known that they sym­pa­thise. But the next step is to make ma­te­ri­als and posters avail­able to cre­ate aware­ness in bar own­ers and their staff. We are also think­ing about hav­ing "jerk-free zones" in fes­ti­vals as well as on pub­lic trans­port, in places where ha­rass­ment is fre­quent.
cafébabel: Why did you firstly tar­get bars?
Cécile: They were the eas­i­est rep­re­sen­ta­tives to ap­proach and they offer good vis­i­bil­ity be­cause both the ag­gres­sor and the ag­gressed are often found in these places.
Del­phine: It's also a pas­sage to­wards the street, a place to re­claim. A lot of women don't go out alone be­cause they have in­te­grated the idea that it is dan­ger­ous for them.
cafébabel: How do women react when you speak to the about the com­mu­nity?
Del­phine: At our re­union, lots of them said that they had be­come con­scious of the mag­ni­tude of this phe­nom­e­non after hav­ing gone over­seas or to re­gional provinces.
Cécile: A lot of women also said that they feel alien­ated by this type of be­hav­iour and that they changed the way they dressed be­cause of re­marks that were made to them.
Stéphanie: Some of them thanked us for hav­ing opened up the di­a­logue on the sub­ject be­cause they didn't know what to do.
Cécile: In gen­eral they are super re­spon­sive! All of us have met a jerk at least once!
Translated from Des « zones sans relou » contre le harcèlement de rue