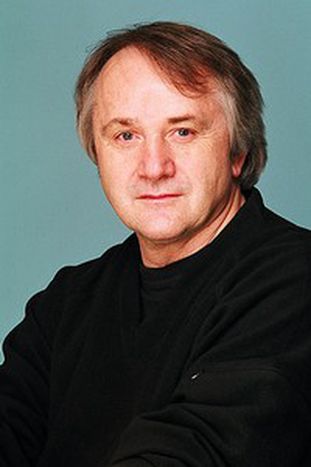 Ivan Rajmont - from Kundera to Stoppard
Published on
The Czech stage director explains why 'European theatre' doesn't fit snugly into one box
Victory is fresh; it has been two days since Ivan Rajmont, 61, was awarded the Max Prize 2006 by the Prague Theatre Festival of German Language. It's a move recognising the best Czech ensemble stagings of modern German drama. Rajmont collaborated with the National Theatre in Prague to direct Arthur Schnitzler's 'The Distant Land'(written in 1911).
We meet in his cosy office in Kolovrat Palace, in Prague's city centre. 'It´s about the transition period. Something just ended, but a new era hasn´t begun yet. It´s about searching for the values which would help me to orient myself in reality,' says the director as he sips his green tea, recalling his award-winning reworking of the German playwright´s drama.
Contemporary stage don
Rajmont greets me smilingly, dressed down in a black T-shirt and jeans. He is positioned between his computer and mini Hi– Fi system, and a mobile phone in his hand completes the image - he lives in contemporary reality. He's by no means the dark-coat wearing eccentric intellectual, living in his own world of ideas, that I had stereotyped in mind.
It suits his role as one of the most significant contemporary stage directors. In the seventies, he directed Milan Kundera´s play 'Jacques and His Master' (written in 1975), lauded by critics as one of the best Czech productions in recent history. He was the first director of the National Theatre in Prague's drama department after the six-week Velvet Revolution in 1989, and still works there. Next month sees his first staging of Sir Tom Stoppard´s latest play, 'Rock 'n' Roll'.
(Non) European theatre
When we talk about contemporary European theatre, he rejects the term 'European theatre'. 'It's not a homogenous description - and it would be bad, if it were,' he says. 'Every country has its specific culture – Italian theatre is different from that of Hungary, which in turn is far removed from Norway. But it´s important for us to meet one other. I find the international Theatre European Regions festival, which takes place annually in Hradec Králové (a city in the eastern Bohemia region of the Czech Republic), fantastic. Germany and Austria are the best representatives for culture. They invest a large amount of money into those projects which are not as profitable as they first appear. In the Czech Republic, people think too much about the rate of return on investments,' explains Rajmont.
'Theatre is the mirror to its narrowest surroundings,' continues Rajmont. 'It looks on life from different angles, or shows audiences the same problems that we all share. In those moments where theatre is the most outspoken, it becomes 'world theatre'. It touches aspects which recur repeatedly in the same situations all over the world,' continues Rajmont, seating himself further back in his armchair.
Do it best, by doing nothing at all
Milan Knížák, executive director of the National Gallery in Prague, once argued in a cafebabel.com debate that the best thing the European Union could do for European culture was doing nothing.
'Knížák says let it exist. I´m saying enable it to exist,' replies Rajmont. 'Every institution tries to cultivate its surroundings. But should culture be established that way, it could also speak its mind against that institution in the future,' he says, adding that the EU should enable European culture to progress independently. 'Today we also tend to forget that 'culture' means the things which form our everyday life.'
When I ask him about the main influences of contemporary theatre, he briefly glances towards a poster of one his successful stagings. He muses a while, and answers, 'we're going through a strange era for theatre. Contemporary drama is focused on the minorities, on the most visible problems. A global view doesn´t exist. There are plays for four or five actors – but plays for twenty people costs a lot of money. And nobody is prepared to give you such a great amount today.'
Politicians often discuss 'Old' and 'New' Europe, and the unique history experience of the Central and Eastern Europe states – and indeed what those countries bring to paneuropean discourse. It's interesting if the realm of theatre in those states can enrich theatre activity in rest of our continent too. 'I think it´s impossible to create such blocks as 'west' and 'east' in the context of 'European' culture. It´s true that totality creates a certain pressure, but the responses to that pressure are different in every state,' explains Rajmont.
And the paradox where freedom of speech brought huge overproduction to the realm of culture, and thereby harmed it too? 'That´s the same with the books – there is a mass of waste in bookstores, but also many wonderful books. It´s the same with everything – there is a huge mass of waste today, and it´s very hard to assort it,' he ponders, before an anxious glance at his watch signals that it is time to go; he to lecture at the Academy of Fine Arts, and me to regather my thoughts on whether European theatre can ever really be unified.