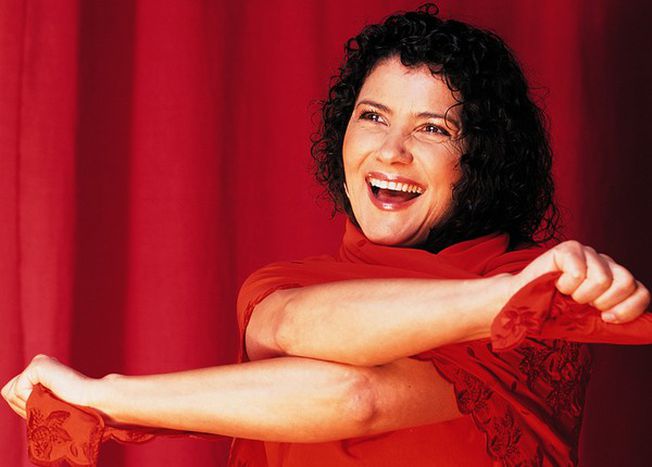 Iva Bittová: 'Czech politicians only think about becoming famous'
Published on
But the violinist, singer and actress loves Obama. Daughter of a Slovak mother and Moravian father, she recently moved to New York from the Czech Republic. At fifty, she embodies a type of music which is sophisticated, warm and popular
The multi-talented Czech artist, Iva Bittová, has come to Parma to close the Parma Jazz Frontiere mini festival. Dedicated to pushing the boundaries of contemporary music, it has been running for over ten years. It is designed to be an exclusive concert: entry into the Palazzo San Vitale in the town centre is by invitation only - places are strictly limited.
Mist in the Po Valley
We meet at five in the afternoon, immediately after rehearsals. When I arrive the doors are locked and the entrance is deserted. The atmosphere is typical of a winter Sunday in the rural Po valley: small groups gather together in cafes or press their faces against the glass of clothes shop windows. Mist begins to build up in the late afternoon, enveloping houses, churches and people. A journalist who works with the festival organisers manages to let me into the building. Bittová is moving around on a tiny stage as they carry out a sound check. She politely asks the technicians for some small changes; she is not too happy with the lighting, which is too bright, and she says that it would be nice to scatter a few flowers around the stage and light some candles (if you can get hold of them on a November Sunday in Parma).
From popular folk music to the avant-guard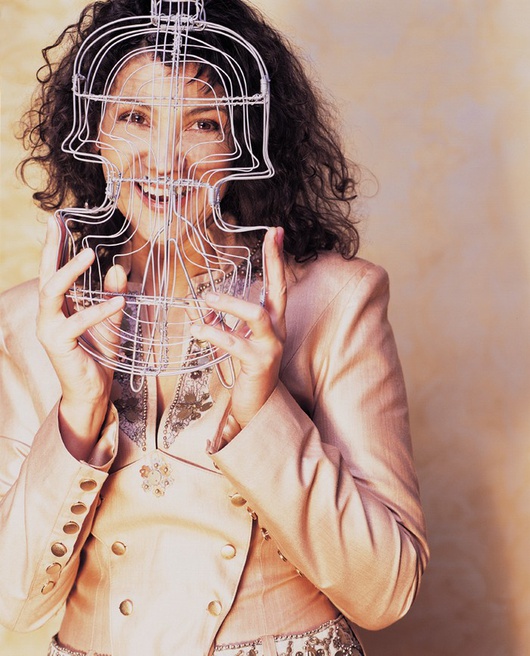 Iva Bittová's expression is never still, changing with every look towards the tiny crowd permitted at rehearsals: she takes her violin in her arms and plays a folk song with bravura. Bittová belongs to an ascetic genre that is attracting more and more musicians, even from pop music: from Bjork to Joanna Newsom, from Vashti Bunyan to Bat for Lashes. Time and time again, folk-singers have discovered the pleasure of fusing their own musical roots with modern trends: genres inspired by strange creatures that dwell in forests and barren landscapes, where agnostic mysticism flourishes in the absence of social pressures. However, more often than not, they are simply chasing the ephemeral bandwagon of alternative folk.
This is not the case for the Czech musician; she is a globally recognised point of reference for cutting edge sound and the sophisticated landscape of contemporary music. She has remained true to her own ideas throughout her twenty year career, avoiding deviation at all cost, while feeling 'as free as possible when I'm on stage so as not to make the public feel tense.' We're in her dressing room, next to a fruit basket over flowing with grapes. 'This means that I have to practice for a whole year for each new song, sometimes even longer. But that's my favourite part: practising and developing, elaborating on things.' She has developed this mindset over the course of her career, although it has not always been smooth sailing.
Bittová was born in 1958 in Bruntál in communist Czechoslovakia. Encouraged by her father, she began to play the violin at seven years old. He was a highly skilled, multi-talented musician who wanted her to play 'like a boy'. She developed a love-hate relationship with her instrument. 'When I was fourteen, I told my family that I would stop playing the violin because it was too much for me and that I would never play again. I became dedicated to acting,' a pursuit that, over the years, would lead her to appear in ten films and receive numerous awards (among the most recent, the prize for best actress at the Slnko V Siete festival in Bratislava and at the Syracuse International Film Festival in New York, for the film Tajnosti, or 'Little Girl Blue', 2007).
Staying pure
At twenty-two, Bittová realised that the life of an actress was not for her and she returned to the violin. This, she says, was the most important moment in her life. Her father's Hungarian background (Slovak-
Hungarian with Roma ancestors) might have influenced the future of Bittová's artistic career, since classical music was first contaminated with elements of folk by Béla Bartók and Zoltán Kodály, both Magyar. The violinist also added her own natural desire to experiment into the mix, starting with singing, 'which is completely free, without any formal training.' The result was unprecedented, if only for her expressive power. 'It is my language. Many people say it's original, but I don't think like that, I don't pigeon hole myself. When I get the chance, I enjoy working with jazz musicians just as much as classical ones, and even DJs, but I always try to stay pure, unlike 80% of people who just try to make music enjoyable and popular.'
Her new home in the USA has proven to be a richly stimulating environment. She moved to New York in search of the tranquility that she had lost back in southern Moravia, a region affected by uncontrollable urban development. She has found it again in upstate New York, in a house surrounded by forests and pastures of grazing horses. She lives with her youngest son, Antonin, who is also a musician; another player in a family defined by its music. I ask about Bittová's views on European affairs and Czech politicians, such as the eurosceptic president Václav Klaus. 'There are many aspects of politics that I don't understand, but I know that politicians spend a lot time and energy trying to appear in newspapers and the media. They only think about becoming famous, that's what annoys me. But I love Obama!' I struggle to put my tripod and video camera back into my bag (she asks me if I need any help). I have to give the concert a miss because there is another rail strike; I run to the station, hoping not to miss the last train.
Translated from Iva Bittová: folk dalla Cecoslovacchia a New York