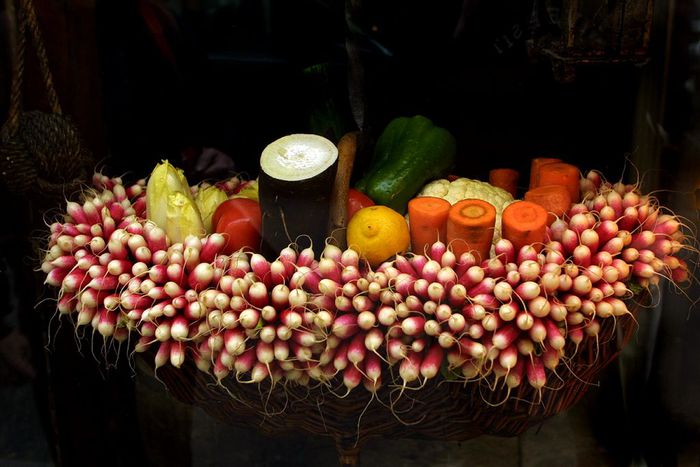 It's Sunday morning, let's go to Marché du Midi!
Published on
By Marnix de Witte, translated by Elena Fanetti One way or another, the sun shines almost every Sunday in Brussels. Do not stay indoors, go discover what the city has to offer. Our tip of the week: Moroccan pancakes with mint tea at Marché du Midi (or Zuidmarkt in Dutch). Every Sunday, the space around Midi railway station is filled with about 450 stalls.
This is the largest market in Brussels and, people say, one of the largest in Europe. The atmosphere is exotic and multicultural, the smell of the Mediterranean floats in the air, representing the life in the streets around the station.
At first, you will be overwhelmed by the loud screaming merchants who hurl a constant stream of promotions to the crowd. Clothes, various 1-euro items, plants, flowers, herbs and spices… basically, you can find anything here. The most interesting part of the market is the food area that is located on one side of the railway track.
What you will mostly find are fruits and vegetables, fresher and tastier than anywhere else in Brussels and, above all, they are affordable! If you have a big appetite, or live together with others under the same roof, the purchase of boxes or crates is advised-the prices are unbeatable! You can also try out something exotic: your eyes will definitely pick out fruits and vegetables that you have not seen before.
At the end of the morning, do not miss the main attraction of the market: the Moroccan pancakes. Located next to the train tracks, the shop is easily noticeable by its large supply of olives, peppers, sun dried tomatoes and other appetizers. Here, in exchange for a few euros, you can get a delicious Moroccan crêpe topped with goat cheese, honey, olives and vegetables that will satisfy the most demanding. Finish it off with fresh mint tea, and the next fifteen minutes you will believe you are somewhere far from Brussels.
Cafebabel recommends that you enjoy the sunny Sundays in Brussels by having a lazy morning at the Marché du Midi.