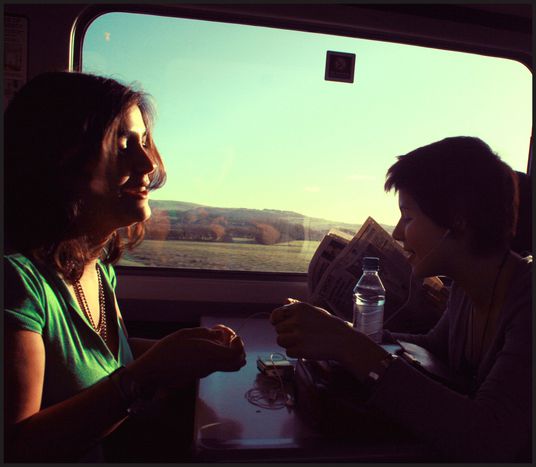 Italian open letter to save Erasmus, the factory that produces Europeans
Published on
In her mind at least, Francesca has never left her 'erasmus' city, Paris. Back in Rome, the Italian languages and literature student has written this appeal to the erasmus generation; in its 25 years of existence the student exchange programme has moulded almost two million students across Europe, and is now threatened with closure
Francesca says it herself; she has itchy feet. Her journey from Rome to Paris on the erasmus student exchange programme was just one in her short lifetime. She was born in Potenza, a small town in the south of Italy (a region where Francis Ford Coppola comes from - ed), and has since travelled to and around Austria, France, Poland and Canada. It's why she felt moved to write an appeal to her fellow erasmus generation, and to anyone who has contributed towards defining the characteristics of this breed novelist: from the Italian novelist Umberto Eco, to the French film which marked the phenomenon, Pot Luck ('L'auberge espagnole', 2002).
Factory for young Europeans
Since it was set up in 1987, 1.7 million students have benefitted from the European university exchange programme. Today the 'European community action scheme for the mobility of university students' (Erasmus) appears to be a prime candidate to have its funding cut. The European dream seems to be collapsing into oblivion and the distance between Lisbon and Warsaw continues to widen.'Anyone who is awarded a grant in the next six months is liable to receive inadequate funding,' goes the cry of fear reverberating from the student unions against the European parliament's blind austerity. 'Cutting the erasmus programme means reinforcing the idea that the current European union is only capable of creating profits for the banks,' claims Giulia Rodano of the Italian values party (IDV). The project which had been started with the aim of strengthening the kind of European identity that business and political relationships had not succeeded in creating, risks becoming just an old advertising slogan.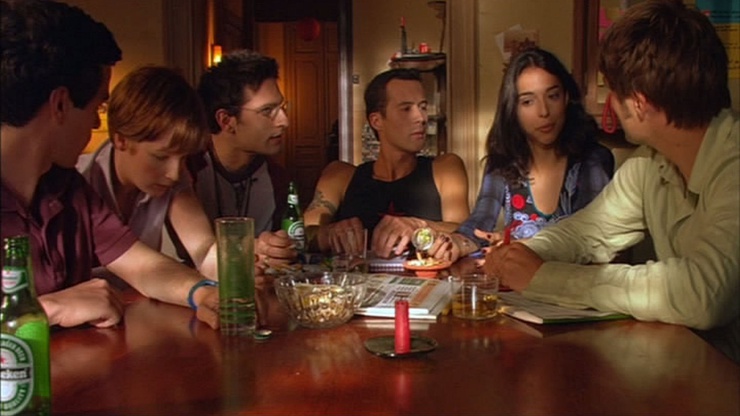 Imagine that there is no end to the destinations that are potential meeting places for countless students coming from elsewhere, bringing their own stories with them and finding themselves drawn into a network of all those other lives. The erasmus programme is really set up to enable 'meetings between young people before they start to think about such encounters purely as the means to an exchange of capital,' states British journalist Philip Oltermann in The Guardian. This confirms as such the inevitable transnational love affairs which led Umberto Eco to talk about a 'sexual revolution'. Mobility and knowledge are the policies of the programme, which takes its name from one of the greatest thinkers of the renaissance, Erasmus of Rotterdam, and which was born of that same desire to unite populations and countries, a desire which has now been weakened by crisis.
Culture not war
To see, for example, a Scottish woman and a Flemish man communicating in Spanish, the language of a foreign land, means creating movement between the populations of the old world, who are tethered to their culture in the name of poorly-concealed national pride. Such an exchange of knowledge is essential to a melting pot, but appears unlikely to occur in a Europe dominated by tacit, hierarchical relationships in the name of a presumed cultural superiority, the result of historic evolution. 'We are now Europeans through culture, having been so for years through fratricidal wars,' Eco reminds us in the Italian newspaper La Stampa. What better means could there be to remove those walls which are still standing between east and west, north and south? What better means to overcome false stereotypes, as well as the innate diffidence in nations which have learnt, since the fall of Charlemagne, both to isolate themselves in order to gain strength, and to affirm their own identity victoriously on defeating another nation?
Read 'Istanbul's Yeditepe, Halic universities: erasmus stick together on campus' on cafebabel.com
Anyone who has the opportunity and the courage to set off, leaves home with a suitcase full of naivety and prejudices and returns with the expression worn by a traveller who has been there, seen it, done it, made mistakes and who has been moulded by the experience. The traveller who had set off rather reluctantly into the unknown experiences an uncontrollable excitement at the idea of setting off again. This state of mind becomes permanent. The 'erasmus generation' is recognisable by its young people's expression alone. It comprises those who set off by chance, to an extent, and in search of novelty without realising that that experience would leave its mark on their lives. This is no discriminatory class, but merely the state of mind of anyone who has learnt to experience things and to know himself before becoming blinded by habit; who has learnt to think by himself and for himself, and who manages to see other people as if in an aleph of whirling, simultaneous visions.
Strengthening our frail European identity
It is anyone who recognises himself in Xavier (Romain Duris), a French erasmus student in Barcelona and the main character in Pot Luck, a film by Cédric Klapisch in which Xavier switches languages and mixes up the vocabulary during a conversation, without even realising it. It is anyone who is really living out the European dream and who thinks of Europe as one geographical, political, economic and cultural area without borders. It is anyone who has, at times, felt lost in the babel of bureaucracy, of foreign languages and of cultures which are semi-familiar, perhaps idealised. Anyone who has felt like a foreigner among foreigners, deafened by countless voices and disorientated by the infinite number of routes along which life can take him. And who has then, amid those routes in foreign towns, routes that are often unfamiliar even to their own residents, found himself, has seen his own self walking alongside other selves, recognising himself as being one of them, equal in diversity. As a means of strengthening a European identity that is currently still superficial, the Erasmus study grant, which enables students to form strong bonds during their shared experience of being uprooted, is surely a good starting point. The extent to which the Erasmus programme has contributed towards strengthening our frail European identity, which is even more jeopardised during a time of crisis, has also been recognised by Brussels.
The Erasmus study grant, which enables students to form strong bonds during their shared experience of being uprooted, is surely a good starting point
'Europe will never be the United States of Europe' with a single language and a single newspaper, as Umberto Eco keeps confirming; we have got too many different languages and cultures and local realities that cannot become global ones by a retrospective unity. Variety and diversity constitute our riches. Isn't French author Pierre Bayard right in saying that we are all also aware of the books that we have not read, and that we have repercussions from the cultures with which we are unfamiliar? The traveller who discovered erasmus one day, then went on to discover Europe, that new land in which he had always lived, that land which is nevertheless showing the signs of wear and tear. Slowly and gradually the European identity will become increasingly deep-rooted.
Francesca Ferri, Erasmus student 2011/2012, Sorbonne Nouvelle, Paris
Image: (cc) Jim Blob Blann/ James Blann/ flickr; in-text (cc) cinedb.avcesar.com
Translated from Erasmus, chiude la fabbrica degli europei