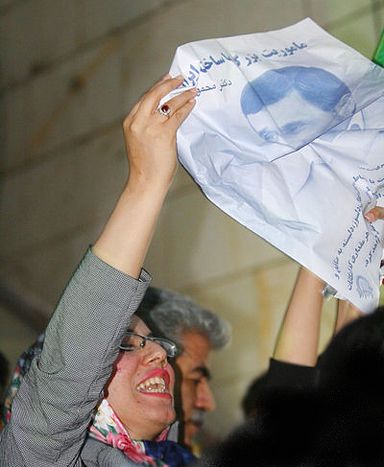 Iran's colourful presidentials: Facebook, fights and first wives
Published on
A week earlier, the EU campaigned to mobilise voters for the European parliamentary elections. Opposition candidates know that a similar effort may be their only chance of beating the incumbent in the Iranian presidentials. Iran's campaign officially rounds up as former PM, military chief and mullah go up against Mahmoud Ahmadinejad on 12 June. Overview
The upcoming presidential elections in Iran have enjoyed international media coverage as Iran retains its hold on world affairs as a key, if volatile, player. As the most influential body in Iran – it approves parliamentary bills, and its six jurists and six theologists are elected every half a dozen years – it's the guardian council which has approved three candidates to run against the incumbent. Mahmoud Ahmadinejad is seeking a second term in office on 12 June. Should he fail, he will be the first Iranian president to be unseated. His main contender is reformist Mir-Hossein Mousavi, Iran's prime minister during the Iran-Iraq war from 1981-89. The two outsider candidates who could split the vote are conservative former head of the revolutionary guard (aka the elite military branch) Mohsen Rezai and reformist, former parliamentary speaker Mehdi Karroubi.
May campaigning: censorship
But sceptics question the importance of an election which they say changes the face of an established political regime, but not the state of play. While Ahmadinejad is portrayed somewhat as a madman in western media, his Chavez-esque campaigning style remains popular; he is praised at home for defending national pride and is adored by the devout rural communities. However his rivals  point to his failure to deliver on economic promises and his bellicose foreign policy.
The test-fire of a medium-range missile was done on the official day that campaigning began on 21 May
Accusations target Ahmadinejad's cross-country trips and usage of state funds. Reports have emerged of handouts to the poor ranging from potatoes to actual cash, in an apparent attempt to 'buy' votes. But campaign videos and a series of six western-inspired televised debates reports a more professional, slicker election trail. The reformist candidates openly object to biased election coverage in which the state broadcaster IRIB – the main source of information for Iranians – showcases Ahmadinejad's 'achievements' while censoring the other candidates' campaign activities. On 16 May the pro-Mousavi Yas-e-no ('New Jasmine') daily was closed, leaving a handful of reformist papers in circulation. On 24 May, social network Facebook was blocked. Though re-opened three days after, it was widely considered as a political move, since it serves as a forum for debate and has bolstered the opposition (reformist) support base. And the well publicised test-fire of a medium-range missile - done on the official day that campaigning began on 21 May - captured the hearts of patriotic Iranians and the eye of the west. What better gesture to say 'I will defend you' to an already insecure public?
Ladies first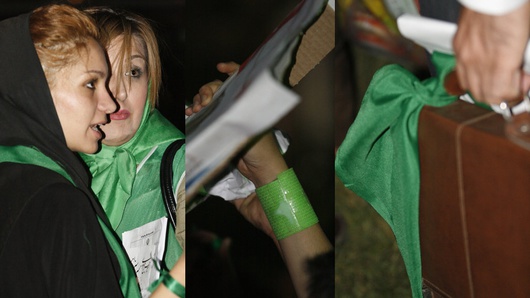 Some also suggest that the American Iranian-Japanese journalist Roxanna Saberi's timely release from Evin prison on 11 May served to portray the 'compassionate' side of the current administration. In any case, the opposition have had to come up with innovative campaign ideas. 'Text campaigning' promotes the reformist bid, inspired by the popular pastime of forwarding jokes by text message. In an attempt to counteract the visible dominance of Ahmadineajd's campaign, green ribbons adorning wrists and handbags represent the centrist candidate and main rival's campaign in Tehran. As the elections draw closer, campaigning in the streets, like Moussavi's green wave, has reached a level unheard of in recent years.
And though himself uninspiring as a speaker, Mousavi has emerged victorious in his innovative electoral campaign, with his wife becoming a visual element in the campaign. Articulate and successful, Zahra Rahnavard is Iran's second ever female chancellor (of Al-zahra university) since the 1979 revolution. Iran's bid for a Mrs Obama is not only inspiring women voters, but also the young; crucial in a country where over two thirds of the population is under 30. With no tradition of 'first ladies', Ahmadinejad's anonymous other half has rarely been seen, though the German tabloid Bild claimed to have photographed her in June 2008. 
A game of two halves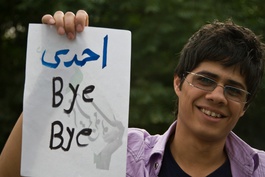 This could be anybody's race to win, but it will ultimately depend on a different sort of campaign; as a parallel effort to mobilise voters. Ahmadinejad is sure to secure at least 10 million votes through his loyal supporters in the army, the Basij, the parliament and the rural areas. With a low voter turnout, this figure could give him the 50% majority he needs to win in one round. Aware that only a second voting round is likely to oust the incumbent, the reformists need a high turnout to effectively force this show-down.
This isn't an easy task; just as sceptics abroad doubt a new figurehead can oversee a shift in policy, many Iranians think likewise. They are reminding voters that even the so-called 'varagh sefid' ('blank sheet' protest votes) will only serve the status quo. This drive has also targeted the diaspora whose votes could be pivotal. The talk in the streets seems to predict an Ahmadinejad–Mousavi second round face-off with the incumbent clinching victory. But if the malcontents mobilise, the high turnout could upset this forecast. On the 30th anniversary of the Iranian revolution, defenders of democracy will hope to see the masses stand up in the same spirit and be counted.
Check out the Islam in Europe blog