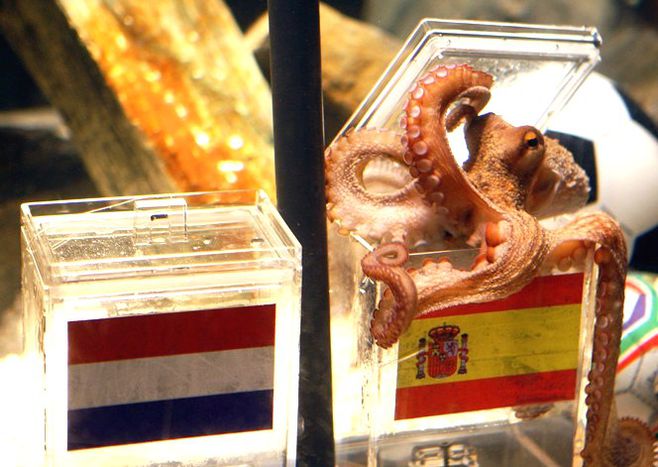 Interview with psychic Paul, the German octopus
Published on
A slew of tanned, ageing football commentators aside, he was the only one to correctly predict Spain's glory and Germany's shock defeat at the 2010 world cup. He's also an octopus, hatched in 2008, who lives at the Oberhausen aquarium in a North Rhine-Westphalia zoo. Three questions for the eight-armed prophet
My encounter with the tentacled oracle takes place shortly after the disappearance of a Singapore-based seven-year-old Malaysian psychic parakeet named Mani: is it a stroke of octopus genius? He's in great demand in the prognostics market, so I go and surprise him in the bath.
cafebabel.com: Paul, how are you feeling now that the 2010 fifa world cup is over?
Paul the octopus: Glop glop! So-so. I've been made several offers. Everyone's stuck to my suckers now. I just have to lift a tentacle and they fall at my feet. A whole online sports gambling world cropped up just before the world cup but the octopus is the boss. You see? It's hilarious. With the dough that's rolling in and the connections it's bringing me, you might as well say I have eight long arms in French (avoir les bras longs or 'having long arms' - having connections).
cafebabel.com: You waged against the Mannschaft winning the semi-finals against Spain, which led to Germany coming third in the world cup against Uruguay. You went against your nation...
Paul the octopus: Yes I wanted to kick myself. But look, I was asked to choose between two boxes. If I had just stayed in the middle, what else would I have had my beak for? I'd sacrifice myself, but don't push it either. Anyway have you seen the state of Joachim Löw? It's a guy who manages the German side wearing an ugly fetishist sweater and picking his nose on the sidelines - I'd always make my choices from my head, not from the heart. Aah, the love for the team...I wouldn't ever have gotten my own Ballack shirt customised with eight holes in time anyway, because I'd already have been fried by then.
cafebabel.com: How do you explain your correct predictions on Germany winning seven games in the world cup, as well as Spain winning the final against the Netherlands?
Paul the octopus: Talent! No, I'm not going to lie to you: the more I win, the better I'm fed. I know how to keep secrets, and I'll follow my heart and my sucker and maybe just pop out a bestseller in ten years. It's all top secret. Mani the parakeet wouldn't stop going on and on and repeating the same prognostics I'd already made. We had to wait until the final on 11 July before realising that he was a crook – he predicted for the Netherlands to win! Did you see what a massacre the final was:
In short, all I know is that it makes others envious. It seems that the town of Carballiño is on my tentacles: 38, 000 euros they want to rent for me to appear at a Spanish food festival mate. You get how easy it was for me to choose between two boxes at the bottom of a pool? I won't be needing to make that quick buck anymore.
cafebabel.com: But ...
Paul the octopus: (interrupts) Ssh. I already know your question.
cafebabel.com: ...
Image : ©Alvaro Felipe/ Flickr
Translated from Paul, le poulpe aux œufs d'or