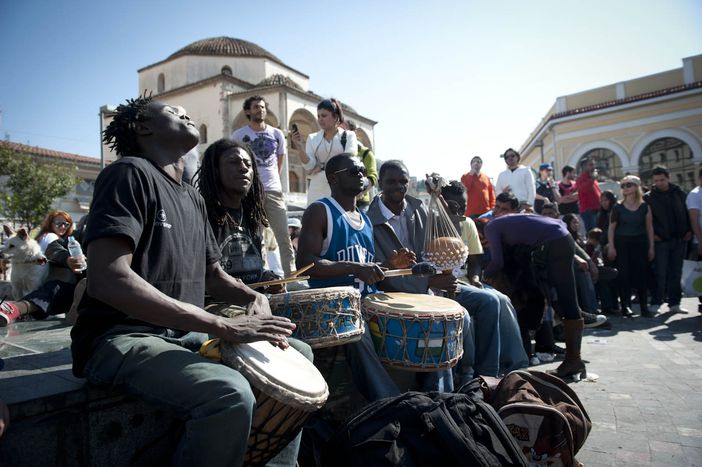 Inner-city immigrant-city Athens: look Greek, look lively
Published on
A crisis can exacerbate a 'them versus us' feeling, especially with elections on the cards. Half a million undocumented immigrants* makes Greece one of the three European countries (alongside Spain and Italy) to be the first point of welcome for asylum seekers. Far right parties milk the 'foreigners-out' cow, whilst a general mood of mistrust reins
5am on a Saturday morning, near the suburb of Tavros in south-west Athens, is a parallel world to the venue we have just left; the fourth night of an event organised by 'Busking in Athens' at the Spirit Bar in the trendy Psyri neighbourhood celebrates the Greek streets and their multiculturalism through music and jam sessions. A taxi ride away  - during which the driver warns us to hide our bags and 'think with our heads and our legs' - asylum seekers queue every Saturday before dawn to present their as-yet official papers to the police. Last week the police opened their doors to their guests at 6:30am; tonight, we've missed the spectacle; the first and maximum of 20 were taken in at 4am. A dispersing mass are thus waiting for the first bus 'home', putting their flimsy documents away: a stamped thirty day residence permit in Greece and an asylum application requiring passport photos, as well as the names and professions of parents.
Reggae and blues
The immigrant issue in Greece is two decades old, starting with a successful wave of legal migration of the neighbours. 'The Albanians came out of the wilderness of the Hoxha regime, and easily blended into Greek society and economy after a while,' remembers architect Konstantinos Labrinopoulos. He moved to the upmarket Kolonaki district from the formerly trendy Psyri neighbourhood after the rise in violence near Omonia, one of the three central squares forming a triangle of Athens city centre with Monastiraki and Syntagma. 'At the beginning of the decade the Iraqis, Afghans, Bengalis, Pakistanis started coming. It was different from what we knew.' Yet most illegal immigrants don't want to stay in a crisis-struck country with a system lumping in migrants with asylum seekers either.
Back near Tavros, three Congolese men have queued unsuccessfully for two days, surviving on water. They talk with vivacity. 'I need papers to see my 22-year-old sister,' says Coco, nodding to the prison across the road. The men home in close, chins cupped against the cold, when they hear what we have to offer on the climate, pointing out the nicety of the EU legislation: an asylum seeker has to stay in the first European member state they have set foot in. There is a thirst for knowledge. As one man's wound is pictured by members of amnesty international, who are crowded around as they turn up in their cars, Muhadin asks why 'this media' always turns up when nothing changes; it's his eighth week here. The 26-year-old from Bangladesh would move on to Denmark. As we walk the long shaft of the prison to the back, the police are camped in three or four cars, smoking in the dark, the light of their small office on behind them. 'Come back next week. You didn't miss anything, it's over,' say their different voices.
Supermarket sweep
'Greece used to be and still is a very closed society, what with nationalism and a dominant orthodox religion,' says Thanassis Kurkulas, one-time candidate for the far-left party Syriza. We meet in 'paradise', he jokes, referring to Six Dogs, an outdoor bar with low lit trees and strings of wooden benches and hammocks across three sandy levels. As we speak, neo-nazis are storming a mathematics department in the suburb of Zografou. The computer engineering professor, brandishing his tiger lighter as he chain smokes, founded the independent Sunday immigrant school in 2004, which has 500 students and 150 volunteers; its offices are in the 'dangerous neighbourhood' of Aghios Panteleimonas. 'Less immigrants have approached us in the last two years –at least 90% are leaving because of unemployment.'
Read 'Illegal immigrants ignored by Athenians' on cafebabel.com
On 29 March the citizen protection ministry announced that 30, 000 illegal immigrants would be hosted, in true Greek spirit, at over thirty 'reception centres' around the country concocted out of disused military buildings. The communist party quickly branded them 'concentration camps'. At Omonia that day, a television crew film the sweep of illegal immigrants. Off another corner a small protest is being preparing for Greek jobs. It seems busy, but not tense. A group of policemen unwittingly direct me to the self-funded Afghan community centre, which Yunus Mohammadi has run since 2007. He was one of 11 people to get asylum in 2004; 6, 000 had applied. 'It took me a month to cross Pakistan, Iran and Turkey as a political refugee in 2001,' he recalls. 'On my second day here I got a job. The Greek community was more hospitable then.'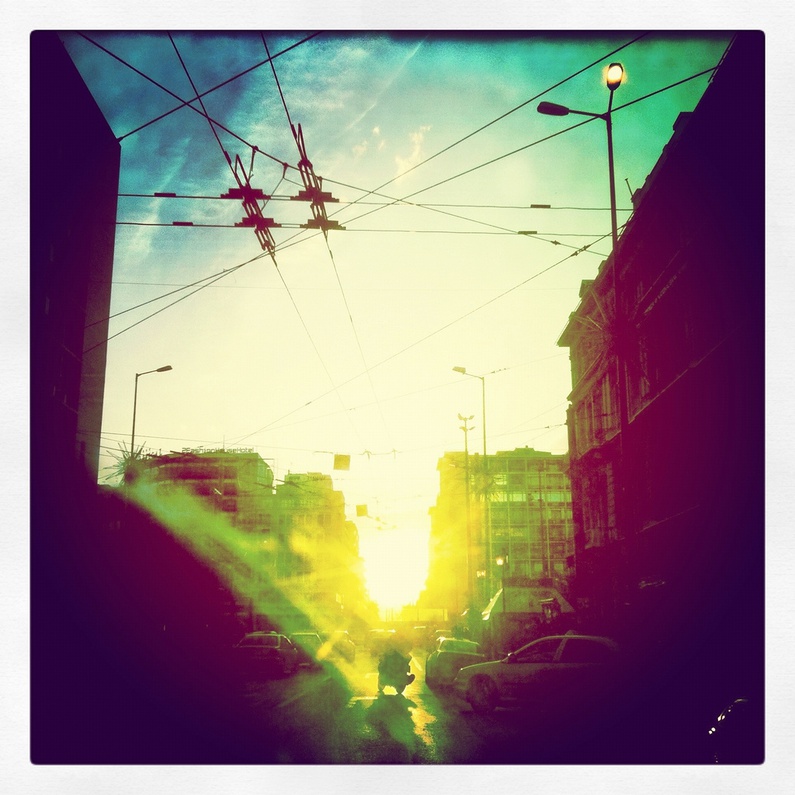 Even Yunus, who works in a hospital, expresses a wish to return. 'I like Greece, but I don't want citizenship.' He mourns the lack of information. 'We try to show Greek people that our religion is not Al-Qaeda or terrorism; that's not what we escaped.' Yet manning the desk outside, Wazi explains how he left Kabul after his father was killed for 'working for unbelievers'. The 22-year-old's trajectory to Athens nine months ago was marked by carrying a dead body across the mountainous border to Turkey, after Iranian officials threatened to burn them if not. 'I was shaking getting to work today,' Wazi smiles, referring to the 'police kidnappings' happening just metres away.
Desperate times, racist measures
In September 2011, a fellow Afghan asylum seeker two years older than him was assaulted in Aghios Panteleimonos. Mention Greece's first hate crime trial to go to court since 1999 to someone, and you'll in turn be reminded of the Greek man stabbed to death as he was taking his pregnant wife to hospital in May 2011. Such stories also feed the success of the ultranationalist golden dawn ('chrysi avgi') party, which won a seat on the municipal council in 2010. 50% of the electorate 'betrayed' by the socialist and centre-right coalition partners pasok and new democracy, 'supporters of the troika', will vote for this type of radical party. Golden dawn needs a threshold of 3% to enter parliament, and whilst we are in Athens, is polling well above at 5%.
'Taking the bus with the asylum seekers, I resist an attempted mugging by a 'headless' man near Omonia metro station'
The final caveat is that neither the majority of Greeks nor illegal immigrants seem to know that once in Greece, you stay in Greece - until repatriated. 'They say they will deport me,' murmurs Muhadin from Bangladesh in the witching hours of the morning. 'Is it true?' Those Greeks who are in the know are frustrated by the Dublin II regulation, which stipulates that member states have to assess applications for their asylum seekers alone, and return undocumented migrants and refugees to Greece for processing if they are caught in other EU countries. Taking the bus with the asylum seekers, I resist an attempted mugging by a 'headless' man near Omonia metro station. In the desperate rush before sunrise, I can't tell if he was Greek, or an illegal immigrant, or otherwise.
*Hellenic foundation for European and foreign policy, Eliamep
This article is part of the fifth edition in cafebabel.com's 2012 feature focus series on multiculturalism in Europe. Many thanks to the team at cafebabel.com Athens, especially Elina Makri and Giorgos Kokkolis
Images: © Colin Delfosse for 'MultiKulti on the ground Athens' by cafebabel.com/ outoffocus.be; Omonia square (cc) 612gr/ flickr/ 612.gr