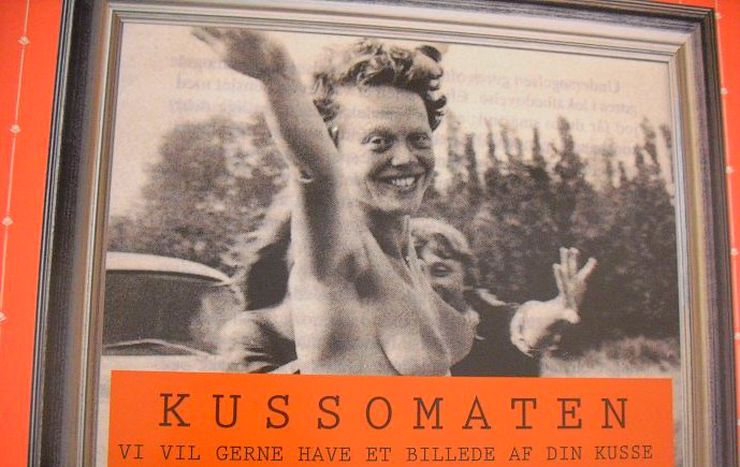 Ingenious genitals? Copenhagen's Kussomat 'vagina photo booth'
Published on
Is it the final frontier of Nordic feminism? The photo booth project aims to increase awareness amongst about their own bodies. Promoted by the K. Fond Vinders association, the idea was launched in celebration of international women's day on 8 March at the goethe institute in Copenhagen
Why build a booth to take pictures of one's own 'Kusse'? These Danes are obsessed with sex. Maybe we shouldn't be surprised, since they're not exactly beginners in using sexuality for other purposes. Remember the Karen affair in 2009, when a single mother was looking for the father of her baby via youtube? The video message was later outed as a marketing trick from the Danish tourist office...
Three years before that a road safety campaign drew attention (and then some) for its pretty topless girls holding speed limit signs by the roadside. Despite the questionable ethic behind it, the purpose was convincing. However 2011's Kussomaten have nothing to do with all of this. Beate Detlefs is a member of the K.Vinders Fond, an association committed to raising awareness of and the dissemination of women's issues. As promoter of the project, she explains that this is a vagina booth built by women for women. Interview.
cafebabel.com: Beate, tell us what Kussomat is all about.
Beate Detlefs: Since 1975, the K. Vinders Fond association has regularly published a book called Woman, know your body ('Kvinde kendo din Krop'). Last year, we decided to bring something extra to the book and we came up with the idea of having a photo booth for feminine private parts. Through this photographic collection we intend to awaken women to the knowledge of their own bodies.
cafebabel.com: Is there still a need for this kind of post-sexual education in the twenty-first century?
Beate Detlefs: In 2010, research published by the Danish family planning association ('Sex and Samfundet') revealed that 29% of the young women in the sample analysis did not feel comfortable with their own bodies and especially with their private parts. Many young women believe they are ugly or abnormal because their points of reference, found on the internet for example, are often retouched photos or photos of women who have already undergone plastic surgery. It is ludicrous to think that a woman considers having an intervention only because she has no idea of how diverse the morphology of the feminine body really is. In this sense, the Kussomat intends to show young women that which normally remains unseen. Unlike male organs, which are more visible, women's genitals are more difficult to grasp as they remain hidden. The project aims to promote awareness and acknowledgement of our sexual morphology, which is varied and not necessarily abnormal or sick. We are convinced that, seeing so much diversity, young women could regain confidence in themselves and in their sexuality.
cafebabel.com: Who built the actual Kussomat?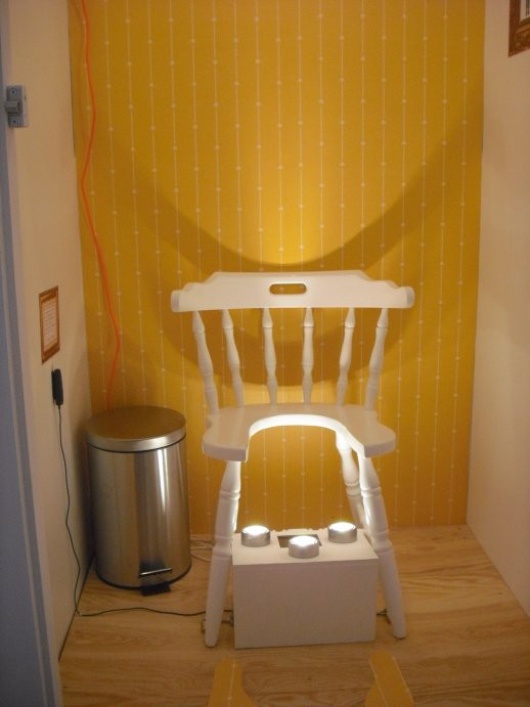 Beate Detlefs: We placed an advert in a project database at the faculty of engineering at Copenhagen university. It didn't take longer than twenty minutes before somebody had already signed up for the task! The Kussomat was created by four enthusiastic female engineering students who threw themselves into the project and finished the product in only three weeks.
cafebabel.com: What has the public reaction been?
Beate Detlefs: Some have qualified us as the average feminists who are nostalgic about the let's say 'lush groins' of the seventies. This is not the case - there are shaved and unshaved vaginas in the Kussomat collection. The problem is not shaving, but rather the psychological disorders that may result from this practice.
The general reaction has been positive. For 8 March we gathered seventy photos. The women who contributed came from beyond the borders of the goethe institute. Another seventy photos were taken while the booth was installed in the faculty of medicine here in Copenhagen. The Danish media mentioned us widely and joked about us, of course, but the real message is out. A certain feeling of respect for the cause has transpired. Now foreign media are approaching us; we never expected this popularity.
cafebabel.com: Will Kussomat be going on tour?
Beate Detlefs: Yes and no. In June we will go to the Roskilde Festival, but the booth has been made from cheap materials and it is quite fragile. We don't even know if it will withstand the rain at the festival. It also received an offer from San Francisco, but going on tour with the Kussomat is not our priority. We prefer to use our small budget for other projects. The idea was released, well received and has made an impact, that what's important. I mean the target we set was one hundred photos. And some gentlemen have even asked us to make a similar booth for men...!
cafebabel.com: That would then be a 'Pikomat', right?
Beate Detlefs: Yes. But our official answer was they should build it themselves...
See Denmark's daily Politiken cartoon reworking of a Pikomatten and Kussomaten images on the foundation website
Images: © Beate Detlefs
Translated from Kussomaten, "vagine fotografiche", l'ultima frontiera del femminismo nordico!