In memory of Simone Veil
Published on
"I am not one of those who fear the future", compelling sentence extracted from the Simone Veil's speech "The men also remember it" in 2004. Here the viaticum left as a legacy by this Woman that we have just brought to her penultimate home. Simone Veil will take her legitimate place in Panthéon among the other great men and women of French Nation.
From the Diane's blog*
Two roses for Simone Veil throughout the audience which accompanies her after the republican tribute. One for the daughter who is there and one for the mother who cries distantly. She could have been either our mother or our grandmother while she was it in a certain way.
Even though she is in her late sixties, the Simone Veil's power of words is undeniable ! Thanks to her many of us may live and look to the future. In 1974 it's very hard to abstract her singular journey during this interrupted moment where she put all her energy and her soul into a combat reflecting her appalling childhood. But this critical time will remain forever in the head of the women who are rightly entered the never completed equality which would just be a meaningless word without her courageous action.
Others have said all about her pains, her revolts, her daring and her intransigence that she kindly conveyed us or that we guess behind her elegance, her modesties and her silences. Her sons have just paid emotional and loving tribute to her. Therefore permit me to extract the Jean's thinking relating of an educational reflex : pour a jug of water on the head at the right time can certainly deter a budding phallocrat ! Many of resigning mothers could evidently learn some lessons from this.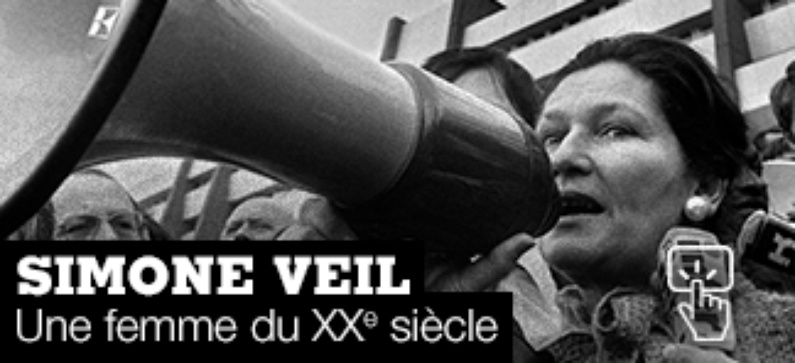 More than fourty years ago, Simone Veil concluded that "life should keep its supreme value" then letting national representation give all its significance, in grandeur and abjectness. The abjects of course were minority and so much the better. But they have evolved and apart from the alertness there is no guarantee that they come back with their underhanded attacks to reopen the debate however closed in public places.
The fascists' karma is well known. They don't make a stand and sit down by the stern in Strasbourg or elsewhere during the tribute from Europe since there's nothing to be gained and that nothing happens. The distress of the women has never been their priority. They have this thing in common with the crazy extremist groups of the world. Naturally it must throw them into the same pot.
In 1943 Marie-Louise Giroud was the last beheaded woman at the Petite Roquette prison because she helped her fellow women. We called her an "Angels Maker", foul religious hodgepodge whereas "justice" was fueled by letters of denunciation originating from the society. But this final and definitive death penalty didn't seem to change very much with reality. A debate should therefore take place. Magnificently brought by this woman, the legislation will have to come to the assistance of half of humanity. She rightly said : "Men, women and the global society were concerned by this file". "In full knowledge of the letters received I knew that the attacks would be incisive because this topic didn't make sense to some sincere philosophical and religious convictions. But I didn't never expected to neither the hate that I would rise to, nor the monstruosity of the few sayings from some parlementarians, nor their unthinkable crudeness about me. A language of brutish soldiers."
Simone Veil was compared to the nazi tormentors...What assault for this concentration camp survivor ! Feit, Liogier, Hammel, Bas, Doctor didn't hold no regard for her. They were taking pleasure in their bombast and their vulgar audiovisual shows. In the interview she gives to Annick Cojean, Jean-Marie Daillet, the worst of them is named bluntly : he is known for his unspeakable comment about the human embryos thrown into the crematory oven. These people deserve to sink in the big void. Don't talk about History.
In the end Simone Veil has herself the honour of coming in the Panthéon with the French people's affection who recognize the incarnation of the greatness.
We miss you already Madam Veil. God bless and keep you alive in the real men's hearts.
*Diane, books-lover
Translated from En souvenir de Simone Veil