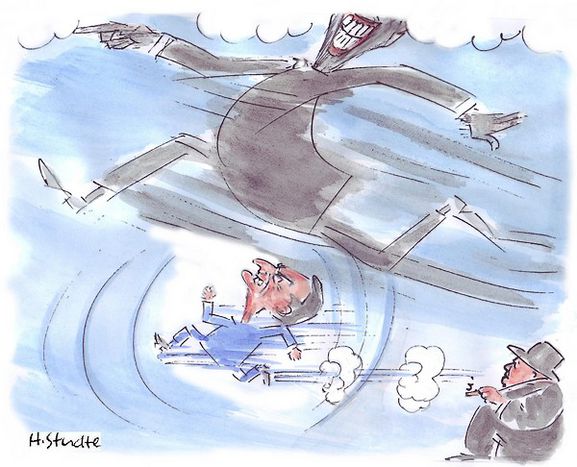 If Obama runs a country, Sarkozy jogs it
Published on
Translation by:
emily
All heads of state have their little nicknames - some kindlier and some harsher than others
From London to Strasbourg, Barack Obama keeps running and running; after all, that's how the English describe a president 'running' a country. French counterpart Nicolas Sarkozy usually takes a nice jog: there's nothing like it for staying in shape! Just after he was elected president in 2007, he was oft snapped jogging with his deputy, Francois Fillon. The Germans have a good old chuckle watching him at it, and they have been quick to christen him Speedy Sarko
, as well as the Bling-Bling-Präsident
and Omnipräsident
('omnipresident')...
Other heads of state or government leaders favour a calmer cruising speed and expound the virtues of the siesta: as British prime minister, Winston Churchill regularly got through his busy schedule by taking time out for a nap by catching a few zzz's (piquer un somme
in French). You must sleep sometime between lunch and dinner. Take off your clothes and go to bed. No half measures, he insisted.
Amongst other advocates of the nap are some great political figures: John Fitzgerald Kennedy, Napoleon Bonaparte and Margaret Thatcher. The iron lady is Britain's only female prime minister to date, and her policy? An iron hand in a velvet glove. Spanish socialist Jose Luis Rodriguez Zapatero, on the other hand, embodies the antithesis. Criticising him for his naivety and leniency, his compatriots, chose the nicknames zapatitos
('little shoes') and bambi »
…
Translated from Speedy Sarko