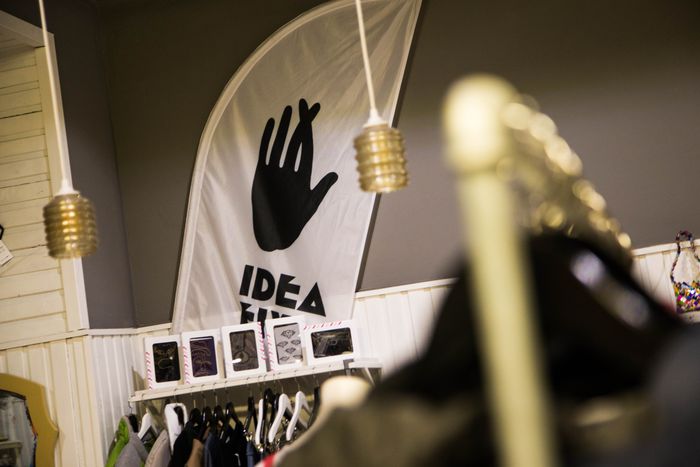 Ideafix: How Krakow is Rediscovering its Self-Worth
Published on
Poland's young pop­u­la­tion has been suf­fer­ing from a lack of self-es­teem. There is a ten­dency in Poland to im­port for­eign de­signs and prod­ucts, to seek in­no­va­tion abroad rather than at home. But not for much longer. The IdeaFix pro­ject, based in Krakow, is a sign of the chang­ing times. An ex­cit­ing new con­cept store boast­ing ex­clu­sively Pol­ish prod­ucts.
Krakow is a city of con­trasts. At times grey and fore­bod­ing, it has hid­den warmth and charm. It is a place which has strug­gled to adapt to the rapid de­vel­op­ments of the past 100 years. Be­yond the Rynek Glowny, Krakow's idyl­lic cen­tral mar­ket square thronged with tourists, we find a city which makes no ef­fort to en­am­our it­self to vis­i­tors. It is a slow-burner, not love at first sight.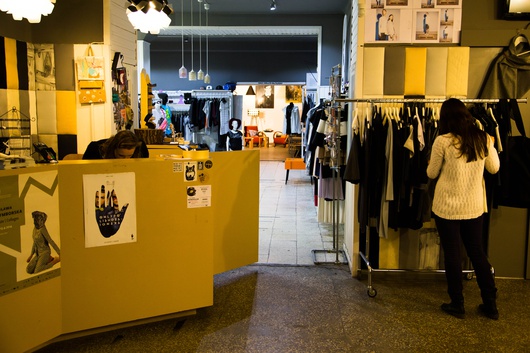 Ne­glected build­ing fa­cades cry out for a lit­tle ten­der lov­ing care while hid­ing beau­ti­ful spaces within, enough to rival some of the most fa­mous and grand neigh­bour­hoods else­where in Eu­rope. It is rea­son­able to make the com­par­i­son with the typ­i­cal Pol­ish char­ac­ter: un­trust­ing, dis­tant and aloof upon first im­pres­sions, but friendly and warm when you get to know them. 
The old Jew­ish quar­ter Kaz­imierz is one such hang­out pop­u­lar with young adults. A plethora of shops, bars and lo­cals have set­tled in its streets amid an at­mos­phere of cre­ativ­ity and spon­tane­ity. An at­mos­phere which con­trasts starkly with the ghosts of sad­ness and decay per­vad­ing every other cor­ner of the neigh­bour­hood. It is within this mi­crosys­tem where we find the IdeaFix head­quar­ters, at num­ber 7 Bochen­ska Street. A con­cept store with just one con­cept.
'Only Po­lish De­sig­ners'
Sprayed in black graf­fiti on the front of the build­ing are the three words which per­fectly sum up the crux of the mat­ter. Only Po­lish De­sig­ners, they de­clare. What hits you upon en­ter­ing is the sense of space, filled with cre­ative, qual­ity prod­ucts of all kinds and dec­o­rated mod­estly with a hint of the al­ter­na­tive. Clothes. So many clothes. And ac­ces­sories, and music, and DVDs, a trea­sure trove of trin­kets. On the sofa in the en­trance lounges Magda, a twenty-some­thing draped in fash­ion­able clothes which suit her sur­round­ings, and she asks if I need any help. When I ex­plain that I am writ­ing an ar­ti­cle about the pro­ject, she im­me­di­ately arranges for me to see Anna, the en­tre­pre­neur be­hind Ideafix.
The next day, Anna and I meet up for a chat on the very same sofa. She's young, cool, im­mac­u­lately dressed, with a clear gaze and a calm air. She at once fits in and stands out. She tells me it all started in 2009, ini­tially with the in­ten­tion of build­ing a space "where the cre­ative peo­ple of Krakow could dis­play their work". A city as full of cre­ative po­ten­tial as Krakow had been cry­ing out for such a pro­ject. "There are so many hid­den artists here and we just wanted to give them the op­por­tu­nity to show their cre­ations off to the world", ex­plains Anna. They or­gan­ised ex­hi­bi­tions, art work­shops, con­fer­ences and many more ac­tiv­i­ties in the local area, de­signed to en­cour­age the folk of Krakow to get in­volved and in­ter­act on a cre­ative level with their artists. The pro­ject began to ex­pand rapidly, and all types of de­sign­ers from across the coun­try now want a piece of the ac­tion.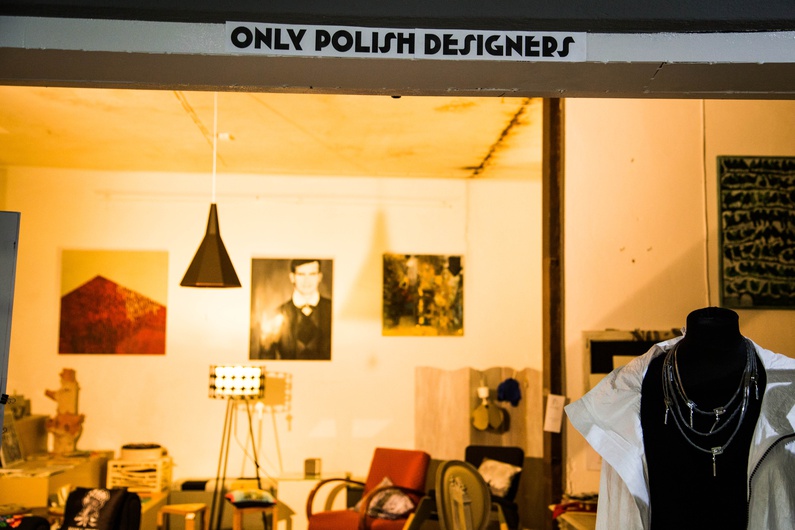 When asked how a de­signer gets their work dis­played and sold at IdeaFix, the an­swer is straight­for­ward. "Any­one can get in touch with us and send in their port­fo­lio of work. What we look for, the key el­e­ment, is orig­i­nal­ity. It's not about sales sta­tis­tics, it's about of­fer­ing things with unique artis­tic value. We don't want to fol­low the crowd," states Anna cat­e­gor­i­cally. 
Their prod­ucts range from blouses and t-shirts to table and lamps, even music and films cre­ated by young as­pir­ing film-mak­ers. "We love pro­mot­ing new mu­si­cal tal­ent, es­pe­cially those peo­ple who haven't been no­ticed yet be­cause they don't have enough money to get their stuff heard. With the home­made films, we sell the ones we think are brave and unique. We are tal­ent hunters: artists and cre­ators do ap­proach us, but we will ac­tively comb the mar­ket as well, in search of that spe­cial some­thing," she adds. The only pre-­req­ui­site for ob­jects to make it into the mix, is that they are con­ceived, de­vel­oped and nur­tured by Pol­ish hearts and minds.
buck­ing the trend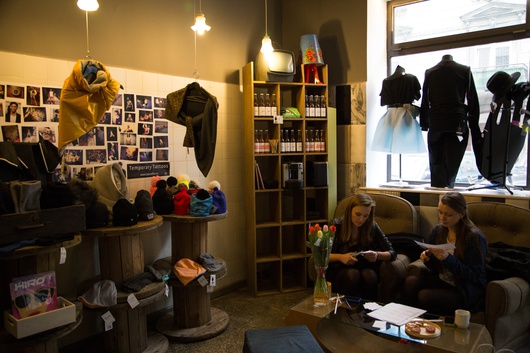 The con­cept does not en­cour­age re­jec­tion of the for­eign. The point is to em­power local, to iden­tify it and give it the recog­ni­tion it de­serves within its own birth­place. It is a type of pos­i­tive dis­crim­i­na­tion, aimed at pro­mot­ing the home­made in its own home, to re­claim a pos­i­tive sense of 'Pol­ish­ness' which has been ab­sent for so long. "There are a lot of re­ally amaz­ing, cre­ative peo­ple in Poland, craft­ing pieces with the same high qual­ity as can be found in bou­tiques across the globe. In these In­ter­net-dom­i­nated times, we can buy prod­ucts made on the other side of the world when­ever we want. We are com­mit­ted to push­ing our own artists, who are damn good at what they do, into that sphere." Anna's rea­son­ing pre-empts any claims that the focus of IdeaFix is too lim­it­ing. But prod­ucts are not sold here; the value of Pol­ish cul­ture is.
And it doesn't hurt that wear­ing Pol­ish la­bels hap­pens to be on trend at the mo­ment. "But it's not about think­ing that Pol­ish is bet­ter than the rest! Just that it is wor­thy of being up there with the rest, it can be an equal player," in­sists Anna. "When the com­mu­nist era ended in Poland, sud­denly all this pop­u­lar­ity for west­ern prod­ucts was un­leashed. Now we're com­ing back again," she adds, smil­ing. "Pol­ish is sell­ing."
a tri­umphant fash­ion show
The ware­house is teem­ing with guests, sip­ping on cock­tails pre­pared by the bar­men while they wait for the show to begin. Anna has in­vited us to one of the shows ex­hibit­ing the lat­est cre­ations to hit the shop.
"Are you guys blog­gers as well?!" Cana­dian writer Lau­ren Lu­xen­berg ap­proaches us ex­cit­edly, au­thor of the pop­u­lar Style Sav­age fash­ion blog. She is in Krakow with a friend, and came across IdeaFix in one of the city's tourist guides. "We had to come and check out the shop, and Anna was kind enough to in­vite us to the fash­ion show," she tells us. It seems the IdeaFix team has pitched their con­cept to per­fec­tion. Count­less tourist guides, from Japan to Scan­di­navia, are spread­ing the news about this one lit­tle shop in Krakow and their qual­ity, home­spun pride. On a cre­ative level, Poland is prov­ing it­self wor­thy of play­ing with the big kids.
this ar­ti­cle is part of a spe­cial se­ries de­voted to krakow. it's part of eu­topia: time to vote, a pro­ject run by cafébabel in part­ner­ship with the hip­pocrene foun­da­tion, the eu­ro­pean com­mis­sion, the min­istry of for­eign af­fairs and the evens foun­da­tion.


Translated from IdeaFix Cracovia: cómo recuperar la autoestima