I wish that at least once in their lifetime Turbo audience felt as if they were at a Led Zeppelin concert
Published on
Interview with Jero and Balázs Tanka from the band Turbo The following amusing conversation discloses the band's view of genres, premonitions and self-definition. Turbo is the Hungarian representative of psychedelic-progressive rock music.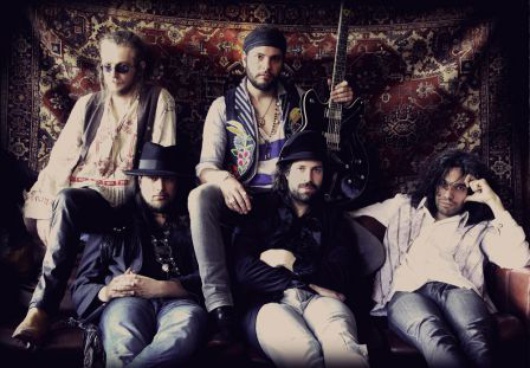 With, to and for each other
"We started like any other band: we enjoyed the company of each other and the music we played for our own entertainment, so we didn't have a mission or goal at the beginning" – says singer Balázs Tanka who does not mystify the first steps. After realizing that others liked their music as well, they felt more dedicated to it and started giving concerts from the beginning of 2006, and their first EP "Boarman sessions" was launched in spring 2007. One of the tracks titled One More Time reached success, and the Hungarian Music TV often played it. Their first album was released on 27th January 2009, which was later elected as the year's best album by RadioCafé listeners. The run of luck continued with the Fonogram award in "The year's best Hungarian modern pop-rock album" category. The second album entitled Lost Measure was released in May 2011. The band took a tour in Serbia at the beginning of this summer where the audience greeted them like old friends, and they also debuted in Bulgaria. They accepted the invitation of who is a trend-setter in the Bulgarian blues community and always tries to make a new point of view through rebellious means. Turbo also complied with this and frenzy accompanied their performance.
Going for genre is nonsense
There is a ramping variety of genres and subgenres in the musical taxonomy. The guys think there is a serious need for categorization: music is either good or bad, irrespective of genre. Good music means that it works on its own, in whatever circumstances you hear it you feel that it is right. Universal. "Those who completely shuts out certain genres are fools. If a rap song is undoubtedly unique in its category, everyone nods his head without questioning it." "There is a need for assistance to help the audience see through the different genres and there is no problem with it. Genres are for the audience and only important for the music journalists" - says Jero. "The younger generation has a tendency for preferring certain extremely hybrid genres, and they are stuck in it, becoming superficial". Nowadays they like the most unknown genres to compensate for their missing personality: "Listening to a kind of music only because others do not know it is also foolish since they may just as well listen to Fásy (referring to Ádám Fásy, a Hungarian performer of so-called "wedding music" - ed.) backwards" - says Balázs.

I don't like it when others say our music cannot be defined

"We don't flatter ourselves on our cleverness, what we do is a kind of rock music. Everyone uses the same notes, the same motifs reappear inevitably. The emphasis is on how to blend the already existing elements or mix the components. This is what Turbo does the best" – says Jero. Some people compare them to Iron Maiden, others to Pink Floyd, and yet others think they resemble to Led Zeppelin the most. Mainly the similarities of tone led to this association. Balázs thinks: "It is an honor but has nothing to do with reality". According to the guys the sound and the chemistry that could remind listeners of Led Zeppelin was not present in their music, at least not in the same form. "I love the spirit and the feeling that ruled the concerts, which we know only from videos, and I wish that at least once in their lifetime, Turbo audience felt as if they were at a Led Zeppelin concert." It is obvious that they are doing their best. They have such an intensive stage presence that it makes them similar to the greatest bands.
People who don't know Beatles any more
During the interview with Balázs and Jero we talked about the most important musicians and role models. Beatles was the starting point as always. Jero started listening to them from the age of 8-9, but as he says: "The new generation doesn't know Beatles. They don't browse the record jackets from which I got to know them, because those records are in the cellar. I feel really sorry for this." The other milestone both in music and in their own lives was Pink Floyd. "They are the big reformers of psychedelic music. I recently came across with the Dark Side of the Moon record and I couldn't stand not listening to it. I felt how serious it is and I wondered how many things they came up with whose parts still keep popping up everywhere and still can be revolutionary." The eighties were a dark period to Balázs: "I was inspired by the Seattle grunge of the nineties, Pearl Jam, Alice in Chains and the Stone Temple Pilots are worth mentioning. I started playing music partly because of them." Jero adds Red Hot Chili Peppers to the list of this period: "they were really good up until 1995, that is when I started ignoring them..." The next decade was also eventful: "Fantastic bands emerged around the year 2000, rock and metal resurrected then. Tool represents the edge of edible music. They contributed greatly to experimental rock music! Besides Tool Mars Volta also changed the scene, they provided a new perspective. Supposedly the audience becomes more tolerant after listening to a man with high-pitched voice for one and a half hour and still considers him outstanding. Popular music can be good as well, for example the Foo Fighters, they never make a mistake." In July Hungarian weekly magazine Magyar Narancs said there is no more unknown territory in rock music. Jero agrees, Balázs says: "I hope there are more talents like Prince. We are waiting for a saviour who brings revolution but it is hard indeed because our senses are so overburdened."
Nobody can say that they are genuine
The musicians respected by us are innovative and genuine. Turbo tries to be the same in an ambivalent environment. "Our guitarist David thinks that the absence of taste is an incurable disease in Hungary, but there is no need to feel sad either, and we don't do that. We are lucky to have found each other, we are free to make whatever music we like and we can be on stage thanks be to bigger opportunities like Sziget Festival." They are pragmatic in speaking about genuineness. You can't say that you are genuine, only others can call you that. One way of being genuine is when you have sold yourself from the beginning, your producer writes the songs and you lip sync. This is a lost cause and later you'll find yourself eating rice with Pákó (an African-Hungarian celebrity – ed.) in prime time. On the other extreme, sometimes bands don't notice that their production has outgrown itself. It is hard to realise that, but there are signs, still people are so blind and egocentric... It is also a Hungarian speciality that there are certain bands that should have stopped playing 5-6 years ago". The guys believe in playing music as far as it makes them happy. But others should also follow this rule. Those who have read this interview should visit the next Turbo séance on 15th October in Budapest at .
Written by Ili Puskás
Photo by Márk Viszlay
Translated by Mária Ballai