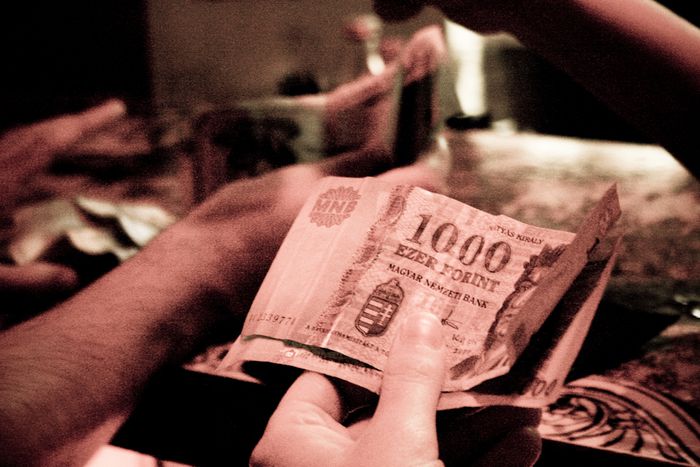 Hungary: From goulash communism to mortages in swiss francs 
Published on
After a decade-long tran­si­tion from a rel­a­tively mild com­mu­nist model to a cap­i­tal­ist democ­racy and tight bud­getary mea­sures by the gov­ern­ment, the Hun­gar­ian econ­omy began to flour­ish. How­ever, this eco­nomic bo­nanza was short-lived as pub­lic debt began to mount, forc­ing thou­sands of fam­i­lies to gam­ble their homes by tak­ing out mort­gages in for­eign cur­rency. 
Perhaps the old rick­ety So­viet train still car­ry­ing pas­sen­gers through metro line three to the very heart of Budapest, the cap­i­tal of Hun­gary, is the first thing to amaze the un­aware vis­i­tor. Along the whole trip, Hun­dreds of ad­ver­tis­ments now fill­ the space of old po­lit­i­cal pro­pa­ganda along the entire trip, to re­mind new­com­ers of the nearly quar­ter of cen­tury that has passed since the fall of Winston Churchill's Iron Cur­tain and the pe­cu­liar form of Hun­gar­ian so­cial­ist state: goulash com­mu­nism.
"We were the hap­pi­est bar­rack in the so­cial­ist camp" says Pro­fes­sor Sándor Gyula Nagy, an ex­pert in Eu­ro­pean Stud­ies and Vice Dean of Aca­d­e­mic and Eco­nomic Af­fairs at Corv­i­nus Uni­ver­sity. Eco­nom­i­cally speak­ing, the Hun­gar­ian model was a lot like the tra­di­tional dish: it had plenty of in­gre­di­ents. Ac­cess to con­sumer goods was re­garded as im­por­tant and the sys­tem made a great ef­fort to in­te­grate some mar­ket-based mech­a­nisms into the planned foun­da­tions of the economy. Small pri­vate busi­nesses were al­lowed in the ser­vice sec­tor, for­eign trade was stim­u­lated and ex­ports on both sides of the cur­tain in­creased.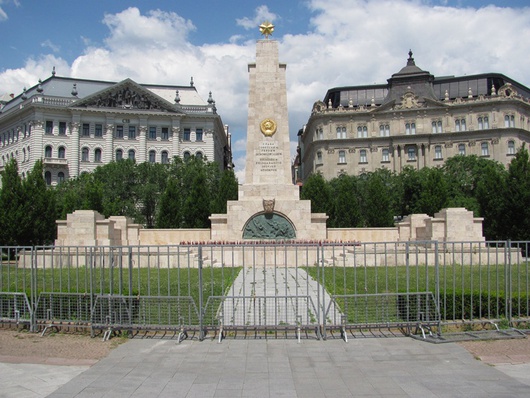 But when the Berlin Wall fell, the rub­ble reached here, too. Hun­gary lost 70% of its ex­ports and un­em­ploy­ment sky­rock­eted to 12% in only one year. The wreck of the in­dus­trial fab­ric fos­tered a very sig­nif­i­cant fall in GDP, the prices of basic necessities rose quickly as sub­si­dies were with­drawn and many peo­ple found them­selves in dire straits. "The gov­ern­ment un­der­took the mar­ket re­form by dereg­u­lat­ing state com­pa­nies, with some signs of cor­rup­tion. But most of all, they needed to fight the ex­ter­nal debt that was very high" Nagy explains.
Tran­si­tion, deregulation...shock!
Con­ser­v­a­tive Prime Minister József An­tall began a tran­si­tion and tough ad­just­ment pro­gramme that was to be applied by the next two gov­ern­ments. The first, headed by Gyula Horn — who led the con­ver­sion of the sin­gle party system into a west­ern so­cial-de­mo­c­ra­tic one — deep­ened aus­ter­ity through the Bokros Pack­age, under the su­per­vi­sion of the IMF. "It con­sisted of shock doc­trine above all," says Nagy. Der­reg­u­la­ton ac­cel­er­ated, aca­d­e­mic taxes were in­to­duced, there were so­cial bugdet cuts, cur­rency de­val­u­a­tion and gen­eral loss of in­come. It was the most dras­tic pro­gramme ever ap­plied in Hun­gary.
The right wing, most re­cently tied to cur­rent Prime Min­is­ter Vik­tor Orbán, made its best of the enor­mous im­pop­u­lar­ity of the pack­age and came into power in 1998. But a­part from tear­ing down the less pop­u­lar though eco­nom­i­cally ir­rel­e­vant mea­sures, Orbán did noth­ing but keep the mas­ter lines of the pre­vi­ous ad­min­is­tra­tion in­tact. With ifs and buts, the Hun­gar­ian econ­omy was grow­ing for the first time and it started at­tract­ing for­eign in­vest­ments.
So, when the first Orbán ad­min­is­tra­tion sank in the 2002 elec­tions amid ac­cu­sa­tions of power con­cen­tra­tion and cor­rup­tion, Hun­gary had re­paid a sig­nif­i­cant part of its debt, re­duced in­fla­tion and was grow­ing at a sus­tained rate. The So­cial­ists re­gained power in a mo­ment of good per­spec­tives, both po­lit­i­cally and eco­nom­i­cally. The ac­ces­sion to the EU was to take place only two years later and the adop­tion of the sin­gle cur­rency was fore­seen as a mere for­mal­ity to have been com­pleted as early as 2008. The coun­try was doing good.
Mortgages in Swiss Francs: it didn't seem as bad back then
Then, some­thing in­cred­i­ble hap­pened. In 2003, the emerg­ing mid­dle class started tak­ing out loans in euros. "It all started in an Aus­trian bank," re­calls Gabor Sziegel, for­mer se­nior econ­o­mist at the Na­tional Bank of Hun­gary and now a con­sul­tant. "In­ter­est rates in euros were around 4% while they were at around 10% in forints. Some­body thought it was a good idea to sell them [loans] to Hun­gar­ian clients. In the beginning, to buy cars; then, they switched to mort­gages."
From 2004 until the out­break of the global cri­sis, the Swiss franc re­placed the euro in the mort­gage and credit busi­ness. "The ex­change rate with the forint was con­ve­nient, the profit mar­gin was higher and some­one de­cided that it was a good idea to take the risk," ex­plains Sziegel. So that's how thou­sands of fam­i­lies — 10% of the total pop­u­la­tion — de­cided to take the great leap: buy the car, go for some pretty lit­tle things or fi­nally get out of the Soviet-era concrete blocks of flats (known as panelhaz in Hungary — Ed.). But the cri­sis top­pled plans to enter the eu­ro­zone. In the mean­time, the So­cial­ists had significantly raised pub­lic spend­ing, en­cour­aged by good eco­nomic times, and the coun­try became heavily in debt again.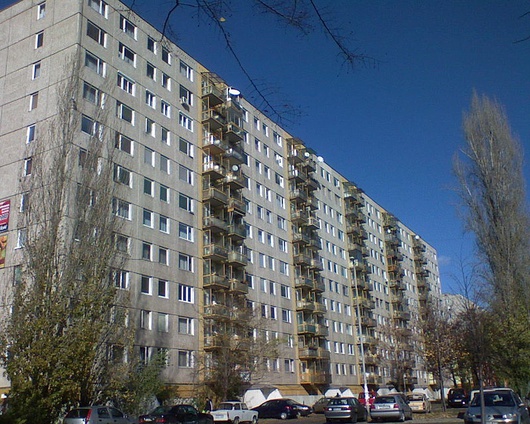 The re­turn of aus­ter­ity poli­cies after the scan­dal caused by the So­cial­ist Prime Minister Fer­enc Gyurcsány's off-the-record de­c­la­ra­tions, where he ad­mited to hav­ing lied to win the elec­tions, was a hard blow to the fam­i­lies af­fected by loans in  for­eign cur­rency. The sub­se­quent de­val­u­a­tion of the forint dou­bled their debt, mak­ing it im­pos­si­ble to as­sume for the vast ma­jor­ity of them — even harder in a coun­try with an av­er­age monthly salary of 350 euros. The para­dox is ob­vi­ous. De­spite con­trolling the mon­e­tary pol­icy, the ben­e­fits of the de­val­u­a­tion are di­min­ished by an im­por­tant side-ef­fect: the au­to­matic im­pov­er­ish­ment of a large amount of the pop­u­la­tion.
Now, who was re­spon­si­ble for this cat­a­stro­phe? Pro­fes­sor Nagy doesn't hesitate: "Every­body. The banks didn't ex­plain the risks, the cit­i­zens didn't con­sider them as they should and the gov­ern­ment did very lit­tle to reg­u­late this whole sit­u­a­tion." Gábor Sziegel agrees though he em­pha­sises some points: "I don't think the banks knew it was bad. The cur­rency mar­ket and specif­i­cally the Swiss franc had been sta­ble for al­most 15 years; no­body could have pre­dicted the Greek bailout would have pro­voked the aqui­si­tion of bonds in the sec­ondary mar­ket and made ex­change rates vary."
But he high­lights one es­sen­tial fact that makes this case unique. "Indeed, what was total mad­ness, and the key point, was the switch to mort­gages in Swiss francs. Be­cause with the cred­its signed in euros you could at least af­fect one of the vari­ables, that's the ex­change rate with the forint. But if you take mort­gages in Swiss francs, you're bas­ing economic choices on two types of risk that you can­not con­trol or af­fect: the fluc­tu­a­tion of the exchange rates between the franc and the euro and that of the euro versus the forint," ad­mits Sziegel. 
Europe has the key
How can this be prevented from hap­pen­ing again? It's hard, but both ex­perts share the same fundamental beliefs. Co­or­di­na­tion and mul­ti­lat­eral agree­ments are needed between EU mem­ber states. "It's not that easy to re­move this type of fi­nan­cial prod­uct from the mar­ket; the Bank of Hun­gary it­self certainly op­posed it, but could only warn people. If you ban the prod­uct on a na­tional scale, then multi­na­tional banks just move the Hun­gar­ian clients' information to their fran­chises abroad and keep sell­ing such loans. You can only pre­vent that with a com­mon macro­pru­den­tial regulation," as­sures Sziegel.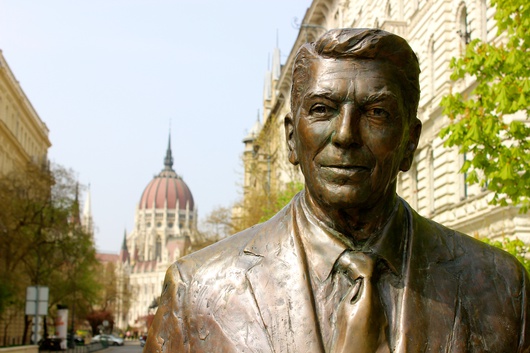 When it comes to the ad­van­tages of keep­ing na­tional cur­ren­cies, Nagy shows some scep­ti­cism. "Who­ever thinks that a small state can con­trol its econ­omy by the ex­change rate doesn't know how the world works. That's con­trolled by the mar­ket as a whole! That's why we need to work for bet­ter Eu­ro­pean in­te­gra­tion." A very pe­cu­liar les­son from a coun­try where para­dox seems to be the nat­ural state of things. Maybe that's the rea­son why the old monolith to heroes of the Red Army shares its place with a bronze statue of Ronald Reagan in Freedom Square at the heart of Budapest. An image worth the best goulash.
This article is part of a special series dedicated to Budapest and carried out in the framework of AN EU project, intiated by cafebabel.com and supported by the European Parliament and the Hippocrène foundation.


Translated from Hungría: del comunismo goulash a las hipotecas en francos suizos