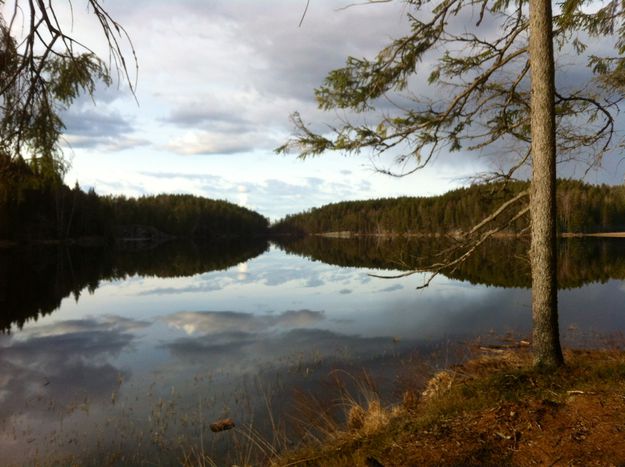 How to spend three weeks in Norway on just 40 euros
Published on
Three weeks in Norway. Who would have thought that I could camp on a beach, descend into a witch's cave, have my feet immersed in snow, sleep on a refugee's couch, clean the buttocks of 30 chickens, hitch a lift on a school bus, look down 604 metre high cliffs and spend all this time in the world's second-most expensive country on less than £30 (around 40 euros)?
I am sliding in the snow. The cold enters through the holes in my old trainers, while the rain has already soaked me and all my belongings. Yet I sing on top of my lungs, invent a song begging the mountain to let us down safely. We decided to climb up way too late, knowing that the weather conditions would deteriorate quickly.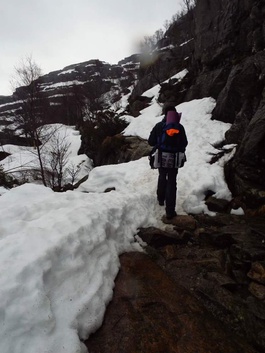 When we started our ascent at 3pm, the last visitors were coming down from the cliffs, equipped with waterproofs, hiking sticks and some even had snowshoes. We look pathetic with our bags and the tent, wet as we are. Julian walks behind me and shouts: 'You're crazy, Ronja!' Trying to overpower the wind, I answer: 'Yes, but still happy!'   This is the motto of our travels - crazy, incredible, enchanting.                                                                                                                                                                                               On our arrival, we still had no real idea about Norway, except vague recollections of fjords and forests. While I was still in the UK, I exchanged £100 into Norwegian krone and this turned out to be the only money available to both of us for the whole journey.                                                                                                                       
The only reassuring thought was that Julian is experienced in travelling on the cheap. In fact, after having left his home in Mexico, he had wandered around the UK and Ireland for the past six months. We met when he stayed over at my place on his way to Wales.
Hot puddles in the snow
Our journey starts close to the Swedish border. We are hitchhiking. After the  snowstorm the previous night, the road conditions are bad. Only when I don't have any more clothes to throw on to fight the cold, an elderly Norwegian finally stops to give us the first lift of our journey.
Despite this tough start, we eventually make all our way along Norway's south coast with the help of strangers, paying for nothing but two ferry-crossings and some food. We mostly get by with couchsurfing and pick our destinations at random and in the countryside. One of our first hosts is an Eritrean journalist who shows us East African food and holds a traditional coffee ceremony with friends. We end up meeting him a few days later in a city down South, where he is off to visit a friend and invites us to stay over.
We are suprised and grateful to get an unexpected glimpse into nomadic Africa while in the middle of Scandinavia. Hitchhiking becomes very easy as soon as we reach the southern highways - often the first person we ask on a petrol station takes us on, it feels like flying across the land. Indeed, our drivers often complain about the small and winded motorways, but to us, it is nothing but a scenic ride. Slowly, our picture of Norway becomes a bit less incomplete.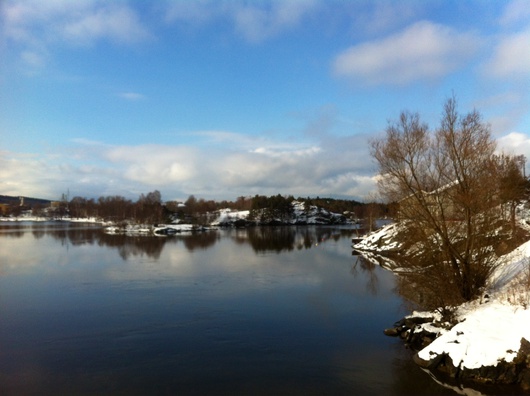 We see small coastal cities that in the summer are filled with tourists from Oslo, and discover the traces the wilderness is left in the hearts of many. Nearly everyone goes skiing, hiking, fishing or hunting and we are told that in the summer most people along the fjords and rivers use their boats instead of their cars. On our hikes, we discover untouched land behind every second hill, desolate lakes surrounded by bogland in which we make out the traces of roaming elks.
Easter hens
During Easter, I spent my time in a henhouse. Julian and I decided to volunteer on a farm in exchange for food and lodging and the chickens are in need of an urgent cleaning. So I find myself holding stately hens by the legs to clean their backsides from encrusted droppings and lice. I feel somehow consoled when seeing the newborn lambs and chickens. More so, the environment is beautiful. We use our afternoons to explore the surroundings, one day descending into the cave where Norway's last witch used to hide before she was burnt.
After a week in one place, however, our feet itch and we are ready to hit the road again. We leave the farm walking through the morning mists. Only distant birdsong and the beat of Julian's walking stick on the asphalt penetrate the thick and moist air, sometimes joined by the buzz of high voltage masts. I tell a German tale about elves carrying children into the sylvan haze when suddenly a vehicle stops. It is a school bus and the driver proposes - from what I can understand of her her Norwegian - to take us downtown. Fifteen minutes later we're in the valley amidst kids rushing to school.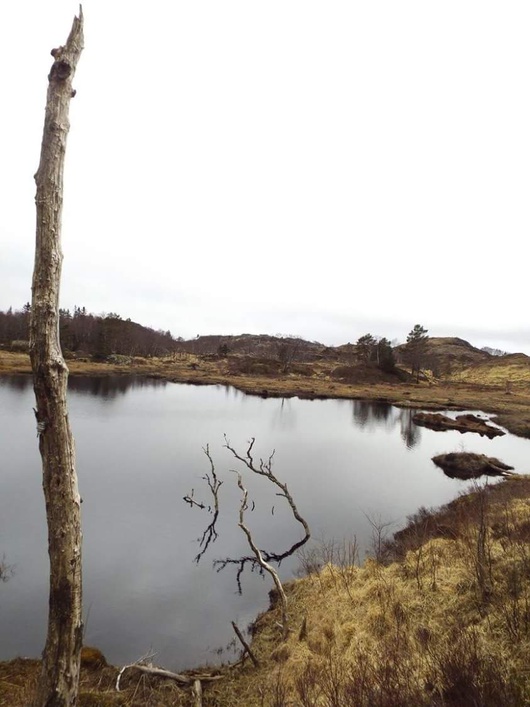 It takes us two more hours to walk to the next hitcheable spot on the highway with nothing for lunch but a small tin of salmon given to us by our host, but our spirits are calm - apart from the moments in which we burst out singing and shouting against the mountainous silence. When we reach the food court next to the E39, which goes all the way down the west coast of Norway, it's almost empty. Only one car is going into our direction and it's driven by a lady in her twenties who's never taken on a hitchhiker before. I ask her for a lift, but she replies: "I'm not sure. I'm a bit suspicious about having strangers in my car". We talk for a moment, and I promise that we'll behave. Ten minutes later, she waves us over to jump in. Despite her initial reservations, we soon forget that we are strangers, talk about football, chess and the oil industry. When I start wondering aloud about Norwegian music, she calls up a friend to compile a playlist of popular artists we've never heard of and gives us hints on what to do once we reach Stavanger.
Beaches? In Norway?
Soon after she leaves us, a few kilometres east of the city, Rune picks us up. He is an engineer ensuring the water quality in Norway (evidently doing a great job) and probably some sort of angel. When he hears of our plan of taking the ferry to Haugesund without staying in Stavanger, he exclaims: "But you haven't seen the beaches, the city, the cliffs!"
Indeed, we have no idea about the area and he quickly manages to overthrow our plans. On the way to the centre, he shows us a hill with a bunker in it and explains his idea: "So, I'll give you my phone number and you go visit the city. When I have to return, I'll call you and bring you to the beach". We are speechless and I ask to leave our luggage in the car while our visit. When he answers, "Sure, if you trust me enough", I remember for a moment that we've only known him for an hour, but to me, it doesn't matter.
With light backs, we stroll into the city and raid the first supermarket we find - we're starving. As we don't understand the Norwegian inscriptions on a package, Julian asks another customer. It turns out that he doesn't speak Norwegian, either, but is an Iranian refugee. They both enter a lively discussion as Julian's long travel is bound to eventually bring him to Iran. Two hours later, we bump into the same person and exchange phone numbers - "in case you need help around here." Then Rune picks us up, drives us to the beach and leaves us an additional blanket for the night. We make a fire, listen to the waves and the wind and wonder why we've never heard of there being beaches in Norway. The night is chilly, but we have a tent and manage to sleep thanks to our sleeping bags and the trick of using plastic bags between several layers of socks to keep the feet warm.
Up to the cliffs, back to Iran.
The next day, we're picked up by a guy organising kite-competitions. After another sightseeing tour, he drops us at the harbour from where we have to take the ferry. Our plan is to get up to Preikestolen, the amazing cliffs out in the fjord. We are discouraged by the tourist packages offered (a ferry and a bus ride to the start of the trek) for around £25 per person. Money we're not ready to spend. Instead, we find the ferry on our own and trust in the future instead of public transport.
We ask around on the ferry, but no one is taking a 30 minutes drive up to the trail. In want of better ideas, we start walking. After fifteen minutes, a car stops. An elderly lady peeks out and says, with an accent so thick I nearly don't recognise it being English: "Wait here. We'll drive our shopping home and will be back in ten minutes". It turns out that Julian asked the couple on the ferry but they had to decline, not going in our direction. Apparently, though, their goodwill took over and they decided to drive us up the mountain nevertheless. Before we leave the car, she scribbles her name and a phone number on a paper so we can call her in case we get lost on the mountain.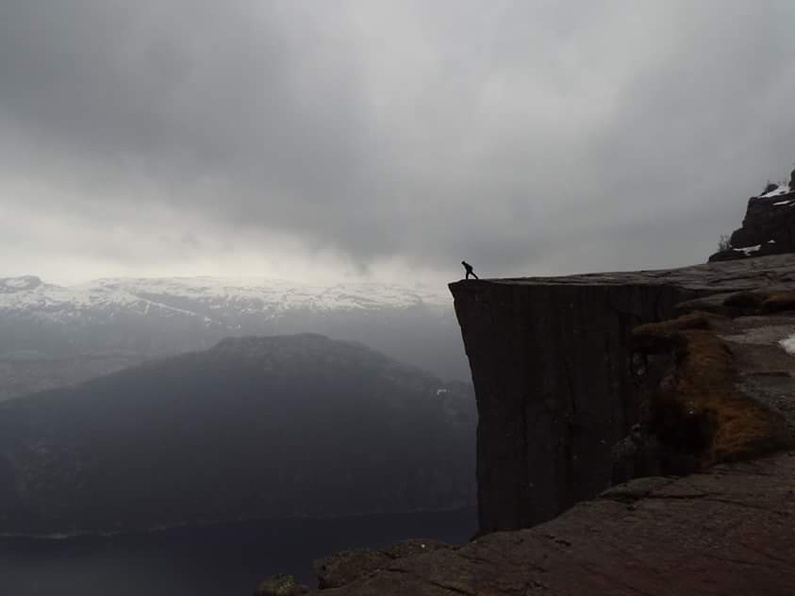 Four hours later, after an incredible experience and a lot of rain, we realise we're so soaked there's no way to sleep outside like we hoped, and there are no hikers left that could take us back down. Judith and Bjarne come to our rescue, drive us back to the harbour and give us their address in case we come back to the island or want to send a Christmas card. We soon have another occasion to be grateful: when we explain the situation to our new Iranian friend, he immediately invites us to sleep over at his flat. He cooks dinner for us and refuses to use any of our food for it. The evening is magical - we are enthralled by Farsi poetry, Iranian music and hospitality. 
It has been three amazing weeks, and I feel so fortunate to meet all those people, to discover the land of the trolls, and to prove that one doesn't need much money to explore even the second-most expensive place on earth. Having spent £30 each from our initial £100, it means I still have enough Norwegian krone lying around for round two!