How to find Cafébabel on Facebook
Published on
Facebook is trying to separate us, but we're not going to let that happen. So let's fight back and use Facebook (the right way) so that you can keep seeing our articles in your news feed.
Maybe you've noticed that for some time now, Cafébabel articles are less and less visible on your Facebook news feed. Or not. Regardless, it's because of that devilish Facebook algorithm that has been re-wired to start highlighting friends' posts rather than news posts. 
As you can imagine, it's a real bummer for us. But it's also a real bummer for you, because you will no longer be able to see articles from your favourite European magazine. So, is this goodbye? No, don't worry, it's not.
There's a way for you to stay informed and on top of your game when it comes to what's happening in Europe. Just follow these steps: 
1 – Go to the Cafébabel ENG Facebook page
2 – Hover over "Following" at the top of the page (or click "Follow" if you haven't already)
3 – In the drop-down menu, click "See First"
If you're on your mobile phone, you can do exactly the same thing: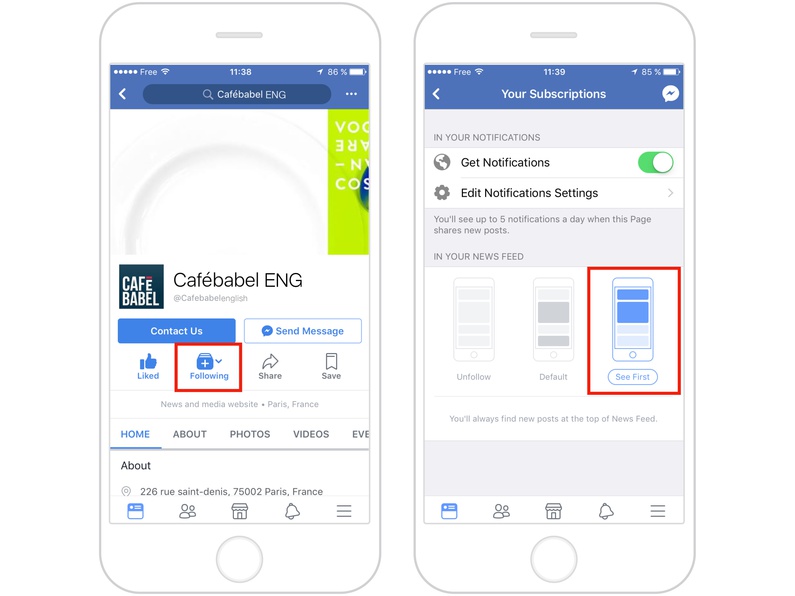 Feels much better already, right? 
---
Want to write for Cafébabel? Submit your ideas here.   
Translated from Comment retrouver Cafébabel sur Facebook