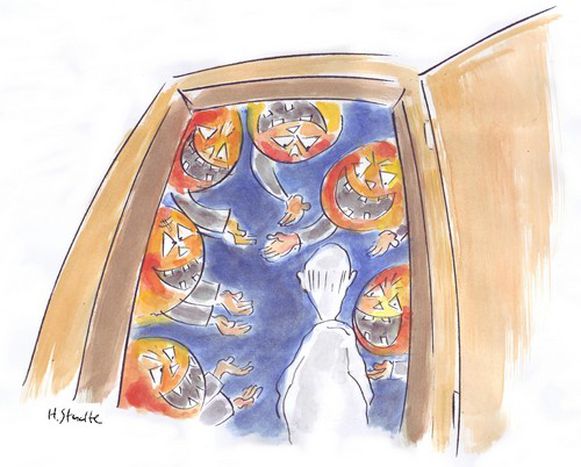 Horror Halloween
Published on
Translation by:
Sarah Turpin
Witches, ghosts, vampires and pumpkins. Everyone knows about Halloween, but very few know that the origin of this pre-Christian ritual does not lie in the US, but the heathen Celtic ritual to celebrate the end of the harvest season- Samhain in Gaelic. It was a night out of time that symbolised the transition from old to new year and when the dead would come back to the earthly dimension. According to the legend, it lasts during the night of 31 October to 1 November, and includes not only the dead but also the elves and fairies would come into the world of men to have fun.
This tradition has been carried on until today. However, these days it's not hobgoblins and spirits, but gruesomely clothed kids, who knock on their neighbours door and say Give me something sweet otherwise I'll be sour!. In England the tradition is widespread and the kids in fancy dress say trick or treat, like their Spanish counterparts who say trato o truco.
In Germany Halloween the door rounds take place a month later on 30 November, on 'Andreastag' or St Andrew's Day (the Apostle). Children go from house to house as 'little Andrew' to get sweets, fruit and other presents.
In Catalonia there are no hobgoblins or spirits in their tradition, but instead a little old lady who comes down from the mountains and brings children roasted sweet chesnuts. This legend harks back to the Italian witches called masche, who were found Aosta Valley and Piedmont. On 31s October they were said to celebrate their witches' Sabbath.
Translated from Halloween, dolcetto o scherzetto?