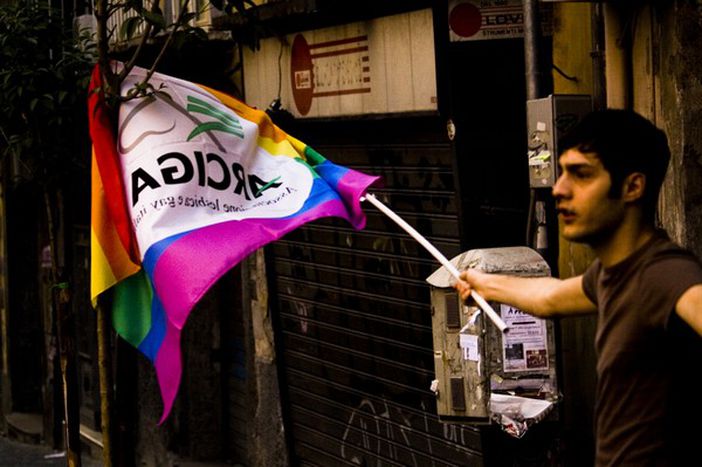 Homophobia in Rome, the 'capital of gay murders'
Published on
Letter bombs on homosexual communities versus documentaries to fight ignorance and rights which don't exist. On 10 October, gay rights groups in Rome are planning a march to protest an ongoing spate of homophobic violence
Ask a nine-year-old in an Italian primary school playground to define homosexuality. 'Some people of different sexes don't love each other as much as they love people of the same sex,' she declares, as her fellow pupils play, running after each other and shouting. The statement comes from a country in which opening up to diversity means talking about it and accepting it as a goal; there is hope for the future.
It is a pity that this particular child's voice comes from a cinema screen. Stefano Consiglio's documentary brings together testimonies and faces, but takes its place amongst scores of others which have tried to convince Italy of how broad the definition of 'normal' is, especially with regard to love. It is a pity that El amore es suficiente ('Love is Enough'), which has screened from 4 September 2009 in Italian cinemas, is not a declaration of sexual prejudice renounced.
Letter bombs, attacks and turning a blind eye
In Rome, the media focus is on San Giovanni in Laterano Street, not very far from the Colisseum, which is well known as 'Gay Street'. Here, sexual diversity has been assaulted through kicks, punches, insults and even bombs. 'Who is doing this? I hope we will find out,' says one transsexual during a sit-in organised after letter bombs exploded here shortly before midnight on 1 September; two letter bombs were also thrown in March 2009. 'Here, when you ask, everyone is 'gay friendly'. If you are beaten up, they say they are doing it because they can't stand it that you, a man, are caressing another man before their eyes. Absolutely not. They'll beat you up because the colour of your shirt doesn't match your trousers. That's what happens -  in Italy.'
In reality, it is a joke to imitate Svastichella ('Little Swastika'). In August, he beat up two homosexuals and seriously injured one when he saw them kissing outside Gay Village, a famous part of the trendy Testaccio area of Rome, 'not because they were homosexuals, but because they insulted me.' In Italy, if by accident or imprudence one dares to leave the protected reserve, for homophobes there are no politics, political parties, movements or organisations. Nothing.
Aurelio Mancuso, the president of gay rights group Arcigay, explains how the phenomenon of homophobia has evolved in recent years. 'Since 2006, when we began to compile the facts, the number of reports from gay victims of attacks has increased,' he explains. 'It's positive as it means that the community has begun to have importance and make denunciations. But obviously it's negative from a human and social point of view. What happened in Rome is serious. The worst thing is that Rome is not the only city in Italy in which there have been waves of violence against us. It is a reaction to the fact that we publicly report problems and ask for things. If there was some kind of political support - at least, if only we were conceded some rights - maybe, with time, we would be less culturally and socially different.'
'Mother Plus Father Equals A Normal Family'
Following every incidence of intolerance, declarations are made by the mayor Gianni Alemanno, the parliament and party secretaries, which always come back to the same thing: 'Some politicians encourage homophobia,' says Mancuso. 'The church also contributes to the general opinion of homosexuals. We are asking the government and parliament to give us suitable responses as soon as possible, which will deal with the defence of our safety in a serious, and not an ideological, way. An extension of the Mancini Law on hate crimes to cover homosexuals and transsexuals would give out useful signals that would change the social and cultural climate which is holding fast in our country. It would allow us to catch up with other European countries.'
Apparently a menacing skinhead presence continues to linger on San Giovanni Street. Arcigay's leaflets are accompanied by others which proclaim that Mother Plus Father Equals A Normal Family. 'We are not afraid - we wrote a new protest manifesto on 2 September,' says Mónica, a transsexual in a perfectly matching pink shirt and skirt, who is having a drink in front of the Colisseum Bar. 'However, we do fear the type of diversity that wishes to eliminate difference by beating it up. Do you know how many times I have been kicked around? Or how many times I have been threatened with knives? It makes me laugh when I see films where it seems as if the only hostility that 'different' people – as we are called – have to put up with is that of our parents.' 
Translated from Roma: violenze omofobe e disinteresse politico