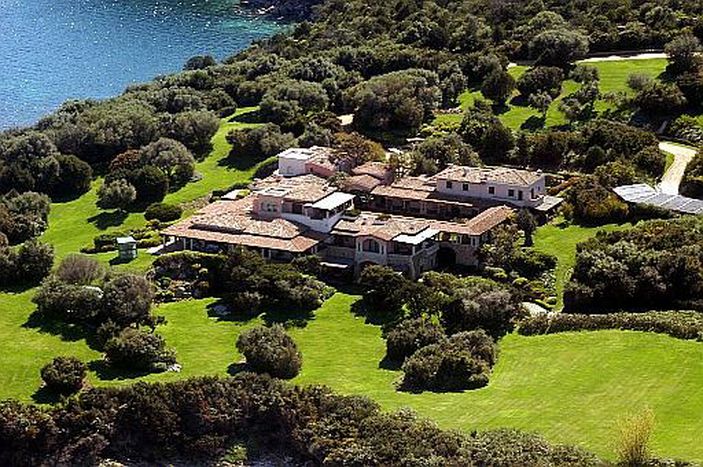 Holidays at Silvio Berlusconi's luxury pad
Published on
Like every year, the Italian prime minister will be sunbathing at Villa Certosa in Sardinia. A paradise where Berlusconi is under the protection of the secret services - and the eyes of the paparazzi
'Same beach, same sea' ('Stessa spiaggia, stesso mare'), go the lyrics of Mina's 1963 pop song. It's also the mantra for an ordinary summer that will not be changing this year for Silvio Berlusconi. The Italian prime minister's April return to government coincides with his return to Villa Certosa, at Porto Rotondo. 'I have a boat, but for the last two years I have only used it once to take my family to the house,' he declared to the New York Times in May 2003. 'I haven't been to the house in Bermuda for two to three years. Likewise, I have spent only one day at my Portofino house in the past nine months.'
Villa fit for a media tycoon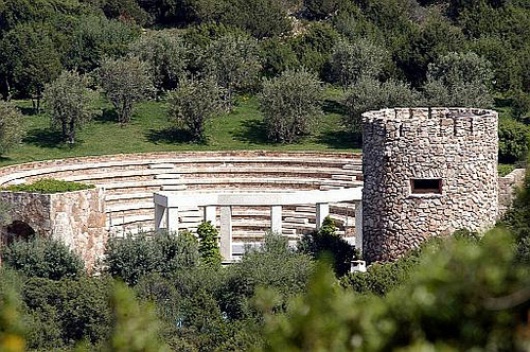 Porto Rotondo, which lies on the Costa Smeralda, the north eastern coast of Sardinia, is one of the most fashionable resorts in Italy. The little corner of the Caribbean less than 300km from Italy is a favourite of rich society types and those that have 'made it'. The Villa Certosa, a 27-roomed luxurious residence of almost 120 hectares, is equipped with all the 'essentials'; we start with a reproduction of a 400-seat Greek amphitheatre, passing by a purpose built nuraghe and faux menhirs, alongside a forest criss-crossed with footpaths, added to a botanical garden with twenty-five medicinal plants, olive trees, citrus trees, a rose garden, a greenhouse and other gardens with exotic and tropical plants (2000 cacti made up of almost 500 varieties, 850 hibiscus and 150 palm trees).
Villa Certosa is considered a state residence and is under protection
Amidst remote-controlled waterfalls there is an artificial lake (with an island), a five-a-side football pitch and a tennis court, pontoons and an anti-nuclear bunker, which is enforced by the secret services for Il Cavaliere (the 'Cavalier') and his guests. According to the Italian executive committee for intelligence & security services (CESIS), Villa Certosa is considered a state residence and is under protection, even though up until now the only unwelcome visitors have been some Sardinian independence campaigners (who see the villa as a symbol of 'foreign' occupation), ecologists and a few members of the opposition.
Berlusconi has stayed there with his two daughters, colleagues and other VIPs. He has played host to such heads of state as Britain, America and Russia's Tony Blair, George Bush and Vladimir Putin. In mid-July, the prime minister took a few days of family relaxation for Italy's first lady and second wife Veronica Lario's birthday. Walking hand-in-hand with Mrs. Berlusconi for the paparazzi was a way to silence the rumours that Berlusconi was paying special attention to his minister for equal opportunities, Mara Carfagna (an ex-showgirl nicknamed 'Mara La Bella' – Mara the beautiful), amongst others. Never one to hold back, Berlusconi had a funfair set up at Villa Certosa to entertain his grandchildren. In April he organised a cabaret for Vladimir Putin, as well as simulating volcanic eruptions for Assumption Day on 15 August, a national holiday, in 2006 and 2007.
Home improvements
In spite of a hike in property prices in Sardinia this past decade, Berlusconi - who has owned his villa since the eighties - has not changed the location of his summer residence, putting himself up there with actors and singers and under the watchful eye of gossip-column readers. The Villa Certosa also shares a few traits in common with its owner; the mixture of public and private persona, with private spots that become state headquarters, the quest for the spectacular and the stupefying, the display of wealth and the average Italian's (unattainable) dream.
As with Berlusconi, Villa Certosa has been subjected to investigations and a four-year trial (for construction without permission and violation of environmental laws) and, like its owner, it has escaped unscathed. A recent ruling quashed the thirteen charges against the villa, as the 'evidence does not hold up'. As Berlusconi's legal representative Niccolo Ghedini states, 'problems have been cleared up' thanks to amnesties and concessions.
And even if the ruling had gone the other way, it would not stop Berlusconi from peacefully enjoying his holiday at Villa Certosa this summer - he has just obtained immunity thanks to the Lado Alfano (a group of laws granting immunity to the five most responsible heads of governmen). As the headline of Il Cavaliere's brother's daily newspaper I Giornale reads, Silvio's Beautiful Summer has just begun.
Translated from Estate a Villa Certosa, tra Club Med e Disneyland