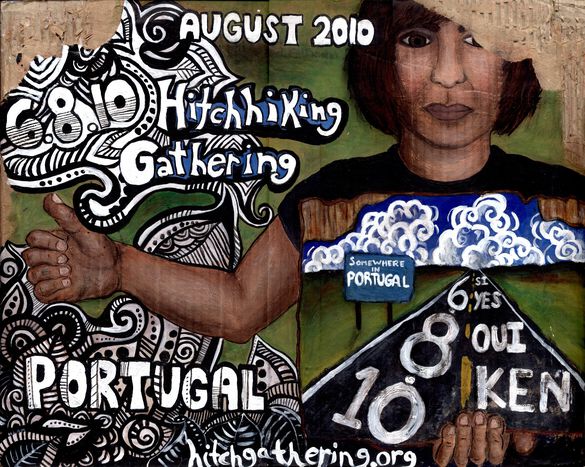 Hitchhiking Gathering 2010: the lowdown
Published on
The third celebration of the Hitchhiking Gathering takes place in August, first in Barcelona and next in Lisbon, with hundreds of hitchhikers from the whole continent expected to attend
Why hitchhike? 'To meet locals,' says Daan, a 25-year-old Belgian. 'It's a challenge to break down social barriers and it's a way to talk to new people,' adds Anja, a 23-year-old from Poland. Hitchhikers are surprised to discover how much is possible in the world when everyone helps one another.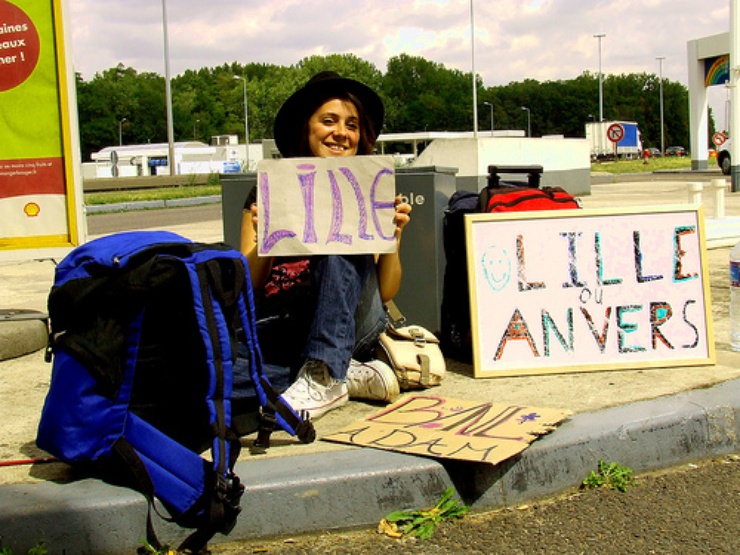 On 1 August, hundreds of hitchhikers from all over Europe will participate in the Hitchhiking Gathering in Barcelona, to shout from the rooftops that they want to change the world, especially the world of sustainable travel. After the opening event where announcements are made to drivers, travellers in search of adventure can take off in cars to hitchhike across the Iberian peninsula. They will be reunited again at a venue just outside of Lisbon, Portugal, where they will camp to share stories, experiences and proudly participate in the community of European hitchhikers between 6 - 11 August.
Hitchhiking family
'We are one big family,' says Benjamin, a 24-year-old hailing from Germany. He has attended the past two festivals and always takes part in the event organisation. 'We all live dispersed across Europe. We only see each other a couple of times a year. The festival is open to everyone. The coordination takes place in a decentralised way over the internet, where we decide where we want to go, promotional activities, where we will sleep...' There is no budget nor set organising team. Everyone who wishes to contribute works on a volunteer basis; if someone sees a task that needs to be done, they do it and then inform the others when it is completed. Robin, a 32-year-old from Holland, launched Random Roads, an online magazine where users can share their stories. The idea behind the organisation is to print the stories as a collection and offer them to drivers as tokens of appreciation.
The rest of the 'family' is composed of the occasional traveller and the nearly nomadic hippies and hackers, hitchhiking enthusiasts, hospitality networks lovers and those in the online world who want to meet in person to promote similar values. Drivers, who are the real stars, are sometimes included. Without them an event would not be possible, so they are invited to join in at the end of the road.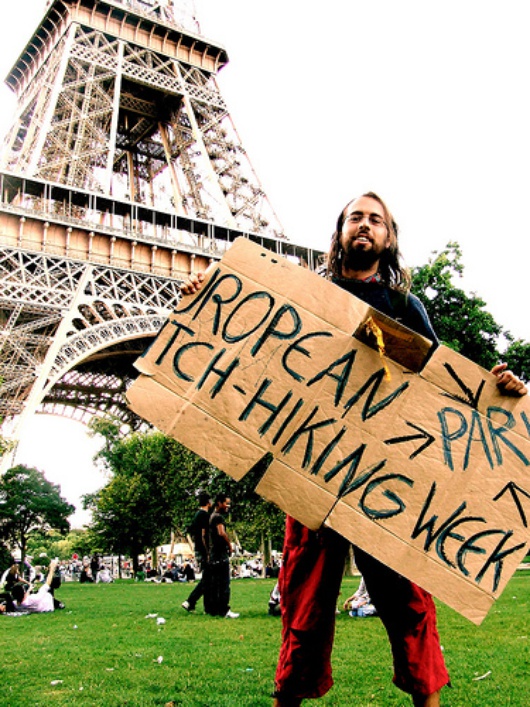 The 2010 European Hitchhiking event is the third installment of this unconventional festival. It took place in Paris in its first year, called 8-8-8 in reference to the date of the celebration. Participants camped for three days at the Champs du Mars, a greenspace by the Eiffel Tower. The second event 7-8-9 was held in Odessa, Ukraine, which is one of the only European countries in which citizens of both the European Union and Russia can enter without a special visa. Around one hundred people attend the event, held at a park next to the Black Sea.
European hitchhikers may travel with confidence, but they admit that it's necessary to make several preparations prior to travelling. First, research the route before taking off. Make sure to carry a road map that lists service stations. Carry a lightweight backpack and camping equipment. Wear brightly coloured clothes which attract attention. The most important things to have are an open mind, a good sense of humor and patience. 'The drivers that stop and pick me up are the ones who really want to help me,' says Eva, a 27-year-old from the Czech Republic. 'Because of this I always meet the nicest people.' It's important to stay awake, as in any situation with strangers, and to not get into the car with anyone who seems suspicious. Travelling in pairs or groups can make the wait more fun, because in some cases, the wait can be several hours or even days to find a car going the right direction with open seats.
Easy to hitchhike in Spain?
Spain has the reputation of being a difficult country to hitchhike in, with long waits and distrusting drivers. 'If you don't speak Spanish, it is very difficult,' says Felix, a 21-year-old Frenchman who already has lots of experience in this type of travel across Iberian roads. Others claim they have never had major problems traveling to Portugal in the past, apart from the hot temperatures. In the hitchhiking community, France and the Baltic countries were named the most friendly, with reports that the people there were always willing to help, or at the very least, wish them a nice journey with a smile. Germany is famous for its fast highways, whilst Polish drivers are admired for their willingness to always make room in the car for those in need. While hitchhiking across Spain may not be easy, the event organisers say that the festival is the opportunity for an adventure. It serves to show that travelling with hitchhikers is the best intercultural exchange.
Images: poster from festival/ ©robokow/ Flickr
Translated from Tercer Festival Europeo de Autoestop: ¡Vamos a dedo a Portugal!