Hinduism 2.0: Religion In a Time of Online Poojas
Published on
Hinduism is easily acknowledged as one of the oldest religions in the world, what with its majestic temples, orange marigold garlands and naked mendicants that seem to hark back to a prehistoric time full of magic. Nevertheless, Brahmins from Somnath to Tirupati have been quick to embrace the digital age.
 If you want to prostrate yourself in front of the Jyotirlingam of Somnath, one of twelve places in India where Shiva is worshipped as the 'Radiant Sign of the Almighty', you will have to prepare yourself for a bumpy ride. Depending on whether you come from Jaipur or Rameswaran, the time you spend on buses and trains can vary between 20 to 60 hours. That is because Somnath Mandir is situated in the far south-western corner of Gujarat, where the deserts of North India meet the Arabian Sea. How fortunate we are, then, to have the internet! These days, you can perform pooja, the daily personal temple ceremony, with a few clicks from your own veranda. As with many temples, the homepage of Somnath Mandir offers an online darshan service that allows you a furtive glimpse of the famous Jyotirlingam. The picture might be slightly blurred, and the accompanying mantras might not sound particularly clear, but at least you don't have to slavishly adhere to fixed pooja times.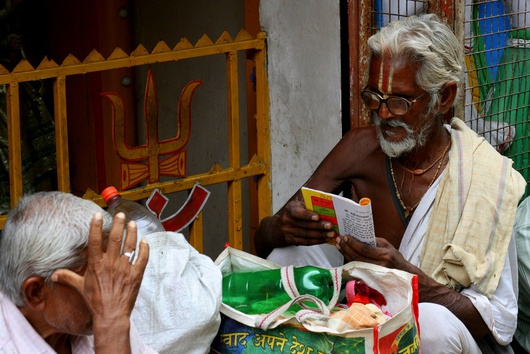 In the 21st century, you can celebrate poojas, darshans and other Hindu rituals at any time online in the temple of your choice; although this might seem weird at first, it is common practice in India. Years ago, the Indian Brahmins, infamous for their great entrepreneurship, had already discovered the internet as a new platform for religious practice. Of course, almost all the bigger temples have their own websites on which you cannot only book pilgrim accommodation, but can also donate directly by credit card to the temple or for special ceremonies. Apart from that, websites like Saranam in India or Onlinepuja in Nepal provide numerous online pooja services that allow their users to choose between different gods, pooja forms and temples. 
Once you have bought and paid for your online pooja, you will receive a confirmation e-mail in a few days, announcing the successful performance of your pooja. Along with that, you will also receive your prasad, a symbolic piece of the food offerings. Usually prasad consists of rice balls or sugary sweets which the faithful are allowed to eat in order to finish the ceremony. As online poojas can be ordered over the net, but still have to be performed in a temple by a priest, the local Brahmins are in no danger of losing their daily bread. However, if you are looking for an online Brahmin, you might find help on platforms like Onlinepanditji, which not only offer poojas, but also astrological counselling, sacred paintings and alternative treatments.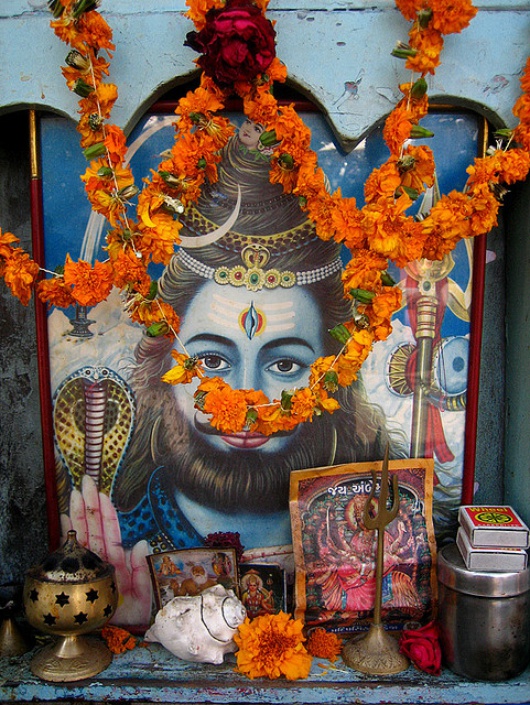 On social networks as well, Shiva and friends are active. For example, more than 6,000 users like the Facebook page for Somnath Mandir, whereas Tirupati Venkateswara Mandir, one of the biggest temples in India, has received more than 19,000 likes. It is second only to Kashi Vishwanath Mandir in Varanasi – a page that more than 102,000 Facebook users think is cool. In comparison, even the Vatican's St. Peter's, with its 59,000 likes, is made to look small. And if you have a smartphone, you can follow the temple ceremonies right from your phone, thanks to the numerous Live Darshan apps. Even in the digital age, Indians don't seem to be tiring of religion. On the contrary, the web 2.0 with its networks, communities, apps and online services seems to offer yet another gold mine to the Brahmins. It remains doubtful, however, whether modern internet connections can reach the mighty Shiva who, according to mythological tales, resides on Mount Kailash in West Tibet. Thus, if you want to play it safe or if the internet ceremonies are too electronic for you, you will have to keep on trudging through the dust from one temple to the next.