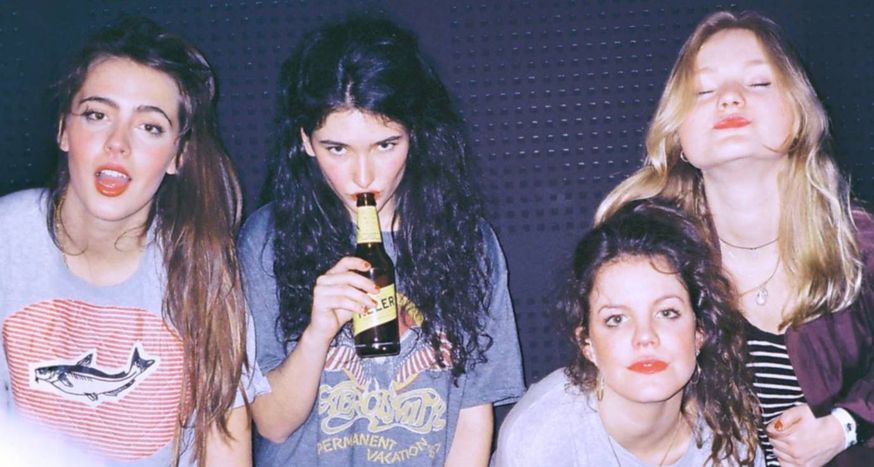 Hinds: "People get stuck on the fact that we're girls"
Published on
Hinds is a four-girl garage band from Spain that's been hit hard and fast by both prejudice and success. Rumour has it their first album – set for release in January of 2016 – captures some of the best distortion sound in Europe, but the rock world continues to see them as "just girls messing around." Composers Carlota and Ana have a few things to say about that.
cafébabel: When did you first realise that you'd become a group?
Hinds: It all happened really fast. Three years ago, the two of us were doing covers. We stopped for a while, then we started up again with two other girls [Ade Martín and Amber Grimbergen].  When we started recording our own songs, people really liked them. After that, we didn't really understand what was happening to us. It was just out of the blue. We accepted every offer, and the group became our top priority.
cafébabel: Had you been planning on a musical career?
Hinds: Not really. You know, the world is full of musicians. We never thought that we could be musicians too. Four years ago, when we started playing together, we tried to believe in our music, but we didn't really like what we were doing. Once we'd written our own songs, things started moving very quickly. Suddenly, we were a group. 
cafébabel: Do you remember your first concert?
Hinds: Of course! It was in Madrid at a rock competition with several other groups. We knew two months ahead of time that we'd be performing at the concert, and we only had two songs. So we wrote more, we put everything we had into it, and we won. That led to everything else.
Hinds - "Chilly Town"
cafébabel: Today, you're an international success. How are you handling it?
Hinds: It kind of freaks us out. It's difficult to attract fans from all over the world. Having the opportunity to go on tour in the United States and Asia is complicated for a young group like ours [this interview took place a few hours before their flight to Hong Kong]. We don't even have time to feel tired, and we've got no right to complain, even if we do have to do a Skype interview the same day we're flying to Hong Kong. If we have to do 150 interviews, we'll do them. Because we know it's worth it. We know that, from now on, that's what we want to do.
cafébabel: You have a sort of slogan: "Nuestras mierdas, nuestras rulas" [our shit, our rules]. What does it mean?
Hinds: That we make music the way we want to. The songs we write are completely ours, and we want them to be accepted as they are. When you write songs and you play them, it seems easy. But once you're in the music industry, you realise that there are a lot of rules about what you have to do and how you have to do it. We've always tried to be true to ourselves, and for us the number one rule is to hold on to our own style and our own opinions. We want to keep them forever.
cafébabel: You're releasing your first album, Leave Me Alone, on the 8th of January. Have you run into any problems?
Hinds: From the very first song we wrote, we've known what a lot of work Hinds was going to be. When you're showing what you can do, you have to think of everything: which video goes best with which song, planning tours, merchandising, album covers for single releases, opening for other bands, writing emails, communicating with fans, concerts... There's so much to do all the time! Right now, we're not writing. And that's not the worst of it! We'd much rather be composing than having to orchestrate all these different things. 
cafébabel: Does it ever get boring?
Hinds: No, but it wears us out. We're working all the time! The life we've chosen doesn't include rules, or work hours, or weekends. Sometimes we answer interview questions in the middle of the night, because of the time difference. Basically, as soon as we decided to go all out, we started having tons of stuff to do. But even though we're physically exhausted, we're not sick of it.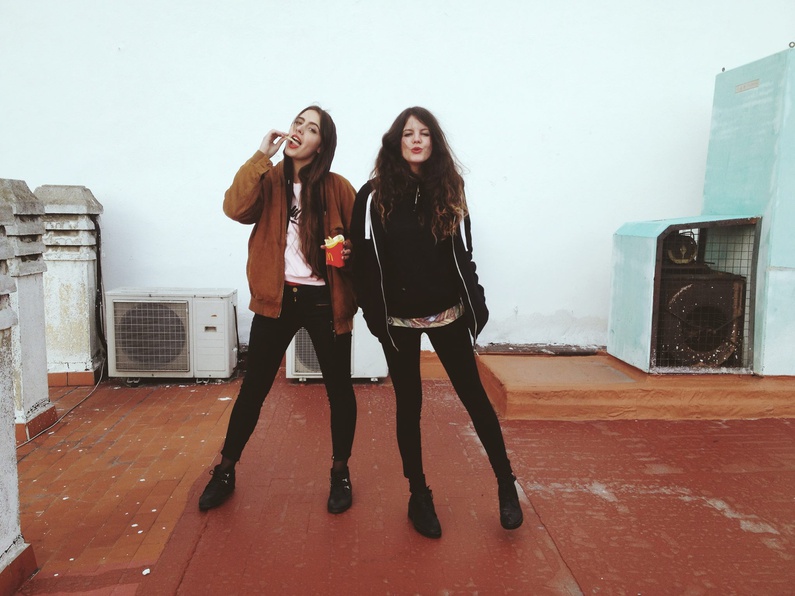 cafébabel: You sometimes talk about sexism in the music world. Have you been confronted with that directly?
Hinds: Yes, many times – but it's not necessarily connected to the garage scene. It's bigger than the rock scene, actually – it's the music world. Some people still think it's weird to see girls playing instruments on stage. We've been the victims of discrimination several times. It all depends on the show and the audience…[silence]. It's really a problem with society. Sometimes it's hard to communicate with people. They don't get it. They're not interested in our music – they're just stuck on the fact that we're girls. 
cafébabel: How do you explain that?
Hinds: There are still a lot of macho attitudes in this world. We're not saying that society has a problem with women, but when we first set foot in the world of music we realised that there's a lot of work to do in terms of equality between men and women. I don't know, mate, have you seen the line-ups for festivals like Coachella, Glastonbury, or Pitchfork? Not even 10% of the groups are girl bands. 
cafébabel: What kinds of discrimination have you run into personally?
Hinds: It can come from anywhere. But we've noticed that the media really participates in spreading stereotypes. We've seen some pretty bizarre articles about our group that talk about everything except our music. Sometimes it seems like people are more interested in what we represent – girls who are just having fun making music – than in our music itself. Not very many people talk about our performances and our way of writing. It's a point of view that we have a hard time accepting. We're sick of being compared to Warpaint and Wolf Alice just because we're girls. It's like being put in a bag. And believe me, it's hard to get out of it. 
cafébabel: If that's the case…
Hinds [interrupting]: Just because we don't talk politics doesn't mean we don't have a message. We talk about love in our songs. Talking about love is really complicated. But we think it's important. 
cafébabel: What makes it complicated to talk about love?
Hinds: Well... love makes the world go 'round, right? When we write songs, we have to constantly express our feelings. We do it in a poetic way. Honestly, when it comes to love, we know what were talking about. 
Hinds - "Garden"
cafébabel: You also talk about your home city. What makes Madrid so special?
Hinds: Madrid doesn't even know how cool it is. That's what makes it even cooler. People there won't judge you on what you're wearing or on where you come from. It's not expensive; you can buy a beer in the street for one euro, even if it's illegal. When we were still in Madrid, we studied a lot, but at night we went out in Malasaña [clubbing district]. We always got beers in the same four bars. Well, usually out front of the bars. We liked getting cool outside [laughs]. To be honest, we don't spend much time there anymore. Because of our tour schedule we're only home three days a month. We don't know much about what's going on there anymore.
---
Listen: Hinds - 'Leave Me Alone' (available for pre-order; release date the 8th of January 2016/ Lucky Number)
Translated from Hinds : « Les gens s'arrêtent sur le simple fait que nous sommes des filles »