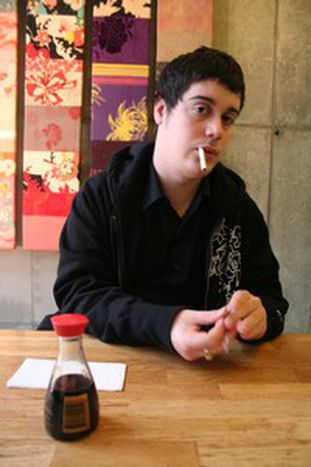 Hector Muelas – when political correctness gets in the way
Published on
Hector Muelas is the editor of the German version of Vice, one of the largest international youth culture magazine and most certainly one of the most controversial.
Hector Muelas chooses sushi for our brunch. We go to a little sushi bar next to his office. There are slim Asian waitresses in vibrant mini-shirts blending into the colourful décor. They buzz by with square plates full of sushi. The twenty-five-year-old Spaniard sits down dressed in a black hoodie. He knows what he wants, and quickly orders the Maki lunch special with avocado instead of cucumber. The Asian waitress nods obediently, "ja," she says in a soft Asian voice and rushes away, disappearing in the kitchen. The food is on the way and Muelas looks at me, his face somewhat tired, stern and rugged.
Bad habit
Being the German edition editor of the largest youth culture magazine is a hard task. There are rare stories to get, parties to organize and go to, ads to sell. Maybe that's why he looks so rough. The magazine is notorious for its controversial content, for its printing of genitals, faces of corpses and drug-injecting prostitutes alongside adverts for Adidas, Nike or Coca Cola. It's a magazine of decadence, of the bad habits that other magazines, according to Muelas, overlook in sheer disgust. Vice is a free magazine that funds itself with advertising revenue. It's distributed in shops, galleries and bars, in much of the English speaking world, in Scandinavia, Japan and now since July in Germany. The people picking up the magazine react: eyes wide open in shock or squinting in hysterical laughter. And Muelas, the young, black-haired lad who has lines underneath his eyes testifying to last night's alcohol intake, is responsible for triggering this reaction in every German holding the magazine in his or her hands.
Muelas doesn't seem to be quite the right candidate for the job. Having graduated in visual communications from a leading arts university in Barcelona, he spent two years at a German university as an Erasmus student, refining his artistic skills at a fine arts college. He initially started out working as a director on commercials for companies like BMW. He also worked on visual installations, had exhibitions in Germany and Switzerland, and assisted the acclaimed visual artist John Armleder - in short, his entire education was pointing towards a career in the audiovisual media. Not mentioning that all the work he had done was in Spanish and his German skills were basic.
From the outside
So why does a twenty-five-year-old guy without the proper German language skills or the appropriate education get to hold such a position? "It wouldn't be good to have a German editor for this magazine," he says, slurping the Miso soup that the waitress had set in front of us. "As a foreigner you see things from an outside perspective." And that agrees with the philosophy of Vice. They write about stories from a completely different perspective to that of the mainstream media, Muelas says. They write without the self-imposed censorship of political correctness that Muelas sees in the "half-assed, half-pussy" mainstream media.
"We love and hate everyone equally. White people, black people, red, green and blue people, Christians, Buddhists, Jews and Muslims… Why can't we talk about sex and race the way we speak about it among friends?" The type of friends he describes are those that call their favourite bands baboon arses, that 'try out' bulimia for a week to write a fun article about it, and that go around asking soldiers in Iraq when was the last time they had sex. It's a Jackass editorial board that writes about race and sex the way jackasses or according to Muelas, the youth of today would.
I want to inquire further about Vice's role as a provocateur, but the Maki lunch special interrupts me. It arrives nicely composed in two squares of nine pieces of sushi. We immediately start chewing on seaweed, rice and fish. Still chewing, he begins to speak about Vice's role in today's media: "Vice provokes readers in a intelligent way. It's the content that is shocking in itself. Vice has turned journalism upside down and questions concepts in a naïve and chaotic way. When we want to publish a piece on prostitution we get a real prostitute to write about it. She might have problems with spelling or grammar but that's part of her world." Every themed issue of Vice is a platform for no-names, real freaks or average Joes to tell their personal stories, as absurd as they may be. Sometimes they come across as simpletons, sometimes they sound like arrogant pricks but underneath the layers of foul language and sex, there are layers that produce a great appreciation of the world, Muelas says. Yet it seems questionable if the readers really get to the point of discovering this depth or whether they simply chuckle and snigger about a drug addict's misery while reading Vice on the loo.
Calling us names
We move on to talk about Vice's readership and particularly about the reactions Vice causes. According to Muelas, liberals and lefties call Vice a racist or fascist magazine. Conservatives on the other hand accuse Vice of being an anarchist, glossy fanzine. Muelas argues: "The lefties call us conservative and the Nazi-maniacs call us anarchists. Do you think those right-wing assholes would accept our tits, asses and drugs lifestyle? No, they don't. They hate us." He distinguishes between European and American reactions to the magazine. "Our readers in Europe are more critical and have a more cultural background than readers in the US. In Europe, the readers think the stories are about youth culture on a global basis. In the US, people consider the stories to be representative of their own country." And maybe this understanding of international youth culture is the key ingredient for their success in Europe. And so now youth thinks: depravity is cool. Vice is now setting up another branch in the Netherlands, and other countries will soon be targeted soon.
The waitress comes back for one last order. As dessert he asks for a pack of cigarettes. The waitress arrives with a soft pack of Marlboros and the two of us start feasting on nicotine. Have I been Vice-fied? Well, it's nicotine, not crack. He lights one last cigarette, asks: "anything else?" His boss walks past the restaurant, points at his watch. "Nope", I tell him. In a poof of his smoke he then disappears out of the door.