Hanukkah: Fun for the Festival of Lights
Published on
Christmas markets, singing angels, hectic shopping and chocolate Santas. Traditional jews don't have any of that Christmas hype. They celebrate Hanukkah instead and down oil rather than sweets. In 2012, Hanukkah is held between 8-16 December.
Every religion needs their legends. The Jewish one goes a little something like this: in the Jewish year 2597 (164 BC), Israel was conquered by the Greeks, one of the most powerful armies of the Seleucid empire. They were militant oppressors of judaism, ensuring the displacement of a small group of pious jews. When the temple in Jerusalem was supposed to be rebuilt, only one keg of olive oil which hadn't been looted by the Greeks could be found. Fresh oil lit the menorahs in the temple everyday – the candelabrum could burnt for eight days until new holy oil was consecrated, even though oil normally only lasted for one day. The word 'hanukkah' itself translates to 'consecration' in Hebrew.
Hanukkah kicks off on the 25th day of the third month of the Jewish year, Kislev (November/ December). In 2010 it took place on 2 December. The first candle is lit at sunset on the first day, as the shehecheyanu prayer is recited. It's strictly forbidden to light one candle with another. The only aim of the light is to burn. On the first evening you start off by lighting the candelabrum from the right hand side. As you add candles to the right, you keep lighting from the left, respecting the 'new' flame.
Oil is not drunk in its purest form. Instead it is eaten in the form of latkes (shredded potatoes and grated onions in flour, salt and eggs) and sufganiot (deep-fried jelly doughnuts). Meals take place amidst friends and family at home rather than in the outer realms of a commercial Christmas market, though German potato pancakes (Reibekuchen) could work even for a jewish festival of lights…
Recipe: Hanukkah Latkes for 4-6 people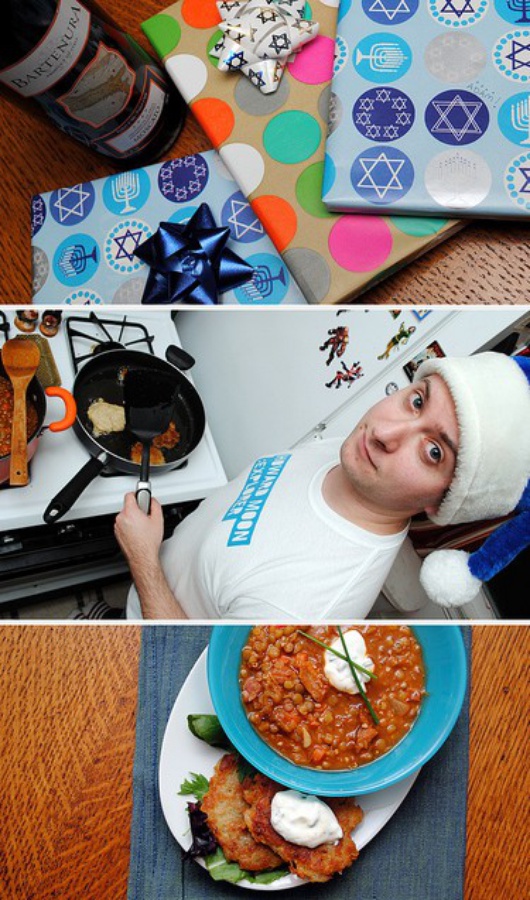 Ingredients:
Oil to fry in, 12 big potatoes, grated, 3 medium size onion, grated, 4 eggs, lightly beaten, 5 teaspoons floor or more if necessary, salt and pepper to taste
Preparation:
Finely slice potatoes and onions and dry in a sieve (or use a clean serviette to empty the potato of its water). Do the same for the onions. Mix all ingredients except the oil well by hand. Add salt and pepper. Heat at least 2.5 centimetres of oil in a pan. Make some little cake patties by hand and put them in the oil once it is hot enough. Ensure they stay separated and don't stick together. Brown on both sides until the edges are crispy, before placing onto kitchen towels. Serve immediately or keep warm in an oven. Enjoy!
First published on cafebabel.com on 16 December 2010
Images: Latkes (cc)  lay d lay; Latkes (cc) Dalboz17/ both courtesy of flickr
Translated from Chanukka: Öl statt Schokolade