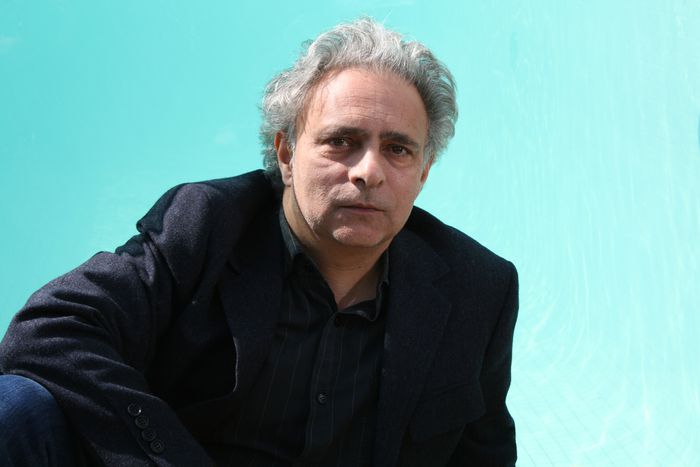 Hanif Kureishi: 'Sex is not dangerous enough; the real danger is falling in love'
Published on
'I like rich people and I like poor people and I like strange people. It's the ordinary people that get on my nerves,' sums up the English playwright and screenwriter at the Fabula literary festival in Slovenia this spring, who manages to 'insult' the audience within his first few seconds onstage
The fabula literature festival is slowly becoming a tradition in Slovene literary space. In 2012, it opened its doors between 27 February and 10 March to local and foreign authors from all over the world for the ninth time in a row. The literary delicacy that Ljubljana has the privilege of allowing to melt on its tongue this year is a public discussion with Hanif Kureishi. 'I'm very happy to be here,' the world-renowned author and screenwriter begins. 'I'm happy to see you all. It seems to me that the entire population of Slovenia has come here tonight.' The joke refers to the rather modest population of the country of two million. The entire hall laughs, seeing a man totally comfortable with himself. Yet as we find out, this hasn't always been the case, and it's what got Kureishi into writing in the first place.
Worlds of expression and censorship
As the son of an English mother and a Pakistani father living in Bromley, south-east London, Kureishi soon discovered what it felt like to be different in a monochrome world. 'Growing up in the suburbs was very boring,' the writer, who still lives in London with his wife and children, recalls. 'It was a dull place. There was a lot of beating of immigrants, of which my father was one. I learnt a lot. I felt that my identity was being destroyed. When they see you as an immigrant, they see you as a victim; your head becomes something of a mess.' Writing helped the 57-year-old clear this chaos. 'I had to think about this stuff. So I began to write. I began to think 'Where am I really really from?', and that's how you begin to get a book.'
The main topic of the 2012 fabula festival is socially engaged literature. Therefore the author also shares a piece of his mind about forbidden literature, with the focus set on the notorious example of fatwa issued on his fellow British writer Salman Rushdie for his fourth novel The Satanic Verses (1988). From what he says, the situation doesn't seem to be improving just yet. 'One of my cousins teaches post-colonial literature at the university of Karachi. She went to a bookshop the other day, trying to get a copy of Midnight's Children (1981), and the man running the shop said 'Why can't you just read P.G. Woodhouse like everybody else? If I were selling a book by Rushdie in my shop, it would have been burned down straight away.' It makes me think that books are dangerous. There are certain things that still can't be said, that people don't want to hear. This is what makes literature possible.'
Fatwa or desire hunter
Kureishi's book The Black Album (1996) raised similar controversies; it was seen as a direct response to Rushdie's fatwa. 'The Black Album wasn't blasphemous,' Kureishi says. 'It wasn't about the koran, it was about speaking. It was about The Satanic Verses. I wasn't scared. It didn't occur to me to be. I thought it was important to write about this stuff.' Is it also important to write about the spirit of the society we live in? 'Most writers hit the definitive zeitgeist at the right moment if they're lucky,' he admits. 'But they can never do it again. You don't know you're doing it, you're just there. It's all inside you; you are the zeitgeist. Then you make it into words for other people.'
Kureishi bases his writing, which has been published in 36 languages, on desires. 'You begin a story when two people meet, when something happens between them. Desire is the motor of existence. When people are most alive is either when they are most frightened or when they most desire something. That's when they're most wonderful, and you really want them badly. Not only for sex, which is easy; when you really want them because you like them, you feel very uncomfortable, you're dependent on them. But at least for writing, we have a really good story there. It's the beginning of everyone's story.'
Searching for good stories is also what got Hanif into employing rather unconventional themes. Between fetishes and sadomasochism, nothing seems to be too much of a taboo. 'I was interested in what happens if you fulfil all your desires. Sex is not dangerous enough; the real danger is falling in love. Having sex perpetually is easy; the complicated thing is really getting involved with somebody, which is much worse and much more painful. Sex becomes meaningless and can't be valued, whereas love, like really falling for someone, can change your life. If somebody with a really compartmentalised love has sex on a Saturday night with twenty people – safe sex, of course – then in a sense, he's not risking anything at all.' Ljubljana really falls for Kureishi this evening.