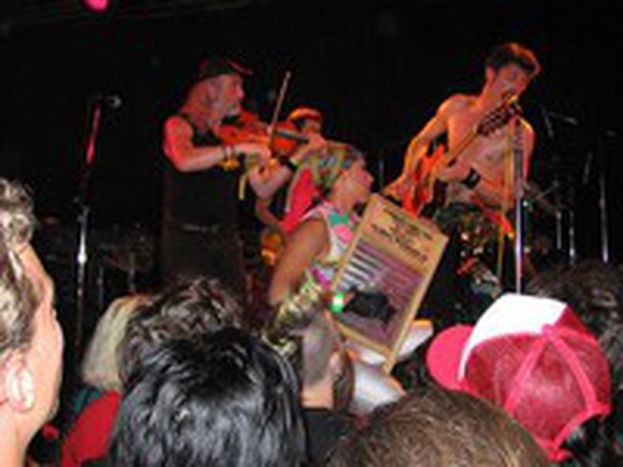 Gypsy in the mix
Published on
Dispelling stereotypes of gypsy music being about old men singing in restaurants, today's DJs are showing that it remains a vibrant and powerful form of music
When you think of gypsy music what do you imagine? For most of us, it is a lonely old man playing the same sad old tune on the violin that you have heard a thousand times before. And now, think of a house DJ. What could these two men possibly have in common?
If you already know, then you are ahead of the game. The latest craze which is about to hit the world by storm is gypsy music.
Music to live by
Despite the modern twists house DJs are giving gypsy music, it remains recognisable as the music that has been played for centuries by the Roma people. To truly appreciate it, you must understand something of their history.
For centuries the Roma in Europe have been persecuted. For five centuries they were enslaved in Romania, with complete legal freedom only coming in 1864. The twentieth century brought further sorrows: the Nazis killed between 200,000 and 800,000 Roma in an attempted genocide known as the Porajmos. The shameful history of Europe continued during the 1999 ethnic cleansing of the Roma community of Kosovo as well as the Albanian community. Through all of this sorrow they have managed to keep their spirits up through one thing - their music.
Music is an integral part of Roma culture, especially in Eastern and Central Europe. It is full of passion, excitement, sorrow and drama. In the difficult circumstances in which the Roma lived music was often the only way in which they could earn money. It is a music distinguished by the exceptional virtuoso playing of the soloists, the distinctive singing style and the tendency to play behind the beat, rather like the blues.
Music to dance to
In many Roma communities it is not uncommon for everybody to play or sing. One such community was the tiny village in Romania where the now famous Taraf de Haïdouks come from. Their music is a warm and eccentric blend of traditional gypsy tunes. They were discovered in 1990 and signed to Crammed Discs. Since then they have performed in countless countries, have been in a film (The Man Who Cried) and had a documentary made about them by French director Guy Demoy. Paradoxically however, they are not well known in their native Romania. Indeed, until 1990 they had not even performed outside their region. It was with the fall of the Berlin Wall that gypsy music became widely disseminated in the West, and the star of Taraf de Haïdouks has risen with the music.
Today, gypsy music is growing increasingly popular and a whole series of groups are becoming well known. Koçani Orkestar, Boban Markovic and Mahala Rai Banda are renowned throughout Europe, while Fanfare Ciocarlia were the European winners of the BBC 3 World Music Awards 2006 and topped the World Music Charts for Europe in April 2005.
Remixing old classics
Alongside these popular traditional groups is a whole series of bands and DJs taking a more experimental approach. These include the gypsy groups Balkan Beat Box and Kal, who produce their own unique blend of traditional and electronic music, as well as gypsy punk groups such as Gogol Bordello. One reason for their popularity is that gypsy music is an ideal candidate for remixing. Traditionally gypsy music has always been about blending, mixing and rehashing old classics, so remixing them is not actually as strange an idea as it might seem.
The latest trend, which started 5 years ago in Germany with DJ Shantel, is for house DJs to remix gypsy music. DJ Gaetano Fabri is one such DJ, who is sure that in the next two years the gypsy scene will explode. "There were no new directions for house music to go in, so gypsy music was the logical next step for me." He DJs regularly in Paris and Brussels and says that the music has huge followings in Germany, the UK, France and Belgium. He will release a compilation with Crammed Discs for Les Divans du Monde with DJ Louie and DJ Tagada in January 2007 and will have a track on the next Electric Gypsyland compilation.
"The gypsy artists seem on the whole to like the remixes and everyone is very surprised to hear the result of the fusion," says Gaetano of his latest work. "People remember gypsy music from their childhoods and subconsciously hear it all the time in films and on adverts and are happy to hear it being revived."
With a following like this, it seems the old man with his violin has a long future ahead of him.
The next big gypsy event will be the "Weekend Tzigane" 21-23 September at Bulex, Brussels.