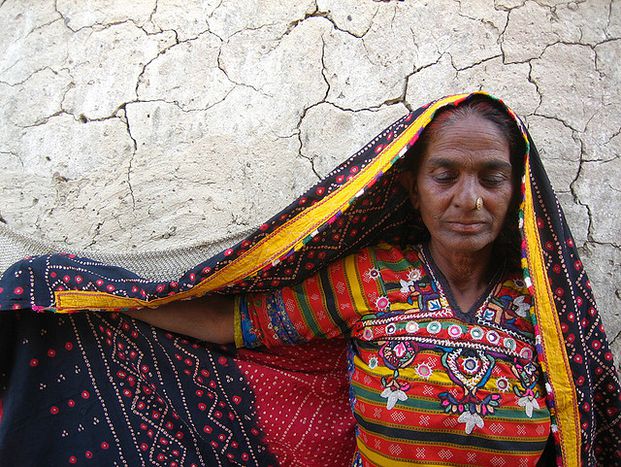 Gujarat: In Krishna's Shining Eyes (Part 1)
Published on
India is magic. But Gujarat is more magic. It's not only the ancient kingdom of Krishna, but also home to many castes and tribes that create some of most beautiful and colourful embroidery this world has ever seen. Sweet curry, giant tortoises and golden deserts: Gujarat is a fairytale. 
Dark and grainy red on doorsteps made of stone. Vibrant white in kurtas and awnings, interspersed with violet traces of washed-out dye. Dark gold in the sand and on temples. Remnants of pink and light rose in sandstone joins. Crinkled black and inky blue on the skirts and hands of the women, who amble on a cool spring morning through the alleys of a little desert town. When you enter the dusty, colour-soaked lands of Gujarat for the first time, you will not be able to hold back a sigh. Just what is it that makes the noisy streets, sticky chai shop benches, industrious dhaba wallahs, crowded market places, temples, pharmacies and wandering ascetics so different in Gujarat?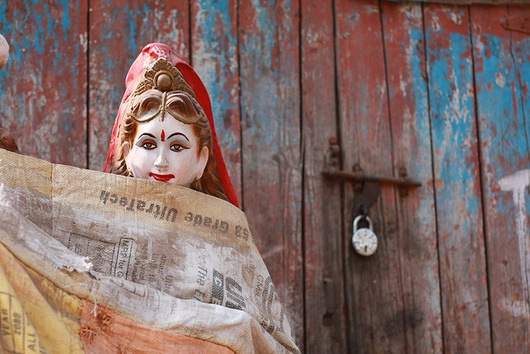 "Gujarat is not like other parts of India. Gujarat is a magic country." Anil, who owns a small dhaba in the centre of Dwarka, doesn't only serve his customers chapatti (bread) and sabji (vegetables), but also weaves incredible, fabulous and surreal stories which perfectly befit the capital of Krishna's mythological kingdom on the Kathiawar peninsula. Sometimes Anil talks about giant tortoises in the Arabian Sea, later about Krishna as a divine lover, and occasionally about his family's financial problems. Not only in Dwarka, but in the whole of India, myth and reality seem to be surprisingly close. In Gujarat, however, magic seems to outweigh reality, despite noisy scooters, ringing mobile phones and neon signs advertising instant soup. This strongly Hindu state of 60 million inhabitants in the west of Northern India does not only contain Ahmedabad, the birth place of Mahatma Gandhi, but also Dwarka, one of the seven holiest Indian cities. Whoever lives and dies here is considerably more likely to attain moksha, liberation from the eternal circle of reincarnations.
This is also one of the reasons why so many sadhus, travelling ascetics clad in bright orange and saffron, are roaming the streets of the small city, whose ghats look out onto the sea. In blissful solitude or in small groups, they go for a stroll to the Shri Dwarkadish Mandir, a famous Krishna temple in which priests dressed in shining green and pink silk frocks worship the god in his form of Shrinathji, making ample use of flowers, milk and ghee (clarified butter). The stone walls are still coloured in gleaming red and pink, and most floor-tiles reflect a soft rose colour. It has only been a week since Holi, the Indian spring festival which is traditionally celebrated with a lot of brightly coloured powder. On a little wall, three old women in dark blue sarees, their hair and faces hidden beneath long scarves, are waiting for the evening pooja ceremony. The elegant black patterns, tattooed on their hands and lower arms, immediately designate them as belonging to an ethnic group whose members are randomly described to foreigners as gypsies, tribals or untouchables.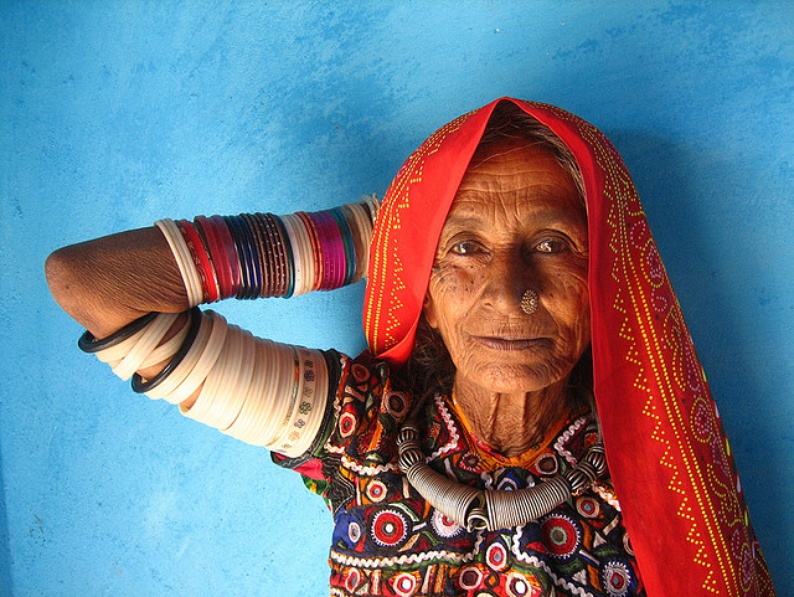 While the English word gypsy seems relatively unambiguous and rather negative, the people it describes in West India are divided into such an infinite number of sub-groups or jati (castes) that confusion seems inevitable. Thanks to their colourfully embroidered clothes, the Meghwal clearly stand out, their numbers amounting to roughly 285,000 people in the state of Gujarat. In the traditional caste system, most of these tribal groups are dalits (untouchables) whose lives may have somewhat improved in the 21st century thanks to legal positive discrimination in favour of the so-called "scheduled castes and tribes", but they still remain largely isolated from other sections of the population. A naïve spectator could only discern that the three women in the Shri Dwarkadish Mandir are widows, but could not know their ethnicity; the beauty of their features and of their shining black eyes is unbroken despite their age. As the pooja is initiated by ten bell-brandishing and mantra-chanting brahmans wearing bright make-up and jumping about frantically, the three women disappear into the crowd. While the sun sets on the Arabian Sea and the sky is swathed in rose and saffron, the singing and dancing congregation trembles at each sound of the gong and every chanting of Krishna's name.
The latter, surely, is the most human god in the Hindu pantheon. Accordingly, most of his followers take more readily to religious and aesthetic exuberance than members of other cults. Krishna's skin, described as either black or blue in mythological texts, refers simultaneously to the beauty of the sky and of the god Vishnu of whom Krishna is the eighth avatar (incarnation). Depending on where you are in India, Krishna might be worshipped as a little boy who revels in stealing sweets, a handsome flautist with the ability to seduce just about every woman, or as a wise warrior. His predilection for earthly delights, beauty and physical love finds its expression in the exuberant rites of the cults devoted to him. When the last candle has been lit and the last mantra has faded away, the faithful pour out of the temple onto the ghats, stone steps that lead down to the Arabian Sea where ritual ablutions are performed. In the warm, almost impenetrable darkness of the West Indian night, however, it is far too late for this. Instead most pilgrims buy sweets in the small snack shops. Rustling their crisp packets and talking noisily; they sit on the ghats, eating their prasad (ritual offerings) and gaze out onto a shimmering sea.
"The people of Dwarka are terrible idiots! The most beautiful beach lies right under their noses, but they only ever go to the ghats to bathe." Anil shakes his head. It's a mystery to him why so many Indians can't swim, although they live by the sea. If you climb down to the small pier behind the temple, you can cross the bay on a little boat for about 10 rupees (11 cents) and watch the white beach unfurl elegantly before your eyes. For miles, there is no human to be seen which leaves all the more red and violet coloured shells to be discovered. The rounded white ones are called Shiva's eyes because they are thought to be just as beautiful and shining as the eyes of the greatest of all gods, Anil explains. He then points out to the sea, blazing and sparkling in the midday sun. Not far from us, a wave washes against the shore, a blurred shadow flashing under it and then disappearing into the reflecting waters. Giant tortoises! Maybe some of Anil's crazy stories aren't fairy tales after all? 
Back in his dhaba, Anil attends to his curry pots and tells the next story. Although Krishna loved to frolic with his countless gopis (milkmaids) and even got married to 16,100 women in a mass wedding once, his one and only love was the married Radha. Together with her, he personifies the most famous couple of all Indian poetry, alongside Shiva and Parvati. Considering the strict Hindu sexual mores of the 21st century, the poetic love songs about a sensual Krishna and an emancipated Radha can only seem anachronistic. In Gujarat, the sweetness of love isn't only revealed in the Krishna cult, but also in the local fare: at least one of the sabjis, which are integral parts of the Gujarati thali, is sweetened with jaggery (cane sugar). The combination of chapatti with spicy daal (lentil soup), salted peas in butter sauce, sweet potatoes with tomatoes and sour raita (yoghurt) is a perfect example of the harmonic interplay of different tastes, which is the primary aim of the Indian cuisines. "It's like in love", Anil explains. "Sweet moments are interspersed with neutral, spicy and sour ones." Accordingly, Krishna and Radha are not only famous for their love making, but also for their violent lovers' spats.
How to not get lost in a salt desert? Who is sewing what in Gujarat? Read on.