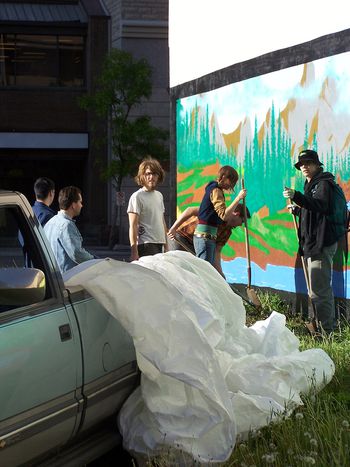 Guerrilla gardening Berlin: fighting capitalism
Published on
Translation by:
Cafebabel ENG (NS)
Nettah
Are they squatters? Ecologists? Do they fire flowers instead of bullets? Do they wear masks and secretly plant seeds? A tour around Berlin's squares and avenues to get to grips with a popular initiative designed to cultivate organic culture in our cities
It's neither clandestine nor about war. Some consider guerilla gardening an effort to make cities greener or as a healthier way of relating to what we eat. It may not be illegal, but it's not exactly legal either. Guerilla gardening is a grey zone, a no-man's land – it consists of someone planting something slap bang in the middle of a piece of ground which does not belong to him or her.
Sow your city seeds
Vegetables and garden produce grow on one side of Mariannenplatz in Friedrichshain-Kreuzberg, right in the middle of the street. 'Another world can be planted' ('Ein andere Welt is pflanzbar') is written on the wood in green paint. This old hospital site was the first squat in the whole of the country, explains Hans Heim. Whilst some sixty neighbours use the Ton, Steine, Gärten ('Soil, Stones, Gardens') as an allotment today, it wasn't so easy to gain the piece of land from the beginning. 'When the town hall decided to restore the area we wanted people to participate. We got together for the project and proposed using it as a community garden for cultivation,' explains Hans. The municipal reply came back negative; they wanted public, not vegetable gardens.
'We protested because it was a plan thought out only for wealthy people, whereas using the land to sow was in the public interest,' he continues. The legal avenues hadn't worked out, so they decided to squat the space. The police threw them out once, but 'I guess they thought we might be dangerous.' Mayor Klaus Wowereit negotiated with them, promising them 2, 000 squared metres; they ended up with half that and good working conditions. They pay neither water nor rent, have good quality soil and can use a small shed kitted out with tools. However, they do not have permission to build fences, walls or take over more land.
The former taxi driver is satisfied now that he dedicates his time to a kind of turning his back on capitalism. 'Many other people have also shown their interest in participating,' assures one of the guerilla gardeners, Malte Zacharias. 'It's not like we spend our time secretly shoving seeds in the ground.' It's about giving a use to a piece of land which everyone uses and which serves in the common interest.
Potatoes don't come from the supermarket?
The story of Prinzessinnengartenbegins in Cuba. Robert Shaw travelled to the island and brought back an image of people cultivating and harvesting their own food in the city, sharing experiences and a place where young learned from old and everyone contributed something. Why not do something like this in Berlin? Together with his associate Marco Clausen, he created a non-profit association and sought a place for inner-city cultivation. With the help of friends, neighbours and volunteers, they transformed Moritzplatz in the summer of 2009. They cleared away the rubbish, built an organic urban orchard and collected the first fruits of their labour. 
People voluntarily assist in the upkeep of the orchard. 'They give their time and learn in exchange,' explains Marco. 'The main job isn't the planting, but uniting the people and making them responsible for the whole process. The experience is very different when you eat something that you have planted yourself and seen grow.' Biodiversity is another of their concerns. In fact, they grow certain varieties that cannot be found in shops. They have projects with schools to teach kids that mushrooms don't come from the supermarket. They have set up a café-restaurant where they cook food made with their own products. 'Food is connected to pleasure and is a great way to bring people together,' argues Marco. 
The meaning of a handful of flowers
Sometimes cities have trees. They dot the pavement every few metres and sit in small patches of earth. What if instead of just soil in these little squares, there were flowers and grass? This is the question that design student Frank Daubner asked himself one day and out of this simple idea to make grey cities greener, his university project Grünt Mint was born. Daubner took it upon himself to plant seeds around the streets, to explain the idea and to give advice so that everyone could make a contribution.
The experience was a positive one. Indeed, more than five years later, the project is still in existence. Arvid Hagedorn took over after the idea's architect moved to a different city. 'Some sponsors have helped us to keep going and there was even a competition organised to see who maintained the most beautiful garden,' he says. Although some fear the reaction of neighbours, the city authorities have said that as long as they stick to grass and flowers only, there is no problem. 'It's a shame that people don't look after their city. It's where we live,' complains Arvid. The city belongs to everyone and we don't all want it to fill up with 'houses for rich people. We have ideas about the city that we want.' The flowers in the pavement are not mere ornaments; they send out a message.
Images: main (cc) chelscore/ Flickr; Malte Zacharias (cc) Ester Arauzo
Translated from 'Guerrilla gardening': Conquista un trozo de suelo y conviértelo en jardín