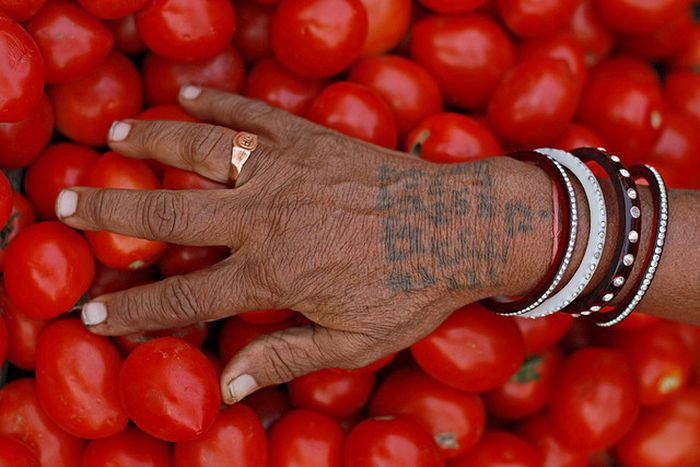 Green, Greener, Greenest: India Goes Organic
Published on
If you think that environmentalism and organic vegetables are unheard of in India, you'll be surprised. The subcontinent of Chemical Mace and pollution is also the breeding ground for initiatives that fight for clean water, green jungles and organic tomatoes. 
True, the importance of recycling and green electricity still eludes most Indians, but in Europe as well, the green cult is a relatively new phenomenon.
Sikkim – Clean and Green! The small hill state in Northeast India, wedged between Nepal, Tibet and Bhutan, has a couple of ecological aces up its sleeve. The streets of its capital Gangtok might still be drowning in noise and pollution, but the government of the Buddhist Himalayan state is aware of these problems and has launched an eco-campaign that is quite something, even by Western standards. Since 2003, the import of all fertilizers and pesticides has been completely prohibited to slowly phase out the use of chemicals in the cultivation of rice, tea, cardamom and other crops. In a state where the majority of the population are traditional farmers, this is no small step. In 2010, the initiative was grandly renamed Sikkim Organic Mission when current Chief Minister Pawan Chamling announced that Sikkim would go "completely organic" by 2015. 
It is therefore no surprise that the organic certification of agricultural land in Sikkim is flourishing, but the political initiative also comes with an educational agenda. If you go for a wander in the forests around Yuksom, a small village in the West of Sikkim, you will of course find the odd discarded plastic bag. However, litter on forest tracks has become exceedingly rare, whereas bright green waste bins with the famous Clean and Green slogan are a very common sight. While in the rest of India, most tourists will despair because there just don't seem to be any bins around, Sikkim brings relief. Aside from guaranteeing a better protection of the Himalayan ecosystem and encouraging green cultivation practices, the Sikkim Organic Mission also boosts local eco-tourism. In the last couple of years, more eco-conscious hikers than ever have flocked to Sikkim to trek through its forests and over its icy glaciers. 
Not only in the North of India, but also in the South, the state of Mother Nature is carefully looked after. In the mountains of Kerala, on the Southern West Coast of India, the former teachers Gopalakrishnan and Vijayalekshmi founded their Sarang Basic School as early as 1982. A year later, their educational project was completed by an organic farm. At the moment, two adults and two children live and work here, cultivating pumpkin, rice and other vegetables according to organic methods. In addition, students of the now renamed Sarang Alternative School occasionally visit to learn about environmental protection and modern irigation methods. The scope of the project is even wider, as the Sarang Family aims at nothing less than world peace. That is why they also teach tolerance and understanding towards foreign cultures at their school and the Sarang Cultural Exchange Centre. Courses include not only organic rice cultivation, but also Hindi, drumming, vegetarian cooking classes and Kathakali, the traditional Keralan dance form.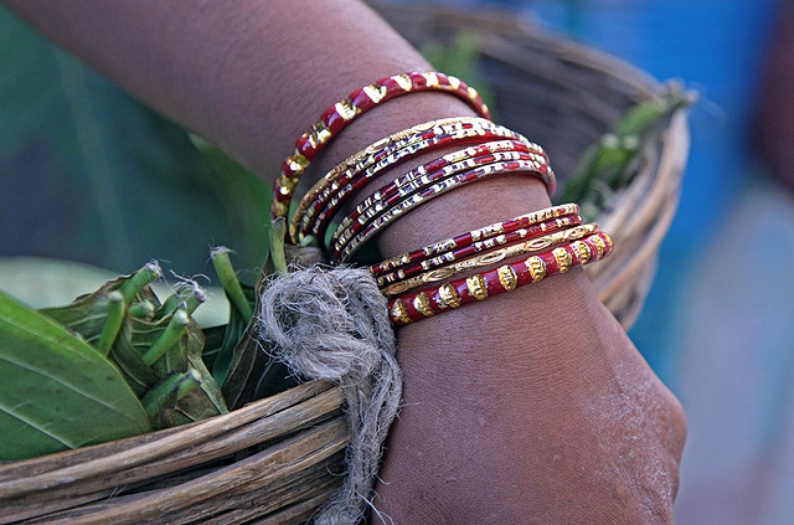 Nevertheless, most cucumbers and tomatoes that you'll find at an Indian weekly market will still be soaked in insecticides. If you can afford the splurge, you could opt for organic when shopping for ayurvedic tinctures and Darjeeling tea. Organic India was founded in 1990 in Lucknow by a group of inspired friends, encouraged by their spiritual teacher H.W.L Poonja. Since then, the company has been selling tulsi teas, triphala pills and many other remedies, at prices that seem quite high by Indian standards. Although this business concept could easily seem like a drop in the ocean, aimed only at the rich and affluent, there is more to it than meets the eye. The brains behind Organic India not only grow their tea according to biodynamic principles, they also want to help Indian farmers in severe economic hardship and to develop holistic cultivation practices. 
Due to these aspirations, Organic India is especially committed to education and supporting rural populations who they want to lead towards more environmental protection and self-sufficiency. Inspired by the teachings of Sri Ramana Maharshi, the mantra of this green company is as peace-loving and romantic as you could possibly wish. "Unconditional love for all beings and all creation, supreme peace, selfless service, limitless compassion, eternal wisdom, sat, chit, ananda, moksha." Fair enough, you might think, as respect for Mother Nature also means love for bharat mata, Mother India. And aren't we all devoted to her?