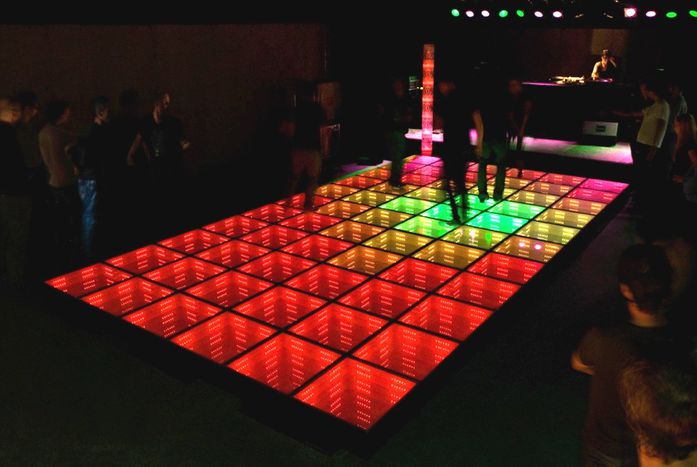 Green dancefloors Berlin: spread the eco-dance germ to Europe
Published on
When it comes to 'green' music, you will have heard of the WATT club in Rotterdam with its Sustainable Dance Floor. But apart from that symbolic rather than effective initiative, saving energy in clubs and festivals remains a wasteland ripe for development. A few pioneers in Berlin are determined to crack that apple
Clubs and festivals have a huge ecological footprint that's rarely pointed out. Air conditioning, transportation, sound systems, lighting and fridges use up vast amounts of energy. On average, a club consumes 150, 000 kWh of electricity per year, the same as 45 three-person households, not to mention CO2 emissions. With 5, 000 clubs in Germany, it's easy to do the math: 750 million kWh, pretty much the amount of electricity consumed by Slovenia per year. So here's a quick look at some of Berlin's night-time projects that give just as good a party but a bit less environmental damage.
Eco-freaky music video
In 2008, funded by the winnings of the good climate vs good music ('Gutes Klima für Gute Musik') competition, the first ever green music video was shot at the Tresor Club. All the energy needed for filming was generated by bicycles converted into turbines: the more people pedaled, the more energy was produced. 'Rather than handing out leaflets from behind a stand, we wanted to get people involved through music,' says Stephanie Schropp, head of the project which financed by the German environment ministry.
The bicycle-generator concept also inspired the Green Music Initiative (GMI) think tank, set up in Berlin in 2008. Last summer, in collaboration with Bar 25, they put on the bicycle disco ('Fahrrad Disko') night. Around the clock next to the DJ, cyclists were generating the power needed to satisfy the dance-hungry party-goers: 'for the first time, people on the floor were no longer staring blankly at the DJ, but at the guys pedalling away on the bikes; people were cheering each other on, it really was great,' says Jakob Bilabel, founder of GMI.
Green festivals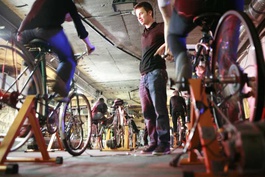 Melt! Festival was one of the first, along with Glastonbury in the UK, Oya in Sweden and Roskilde in Denmark, to take an interest in the issue of the environment. Every year, the biggest names on the pop, rock and electro scenes turn up at Ferropolis, an open-air museum south of Berlin. Persuaded by Green Music Initiative, the 2010 Melt! set a new precedent: limiting travel. A night train was put on to transport and accommodate festival-goers from Cologne. Two tonnes of recycled food were also on offer. 'We haven't had anything but positive feedback! After the festival, visitors were talking about it on our forums. Seventy people even took their rubbish to the recycling centre for a five euro (four pounds thirty) reward', beams Finja, Melt!'s project leader. A good opportunity to impact a group that doesn't always step forward when it comes to environmental matters: 'the music industry is the most important because we rely on models influencing a sizeable target demographic' Finja confides, referring to the 20-35's.
For Lutz Leichsenring, spokesperson for Club Commission, a kind of union body for clubs, the phenomenon of 'easy-jet setters' is just plain dirty: 'people from all over the world take a flight for a night out in Berlin, it's crazy!' Having everyone on bicycles at clubs and festivals probably won't be happening anytime soon, but thanks to Klima Klicker ('Climate Clicker') and its CO2 Rock'n'Roll Guide, it's already easier to be green. It makes a few eco-friendly festival suggestions, which include travelling by bike or car share, leaving the iPod and hair-dryer at home, and even eating food that doesn't need to be cooked. 'Our message is clear. Partying while respecting the environment doesn't spoil anyone's fun in the slightest,' adds Stephanie. So, if there's fun to be had and consciences are stirred, it just remains to be seen whether all this is profitable economically.
Sustainable development…in music?
'First and foremost, saving energy is saving money, whether or not you have a green conscience.' Jakob Bilabel's view is a seductive approach for managers of clubs and festivals. 'When I was working at Universal, people were so lazy they did nothing back then to fight against downloading. They saw it all coming and did nothing. I don't want to make the same mistakes again. Maybe in ten years the government will say, no, you can't put on a festival any more, you're using too much energy, and we won't be ready for that.' The Green Music Index, started in 2011, intends to rate clubs in terms of their 'ecological index', or 'Energy consumption divided by the number of visitors'.
Eventually Jakob would like to include all European clubs, so as to have more weight during talks with the large market-dominating distributors such as Coca Cola or Red Bull. The aim is to put forward a truly green business model applicable to the music world. 'Our project has nothing to do with 'greenwashing'. Everyone is free to participate and see the economic and ecological benefits for themselves,' he concludes. So, GMI and Club Commission advise clubs wanting to save energy on more efficient equipment. According to the experts at Klima Klicker, installing low-consumption fridges or a better ventilation system in a club gives a saving of up to 10 – 15% of energy consumption. Unnoticed by the public and lucrative for the clubs, these are the steps leading to the future of clubbing in Berlin.
Tresor Club, Köpenicker Straße 70. Bar 25, Holzmarktstr. 25
This article is part of cafebabel.com's 2010-2011 feature focus on Green Europe, which has already hit Budapest and Brussels. Thanks to the team at cafebabel.com Berlin. Watch this space for Green Rome, Green Seville and Green Paris!
Images (cc) Daan Roosegaarde/ Flickr; sound cyclists © Mélanie de Groot van Embden
Translated from La révolution énergétique des dancefloors berlinois