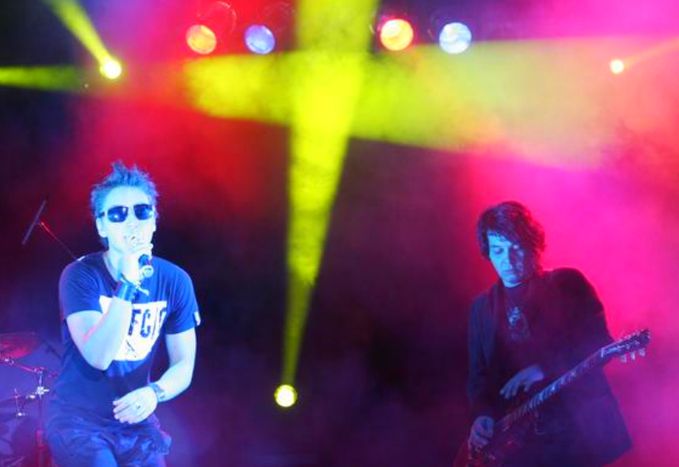 Gravity Co: 'We shy away from traditional Bulgarian limelight'
Published on
They have scooped practically all the music awards in Bulgaria, such as the national music channel MMTV's 'band of the decade' gong in 2008, like magnets deftly reinvigorating progressive music in a post-socialist country. The four-piece Sofia-based rockers stand out from the Bulgarian musical landscape like liquorice-black aliens - and a fourth album is promised for 2011. Interview
Sofia-based Gravity Co. are to release a new album this year representing their trademark indietronic style. They combine new wave elements with a flavour of electro-pop, adding a touch of British spirit. Originally formed as a side project for the soundtrack of a game called Trans in 2001, we thank the gods that they continued to collaborate. Gravity Co. are unsigned, but regulars at the Spirit of Burgas festival. In July 2004 their single Wings from their second album became the first music video by a Bulgarian artist to have airplay on MTV. So who are Gravity Co.? cafebabel.com Budapest meet Yavor Zahariev (vocals), Peter Samnaliev (keyboards and programming), Ivo Chalakov (guitars) and Stefan Popov (drums) at Hungary's Sziget festival, where they shook the Europe stage.
cafebabel.com: Is it difficult to prevail with such sophisticated music on the Bulgarian scene?
Gravity Co: We're the band that everyone loves to hate. We are praised for our rich, full sound and we win all the awards. We continuously get slated among the modern-sounding bands - our songs are all in English, and we shy away from the traditional Bulgarian limelight.
cafebabel.com: How would you define your style?
Gravity Co: We love synth-drenched pumping beats, heavy bass lines and fuzz guitars. On top, we try to lay warm, melodic vocal lines. 
cafebabel.com: Is this subculture flourishing in your country or is it more niche, intriguing only a modestly-sized audience?
Gravity Co: We're always keeping our eyes open for new and interesting artists, though we're usually relieved when we realise that the competition hasn't changed much. The indie scene peaked at the turn of the century and from then on took a nose dive. Still, we're hoping for a comeback; we really want to see more bands playing in Bulgaria.
cafebabel.com: How was your gig at the Sziget festival? Are you satisfied with your stay in Budapest?
Gravity Co:Budapest is stunning! It just has an atmosphere like no other European capital. We are in love! Sziget has blown us away. The line-up, the performance, the crowds, top notch! Our gig was soulful. We played a smaller stage in the middle of the afternoon and we had to play for fewer people than we'd hoped for, but we think we got our message across: 'We are Gravity Co. and we are awesome. Keep an eye out for us!' But, you have to do something about your language. It's impossible to understand.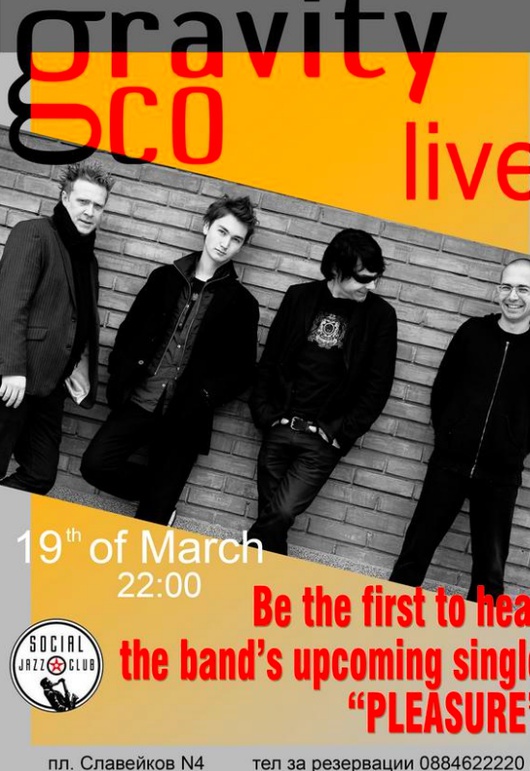 cafebabel.com: Do you feel that American influence is more dominant than a western European one in Bulgaria?
Gravity Co: The path to westernisation is similar regardless of where you are. Sure, American influence more visible, but thanks to technology, there are many more trends to follow now. Today, less information is blocked than it was during the socialist era, so people can pick and choose their values. Bulgaria isn't much different from Hungary in this respect. Both countries had a tough time recovering from oppressive regimes and both now belong to the EU community (since 2007 and 2004 respectively - ed).
cafebabel.com: Who inspires you?
Gravity Co:Terry Gilliam, Steven Soderbergh, Guy Ritchie, Hunter Thompson, Joseph Heller, Jack Kerouac - we are all cinema and literature fanatics. Our library of musical influences grows daily, but you can always find the Beatles and Nine Inch Nails on our players.
cafebabel.com: Do you create the meticulous details of your music consciously, using your rational mind? Or is it either a right hemisphere thing you just need to unleash? It is so precise and well-designed that it is hard to tell.
Gravity Co:Ivo, our chief composer, is always saying that music is an exact science. We are one of those bands that leave few things to chance. We definitely take the analytical approach. Actually, it's astounding how much time we spend talking about the details. 
cafebabel.com: Lastly, I've seen some quite artistic videoclips of yours...
Gravity Co: We have passionate love affairs with art and artists. We're manically devoted to an artist, often we go a bit too far. Don't be surprised if you see Petar wearing braces, just because his current favourite documentary filmographer wears the same ones.
Images: main and in-text (cc) Gravity co/ Myspace; video (cc) anji777 / youtube