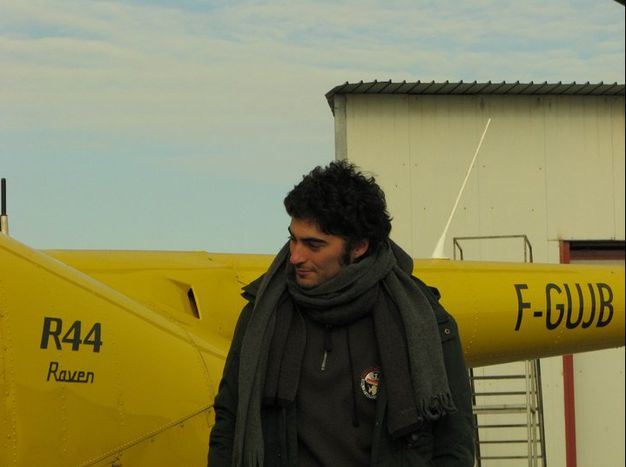 Giacomo Abbruzzese: 'I'm no longer able to make a film without talking about Palestine'
Published on
The Italian director's short film Archipelago (2010) explores the West Bank from its various forms of transport. The arduous journey from Ramallah to Jerusalem and back highlights the absurdity of the situation that Israel and Palestine have been in for decades. A cinematic stop-start journey through the very ordinary day-to-day life of a Palestinian cross-border worker.
Abed sets off for work on a friend's moped in the middle of the night, whizzing along badly-maintained dirt tracks and battling his way through underground tunnels. How else to avoid the numerous border checkpoints? Abed does not have a residence permit for Israel and he therefore works illegally in a restaurant in East Jerusalem. His obstacle course through the border zone reveals the disjointed nature of a country that is only held together in a makeshift manner by illegal tunnels.
It is a bit like a group of islands, in the opinion of the film's director, Giacomo Abbruzzese. After having studied in Sienna, Grenoble, Bologna and Montreal, his films are currently produced by Le Fresnoy, a film and media institute in northern France. 'Whilst I was carrying out research for the film I came across a map in [the monthly newspaper] Le Monde diplomatique,' he begins. 'But this was no ordinary map of the West Bank from which there is no way of really understanding what occupation actually means. The artist had simply painted all the areas in which there are Israeli colonies and which are under the direct control of the Israeli army blue, as if they were part of the sea. What is then left of Palestine and the West Bank looks like an archipelago.'
Lonely passengers between hostile worlds
Accordingly, it took a long time for people to travel between Ramallah and East Jerusalem, Abbruzzese says. 'What struck me particularly were precisely those border crossings which were not necessarily always of a geographical nature, but which were far more often emotional. How many fragmented areas can be crossed in just two hours!' It is precisely these 'fragmented areas' that are the subject of Giacomo's film, which joins Abed as he leaves Jerusalem after finishing work and is returning to his home village on the West Bank. Abed always has a white polystyrene box with him which he drags from bus to bus, the contents of which are every bit as mysterious as the beautiful girl dressed in red who smiles at him on one of the buses. Of course we assume that the box's purpose involves a bomb. But it would be too simple for Abed to blow himself up at an Israeli border checkpoint at the end of the film. It is precisely these stereotypes of a Palestinian suicide bomber and an Israeli settler that Giacomo does not want to convey in his film. He knows the country too well for that, having worked as an artistic assistant for Palestinian television for eighteen months.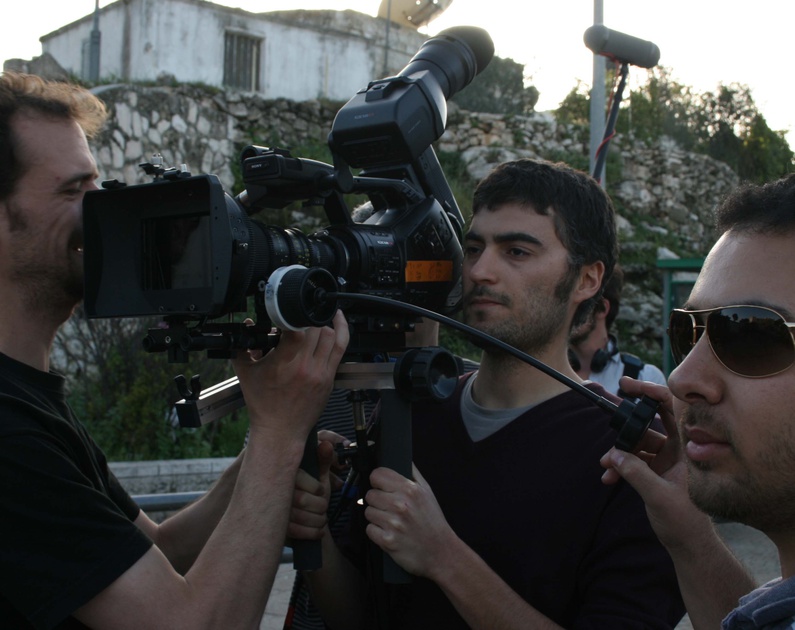 It was during his time at the Cinematheque in East Jerusalem, which hosts the Jerusalem film festival every year, that Abbruzzese discovered the Middle East's cinematic culture and decided to make a film of his own about the disjointed nature of the country. As an Italian in Israel and Palestine, Giacomo says that he had a 'fresh pair of eyes', as it were, with which to view events. 'I'm opposed to the view that we always have to take one party's side. After all, this is not a football match. The issue is not about supporting only the Palestinians. This is more an issue of the rights of the individual and also of administering justice and of honesty.' The particular balance and indeed neutrality of his film may also stem from this - qualities which, given the controversial subject-matter of Archipelago, can certainly not be taken for granted. So is Abed carrying a bomb around with him or is there only fresh fish in the polystyrene box after all? Is he in love with his Jewish colleague, the waitress, or does the viewer just imagine that in his quest for a multi-faith love story?
Multi-faith, multi-ethnic, multinational area of Europe
Archipelago is a passionate plea for an amicable solution to the problem. 'I'm opposed to this territorial partition,' says Giacomo. 'It makes no sense at all to me, as it involves one single country, one bloc. All its problems are created by this division.' He adds that the only solution would be a secular, multi-ethnic and multi-faith state in which every citizen would be able to move around freely. Archipelago was not only convincing to his Palestinian and Israeli friends, but also to the jury at the 28th Turin Film Festival, where Giacomo received first prize for the best short film and the 'AVANTI!' prize to promote public screenings of his film in November 2010. Since then he has been touring the whole of Europe with Archipelago at various festivals.
He is also working on his new short film, Fireworks (2011). Although it is being filmed in his home town of Taranto in the southern Italian region of Puglia, Palestine will not release its hold on Giacomo. 'I'm simply no longer able to make a film without talking about Palestine. That has now become an important point of reference which seems to be an obligation, a necessity. A Palestinian will therefore appear in my new film as well.' A Frenchman, several Italians and a Greek also feature in the short film in which all of the actors speak in their mother tongues, all understanding each other as if by a miracle.
'The world is a division of the population into first-class and tenth-class citizens'
Giacomo would also be keen to tackle a feature film about Romania. After all, the issues of religious identity, ethnic origin, immigration and integration are current ones, not only in the Middle East, but in Europe as well. 'What is happening in the world at the moment is a division of the population into first-class and tenth-class citizens. That is the absurdity of movement.If you are one of the first-class citizens, you can travel everywhere you want with your passport. The tenth-class citizens are the illegal immigrants.' Abed's Odyssey in Archipelago is specific to Israel and Palestine, but at the same time it illustrates a global dilemma. However, a question mark hangs over where the journey ends between the fragmented areas. At the end of the film Abed turns to face the viewer questioningly: should the journey continue at this point and, if so, what awaits us on the other bank?
Images courtesy of ©Giacomo Abruzzese
Translated from Giacomo Abbruzzese: Die absurdität von bewegung in europa und nahost