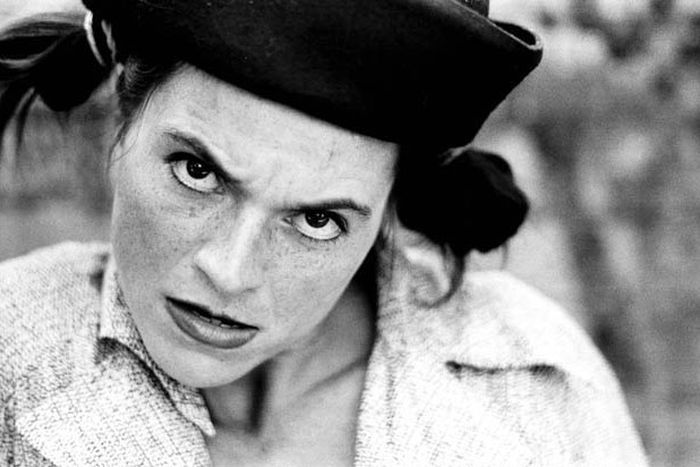 German clown Marenka: "we live in lies"
Published on
For seven years, the 37-year-old has acted in German-language performances throughout Europe, a trade she refined in Hannover, France and California - how does her public react to her clownish mishaps?
Vienna on a cool spring day, at three in the afternoon. Waiters scurry from one table to the next, underneath the magnificent arches of the Café Central. In the midst of the bustle, with a little luck, you might come across a genuine clown. Far removed from the stereotype, she's female, free of makeup, wearing shoes that appear to be a size four, has a small nose, hair tied back in a messy bun, wears casual clothes and made her first appearance in the circus at age 24. Actually, the leather satchel strapped to Marenka Leins' back is a little too tight for her; she looks a bit clownish. Marenka is currently working in Vienna, often spending her afternoons in this café. As she sips a typical Viennes melange (milky coffee), she takes in her surroundings. 'A clown observes - people, herself,' she explains. 'She uses what she sees, processes it and feels compelled to show it to everyone else.' Any situation in the café could possibly morph into a framework for a role: the enamoured man, with the best of intentions, tries to help his beloved take off her jacket, but instead triggers a chain of calamitous events - vases spin and topple, chairs break and coat stands fall over. The elegant lady who stirs the spoon in her coffee to the rhythm of the waltz, the clumsy maid who finds herself under the spotlight on stage and has no idea how to get out of the situation without making a fool of herself.
Uncovering life's lies as a clown
As well as having a keen observational eye, Marenka's work also requires a lot of discipline. As she works independently, she not only has to constantly conjure up new ideas for her shows, but also needs to undergo regular strength training to keep her body in top form, ensuring she can perform well. On top of all this, she has to choose appropriate costumes, network and maintain contacts, and seek out new contracts. Normally Marenka finishes her office work sometime after 7.30pm, followed by several hours of training. Her day usually comes to an end shortly before midnight, when the curtain falls. If you like, being Marenka the clown incorporates many different professions: actress, writer, director and manager. These all come together again on stage.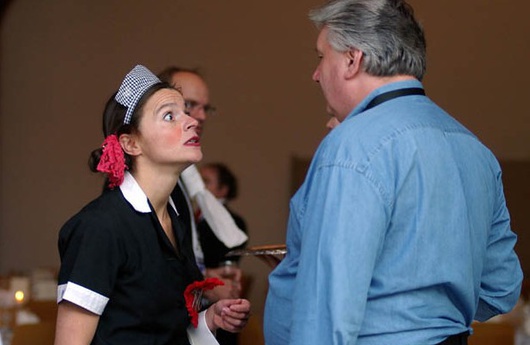 It all started fourteen years ago when Marenka saw a mime. 'He'd created a world that I could see yet it didn't exist,' she recalls. She followed a friend's suggestion and enrolled for a pantomime course, before applying to do an intensive course with an audition video that now, four years on, she remembers as being 'pathetic'. She later learned that the course had accepted her because she lacked inhibitions and knew nothing. This boldness, along with her disarming openness, is what drives her: 'Without seeing it, we live in lies. I want to uncover them, to play with life, with truth and with everything that those represent.
Marenka cites Garold Anderson (who she worked with in France), American vaudeville performer Avner Eisenberg (known as Avner the Eccentric) and his clown-and-eccentric-performance teaching wife Julie Goell as significant artistic influences who have contributed to her development as a performer. She met them all in various training centres in France and California, where she studied at the Dell'Arte school of physical theatre, in Blue Lake. 'Marenka' has become her trade name. She uses it for everything from cultural events, galas, festivals and variety performances, to shows in Germany, Spain, Austria, Switzerland, the Netherlands and the United States.
Public dictates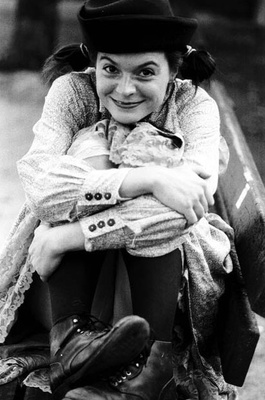 Marenka thinks back to some of these appearances with amusement. 'The funniest time was during a performance - I played a dog with its tongue hanging out, just as a dog really does - when a real dachschund jumped up onto the stage and kissed me. It was almost impossible to finish the play, because every time I took my position as a dog, the dachschund started prancing about on the stage.' Marenka records these brief moments like a seismograph. They are then sharpened with an appropriate mixture of wit and seriousness, and refined. In order to make her acts as authentic as possible, she sometimes has to conduct research into the atmosphere of the 1950s, correlating to the situation that she wants to portray.
The rest happens onstage where Marenka is earnest and full of interest in the comical side of things. 'A man falls, everyone laughs. A woman falls, people feel bad if they laugh. Someone hits a man and people laugh. If the same is done to a woman, it's almost taboo. The public dictates what works and what doesn't. For me, the best gifts often come from improvisations that happen on-stage.' That is how she devises her acts: mundane everyday situations are transformed into spontaneous, dynamic and seemingly effortless physical performances. The more awkward the mishap, the greater the potential for comedic development - no make-up, a real clown.
Images: ©marenka.de
Translated from Beruf Clown: Marenka oder die Kunst des Echt-Seins