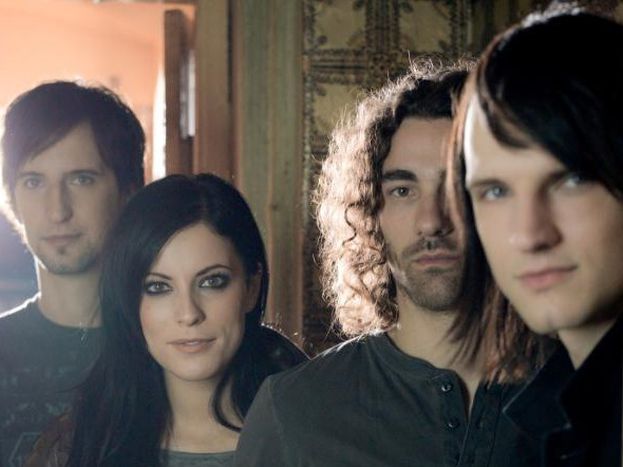 German band Silbermond: who needs to sing in English?
Published on
The stranger German music is, the more successful it is – just take the examples of early noughties emo-esque boyband Tokio Hotel, or their more authentic predecessors Rammstein. Yet this group are simply too nice to be as well-known across Europe - yet
Have you ever heard so many German voices in the same place in Paris? We're at La Maroquinerie, a coffee shop-bar-restaurant in the French capital's twentieth arrondissement or district on a Tuesday night. The courtyard bustles with activity, tickets are being bought at the desk and a German manager is braying down his mobile phone. Drinks are sipped in the evening light which traces a path over the glass front of the restaurant. The well-behaved band Silbermond, meaning 'silver moon', are sitting at a wooden table in the middle. There's no alcohol; they're just about to go onstage, and are speaking graciously to a reporter from ARD, a regional radio station which will screen the broadcast tomorrow morning in their native Germany.
Parroting on in German
Silbermond come from Bautzen, eastern Germany, where young people famously don't get an opportunity to study for more than a few years. Stefanie Kloss, Andreas Nowak, Johannes and Thomas Stolle, friends and bandmates, are playing a Parisian stage despite the lack of obvious success in France – none of their hits have been released here – but simply because they wanted to be here. 'Many of our fans who live abroad have contacted us over the years, usually au pairs or erasmus students,' says singer Stefanie, who is defined by her black eyeliner, belted leather jacket and openness. 'Once we finished our fourth album, we thought we should make their wishes come true,' she adds. Stefanie talks a lot, and whilst she is onstage she says things she doesn't understand herself. 'I am a parrot', she reads from a piece of paper in French to an audience in raptures. The locals understand it; but tonight, everything is in German.
A group of steadfast fans are singing almost every lyric at the front of the crowd tonight; the little club is only half full. Silbermond count as members of the new-new-new German wave, joining eighties-era Germanophone musicians such as Nena or Falco. Unlike other groups from the movement, such as Wir Sind Helden or Juli, Silbermond are still touring. Most notably, their song Symphony (Symphonie) made it to the top five in the German charts in 2004 (in Britain, it has beencovered by British singer Sarah Brightman- ed). Ever since they have been peppering Austrian and Swiss charts. Some of their most popular pop-rock numbers include The Best ('Das Beste') or Something Remains ('Irgendwas bleibt').
Optimists but not goody-two-shoes
Silbermond don't sing in English at all. Their lyrics are positive despite the sad themes of the songs. 'There's no point in just saying everything sucks,' says Stefanie. 'It will only go on in one way or another. We are just the ones who are passing the message on.' In their last single Sky Open Up ('Himmel auf'), they croon about fate, exclusion and excessive demands:
'The cold sky and this cold Berlin/ She is not well seen in this city/ Because our network didn't grab her/ Becuse the devil turned around her'.
Silbermond, full of hope, go on to sing: 'When the sky rips itself apart, will it do it for me too?'
The media have stamped the band, who met as adolescents in 1998, as 'good people'. Singer Stefanie isn't quite so enchanted with the label: 'I'd like to know what makes a good person,' she remarks wryly. 'I would be better if every being were good by nature, instead of winning laurels in particular for something.'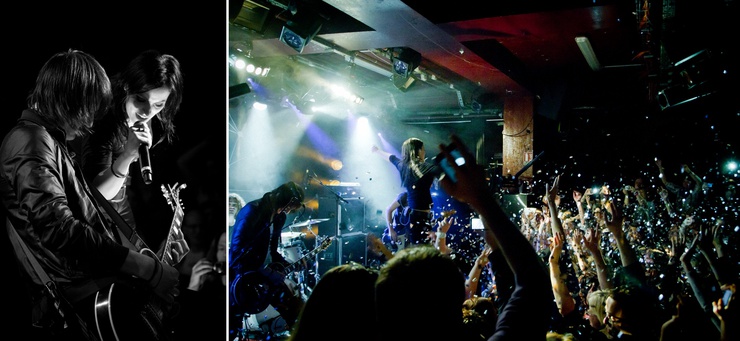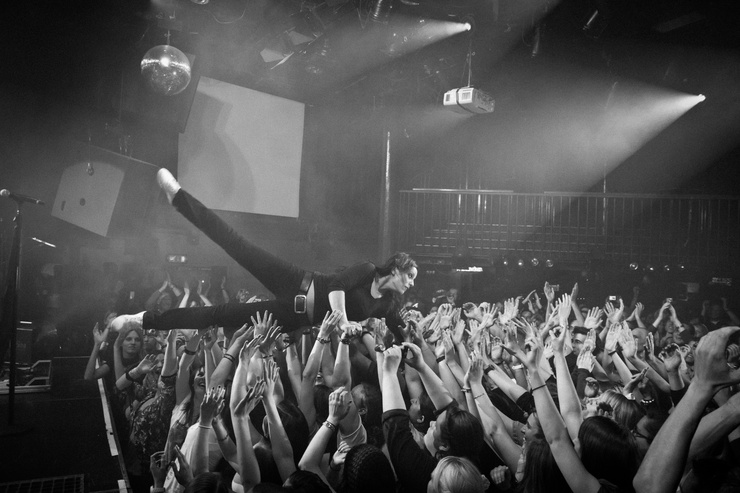 The songs which launched Silbermond into the spotlight are quite wishy-washy, but in concert tonight the band are almost bestial on stage. The lights jump to the rhythm of the drums, Stefanie sings the soul out of herself and guitarist Thomas confounds everyone around him with a solo to die for. The group really have something to give, and the small club sweats in an overcharged atmosphere. We even see a spot of crowd-surfing from Stefanie towards the end of the gig, and then, it's over. They clean everything up together and drink French wine from plastic cups. Johannes, the bassist, offers a final explanation with regards to the band's goody-two-shoes reputation: 'It's because when we vomit after drinking too much, we clean up after ourselves.'
Images: main © Sony Music; in-text (cc) Silbermond in Paris courtesy of © Silbermond/ videos (cc) ErdbeerPfirsischx; (cc) silbermondband/ youtube
Translated from Silbermond auf Stippvisite in Paris: "Je suis un perroquet"