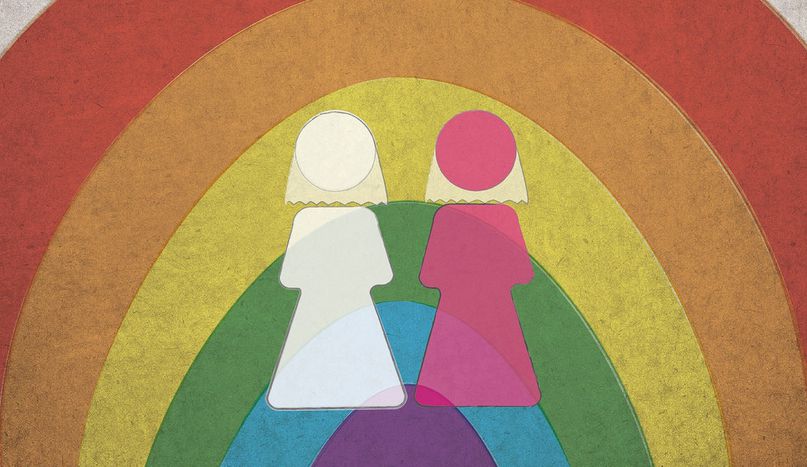 Gay Marriage: Ireland and the importance of mums
Published on
Translation by:
Jennifer-Anne Dove
OPINION: Post-referendum thoughts on same-sex marriage in Ireland, how to get Italy out of the Dark Ages and the important role of mothers in this fight.
It's post-referendum in Ireland and I'm drunk. I should do this - you know, celebrate to the point of forgetting that Italy is missing from the map of countries that recognise civil rights for gay people. I mean, now even Ireland is a part of this club. Yes, 'ultra-Catholic' Ireland! Where, until 1993, being gay was not only a sin but a crime. Where abortion still hasn't been legalised. Yep, even there. It's neither a joke, nor an article on The Onion. It's all true. Except that the Irish are so cruel that they did it with a referendum. Are we Italians bottom of the class in civil rights? Well, we definitely get an F.
It's a triumph that hasn't happened through a vote of no confidence in a Government with a tiny majority. But instead, it's happened via a plebiscite. They asked the people of Ireland, do you want gay people to be able to say 'I do' and also fall into the trap of marriage? Do you want them to achieve equal rights  and equal ball-busting? And the Irish  happily ratified their 'yes'. Almost as if the straight community had married the gay community. What harm can it do for them to be in it together?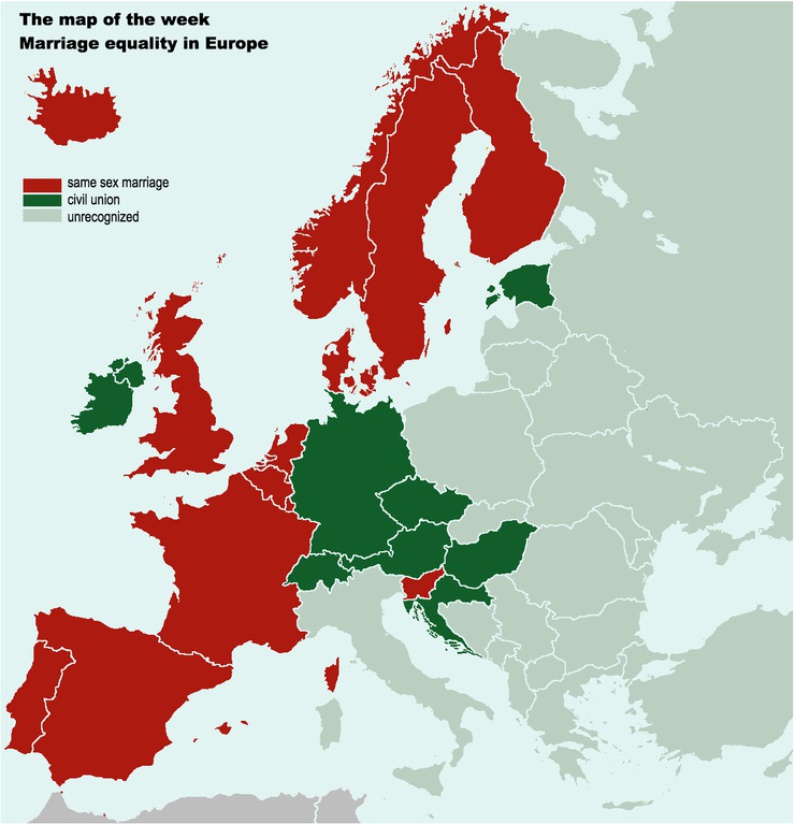 Looking at this map a few days before the referendum: France. Yes! Spain. Yes! Portugal. Yes! Surely not Portugal too? It's a yes for them too. And Italy? Nothing. Okay, we can compromise - how about a recognition of civil partnerships, like the Germans, who don't call it real marriage, but it's close enough? Nope, nada, zilch. I ask myself: what happened to DICO, PACS and all those bland attempts of the Prodi era to give dignity to all of Italy's citizens? On Florence's Piazza San Giovanni, a divorcé, then mixed up in a prostitution ring involving minors, spoke in defence of the 'traditional family'. Yes, it was 2007, Berlusconi spoke, and Prime Minister Prodi's plans were crushed. Thank you and goodnight.
And meanwhile, what do gay people who got married abroad do? Well, it's their own business. A few months ago in Rome, Mayor Marino said that these weddings are valid  even in Italy, and by having a nice ceremony in Campidoglio, everyone would be happy. Then, a prefect arrived and shouted at him: "Was that a joke?! It's illegal! It would be annulled." Already, in 2012 the Court of Appeal had said: "Gentlemen of Parliament, carry the motion. These people exist, get together, live together, and have children. Do you want to get out of the Dark Ages or not? Do you want to pass an easy by-law, or get ourselves into difficulty, where we cannot only not legislate, but where we also take 20 years to reach a sentence?"
So, is now the time? The Court of Appeal has said it, and the Irish have done it, so what are we waiting for? It's a small job. We could just import a few million litres of guiness and get over the fear. Instead, from the web, comes the umpteenth blow. Giorgia Meloni, a right-wing youth activist appealed on Facebook about the cost this would mean for the state. If a straight person gets married, with a ceremony imitating the style of Signorini, even if this means the family gets into debt, it's automatically an excellent example of the 'traditional' family. Even if they divorce because he cheated on his wife with the secretary or with a stranger on Facebook. Instead, imagine a gay Italian couple gets married. They invite few guests, stay faithful, and pay their taxes but these critics will still feel there is a cost. But what kind of cost? Does it cost so much remove all the dust that gathers in the cerebral cortext of the brain?
'
No to same-sex marriage: it would be an enormous cost for the state and an unacceptable path to gay adoption. Brothers of Italy, fight in Parliament against the 'DDL Cirinna' that is introducing "stepchild adoption" and in fact is opening the door to 'uterus for hire'. We have other priorities: supporting the traditional family and birth, and defend the sacrosanct right of a child to have a father and a mother.'
Meanwhile in Lecce, two girls were thrown out of a park, at the request of two policeman, urged by a caring mother who feared for the wellbeing and sensibilities of her own children. Let's forget about the two policemen. Let's pretend they didn't have anything better to do in a country with high rates of corruption, dirty dealings and organised crime. But the mother? That's what we need to talk about.
My mother and I have been giving each other the silent treatment for such a long time. We don't understand each other. She was there, waiting for her firstborn to bring home her Prince Charming, and Prince Charming didn't arrive. He didn't even knock on the door. Nothing. So much disappointment, so much useless resentment. And meanwhile I was making my choice. It wasn't a matter of coming out. And anyway, coming out of where? I wanted to stay inside. To be with friends who saw me, not my sexual choices. The only way I have found to make it work has been to make it clear straight away, no matter who I am with, removing that aura of mystery or suspicion that often surrounds homosexuality. Lock me in a gay bar? Never ever. To only get it on with women who are obviously lesbians? But why, I would miss out on the best.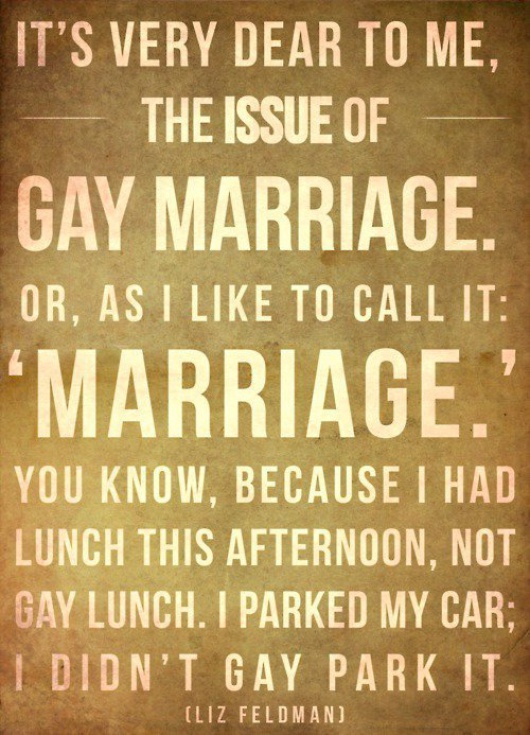 Years went past. Meanwhile my mother became braver. Braver than me, because at a certain point I had lost hope that I could make her understand. She shook off her fears and has accepted me for who I am: A woman who likes women. A few months ago, because we live in a small village and people whisper, one of my uncles  was informed of the tastes of his wicked niece. Jesus, I thought. And now how does he face the embarrassment with the family (and the family is really big)? And while I tried to justify myself saying "it doesn't bother me what other people think." She calmly replied, "Don't even worry about it." Like the Mother of Baltimore, she's a legend. Period.
Only a mother knows how essential mothers are in Italy. I think of the brave others of Taranto, of Terra dei Fuochi, of Lampedusa, to the volcanic mothers of the NO MUOS movement, or the NO TAV mothers. Put mothers on the front line and the battle always has an extra kick. Activists can be accused of being spoilt boys, nostalgic communists, good-for-nothings, unmarried or hysterical feminists etc etc. But when their mothers go out into the square, it is a completely different story. There is respect, empathy. Okay but if there are mothers, even I protest. For example: If the Mother of Baltimore were a candidate for regional elections, she would have won the first round. But she is a black person in America. Ah, but she is still a mother. If then she slaps her son across the head, that's the final word. The mother that fights is far better than other brave alternatives.
Therefore dear mothers and children, gay or straight, should you even care? And when you ask yourself why Ireland said yes and why Italy says no, ask yourself this: How honest and brave have I been today? Have I asked this of the people around me? Rather than resentfully criticising some idiot on the internet, did I manage to explain to someone how things could be different, to kindly pick apart the ridiculous certainties and fears that are around us?
Your words, in your homes, amongst your friends, amongst cousins, work colleagues and aunts and uncles. Certain days you need to shout, other days its enough to ridicule their prejudices, reply with a thick dose of sarcasm to an out-of-place quip. Houses are full of cuckolds and whoremongers, people who don't have sex with their own partner, unhappy couples who stay out of mere interest.
To love (or also to only have sex with) a person of the same sex cannot be an embarrassment. Neither for us nor for the people who love us. Combat this daily idiocy, s'il vous-plait. If, in the wait to improve, someone were to stop pumping out that awful dance music at Gay Pride parades maybe it would speed everything up. And remember: a mother at your side is more persuasive than a pint of Guinness.
Translated from Matrimonio gay: d'Irlanda, mamme e altre sciocchezze