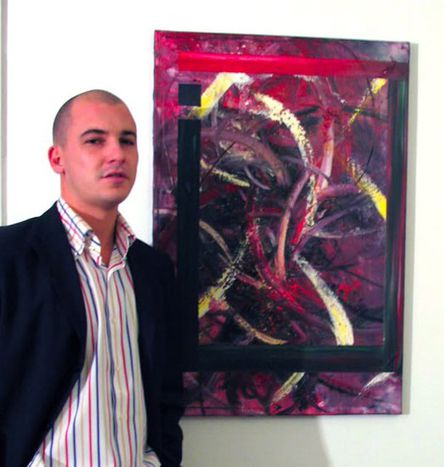 Gaëtan Tarantino: 'Graffiti artists are normal people, not hooligans'
Published on
He escaped prison and fines, sleeps and breathes graffiti and his NGO holds Brussels' annual graffiti event: how the 32-year-old from Marseille, who once worked in air-conditioning, cheers up gloomy Belgian neighbourhoods with art that emerges from concrete
Frites (chips), chocolate, beer, the statue of the peeing boy (the Mannekin Pis) and the Atomium monument which was built for Expo 58. When we tourists think of the EU's capital city, we usually put our stomachs first, with some food for the soul next. Once you arrive in Brussels though, you'll discover a city full of contrasts, where street festivals simultaneously take place in still residential neighbourhoods. During a recent stay in this trilingual city, I had just such an experience, as I strolled past walls, tunnels and columns covered with amazing frescoes.
More than spray from a can
Colours bring Brussels to life, but there is a strange contradiction between an artist marking his name so prominently in public and yet remaining anonymous. This is the case for Gaëtan Tarantino, who has been a graffiti artist for eighteen years. Tarantino developed his taste for graffiti from an early age, remembering being surrounded by names left and right on the way to school. 'All those people whose signatures we see written around the city, without knowing who they are: I wanted to do the same thing as they did,' he says. The self-taught 32-year-old explains how his route was a common one. He began as a 'writer', signing his name all over the city. From that he progressed to larger, then more colourful lettering. Finally he went on to tackle much grander projects: frescoes. Gradually he got to know other graffiti artists, who he describes as 'normal people, not the hooligans you might expect.'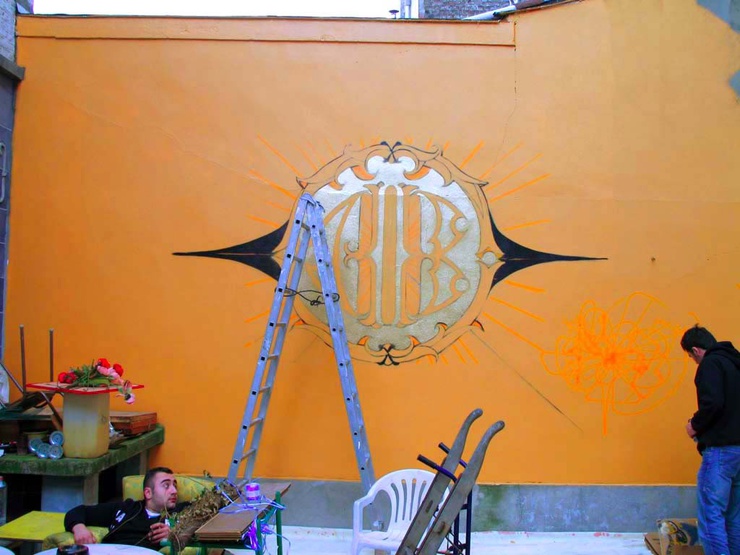 Graffiti began as a passion for Taranto, who was making his living in a completely different area: air-conditioning. He defends the career choice he made at the time. 'It stopped me from becoming too caught up in my own thoughts and in questions of identity,' he says. 'I never had to force myself to do graffiti and never did it for a profit: it was always a pleasure to me—it was my passion.' He says that he is now 'more or less' able to live off his art, but he still thinks of his practice as 'living my art: it represents a need for expression, a way of life. You think graffiti, you eat graffiti, you sleep…or rather, you don't sleep, because you are too busy doing graffiti!' he explains with a laugh. 'A graffiti artist is a guy who has mastered all the different areas of graffiti, the 'flop' (a quick, rounded style of writing), the 'bottom' (large lettering ranging from 10 to 60 metres high), and who also knows the job inside out: how to cope with the pressure of working at night, but also how to work during the day using different colours. There's a lot more to it than just spraying paint from a can.' Tarantino doesn't have any heroes, nor does he look up to any of his fellow artists; but he does notice when a 'work' is well-executed and a thing of beauty.
Illegal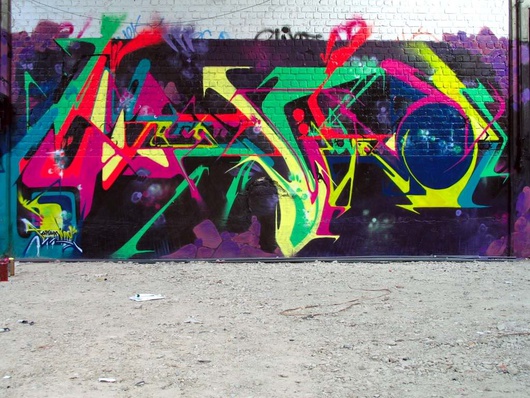 Now that graffiti has made it into museums and art galleries - like the 2009 Cartier exhibition 'Born in the Street' and the upcoming 'Graffik London' exhibition in London – its legal status has become a question of particular interest. Is graffiti inherently illegal? Is graffiti on canvas still graffiti? Tarantino, at least, has good reasons for leaving vandalism (defacing property) behind. He narrowly avoided a year in prison and millions of Belgian francs in fines. After human rights organisations took up his case, and he received an official pardon from the king, Tarantino began to respect the law, and since then always obtains permission before working on a wall… or almost always! As to the proper place for graffiti, he believes that the street is most important: 'You go out to see graffiti: graffiti doesn't come to you in your living room.' That said, he doesn't knock his contemporaries who work for museums, but he does believe that this work should only be done under certain conditions: 'I think that I'm part of a generation that finds any surface interesting to paint on. But if you're doing graffiti in the streets on canvas, and not adapting your work to the surface you're painting on, I don't think that you're making any great artistic or conceptual advances.'
In 2004, Tarantino founded an organisation which puts on artistic and socio-cultural events. At the beginning of September, he will be co-ordinating the fifth edition of 'Brussels Graffiti' through it. It's an event which will bring together more than fifty mostly self-taught artists from Belgium and the rest of the world to collaborate on giant frescoes. This event first took place in 2006, thanks to the donations of local firms. The first location to be repainted was the Brussels morning market (MABRU); in subsequent years, the De Wand tram station was given a makeover, becoming the site of Europe's largest fresco (5000 m2).
Last year, the event had to be cancelled because its usual sponsors didn't come through. It is certainly expensive to bring together artists from all over the world for a week-long event, and to provide the necessary materials for painting hundreds of square metres of wall. Since the first 'Brussels Graffiti' event, 7000m2 of grey concrete has been brought to life using 22, 000 spray cans - in 2008, 6, 000 spray cans were even imported as enough couldn't be found in the whole of Belgium! 2010 should see the return of this very special event; though the wall where it will take place remains a secret.
Videos: GT by ©RaiNews24; tour through De Wand tram station by kris2145/ both courtesy of Youtube/ all images courtesy of ©Gaëtan Tarantino/myspace
Translated from Gaëtan Tarantino: «Le graffiti, tu le trouves pas dans ton salon»