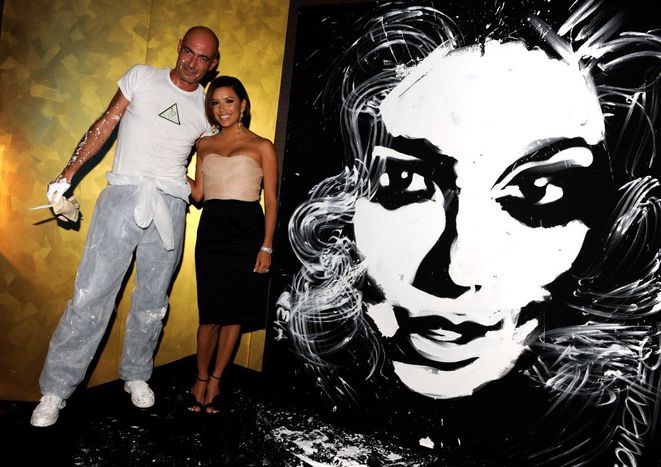 Frank Bouroullec: 'There aren't many people with the balls to paint live'
Published on
The renowned French speed artist, 43, is no 'painter', he's a 'performer'. Nor does he 'work'; he 'gets his kicks'. A non-speed interview with a man who has painted live portraits of the likes of Eva Longoria and George Clooney upside down and in under four minutes
Yesterday he painted the Argentine revolutionary Che Guevara in front of the Castros. Today, it's an English comic at the request of the council of Vevey (Switzerland) where he resides. French speed painter Franck Bouroullec has swapped portraits for murals in the name of the aesthetic renewal of two council tower blocks. He plastered the two dilapidated buildings with the image of the town's foremost cultural emblem and one-time resident, Charlie Chaplin. Franck has integrated him directly into the renovation of this public space with the help of two mural artists. His brushstrokes have created what is currently the largest piece of graphic composition in Europe: 860 square metres, 500 kilograms of paint, 25 brushes, 40 roles of masking tape and all of that eight weeks in the making. 'We still made it a performance,' says Franck, 'even if it wasn't done in public.' That's because it took Franck 46 minutes and 37 seconds to do.
Celebrity vs hermit lifestyle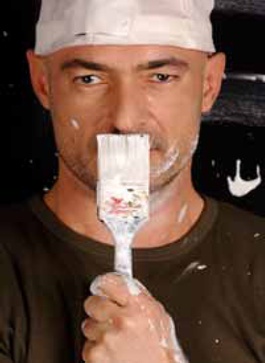 Earlier, I'm shuffling along under an autumn sun towards my interview with Franck Bouroullec (not to be confused with the famous French design duo that is the Bouroullec brothers). As I enter the flashy Zebra café in Paris, he's already leaping up impassioned, busy informing his PR staff one of the anecdotes that will later furnish our interview. I choose not to interrupt. When he's finished he looks at me and signals the beginning of the interview with a nod of his head. 'Tell me Franck, what do you do?' I ask to a blank stare. 'I get my kicks,' is the prompt reply. 'In my world the concept of work doesn't exist.' Right. Good.
In fact what Franck does is done - and I quote - 'by three people in the world - one of whom is dead. We don't get in each other's way. There aren't many people with the balls to paint live.' To be more specific, Franck reproduces portraits, most often of celebrities; he has speed painted Beyoncé, the Prince of Qatar and even Russian-Jewish businessman Roman Abramovitch's 18-month-old son. Most recently he was a supporting act on famous national comedian Jamel Debbouze's tour. He's so in demand that he travels everywhere, rubbing elbows with the beautiful people. 'I'm proud to call myself a popular artist,' he concludes. 'I please the masses. I work with the elite – Eva Longoria, Fidel Castro. Otherwise, frankly I'm a hermit. I get invited to lots of parties, but I never go.'
Painting live and at speed
Bouroullec, who comes from Tours, paints live and at record speeds on an upside down canvas. 'I work by homothety,' he explains. 'I can draw a perfect circle free hand instantly.' To paint in front of an often thousand-strong audience requires talent, training, an unerring brushstroke and a certain penchant for a challenge. 'I get wired by the tension created by the act of performing,' asserts Franck. 'Onstage it's as if you can be everywhere at once. You are truly multi-tasking.' Beyond the adrenaline, performance is the key to Franck's success. 'I thought it all through,' he says. 'As a painter, what was I going to do? I hate having to constantly intellectualise a position through art. Art is nothing more than putting ideas before other people. It's the same with painting upside down. I'd never seen that before.'
'I hate having to constantly intellectualise a position through art'
Even so, Franck makes a few references from Leonardo de Vinci to Jackson Pollock. Then comes a profusion of graphic classics with a pronounced leaning towards figures emanating from what we call the 'collective memory'. Franck staunchly denies that the Chaplin fresco is his masterpiece; he also created a portrait of US president Barack Obama from cocoa powder on the world's largest tiramisu, which weighed 2.4 tonnes and measured 50 square metres. It certainly made the records in June, but where is the artistic statement? 'I don't care,' comes his response. 'It's still a performance. I've painted at the foot of Mont Blanc at an altitude of over 3, 000 metres. It was minus fifteen!'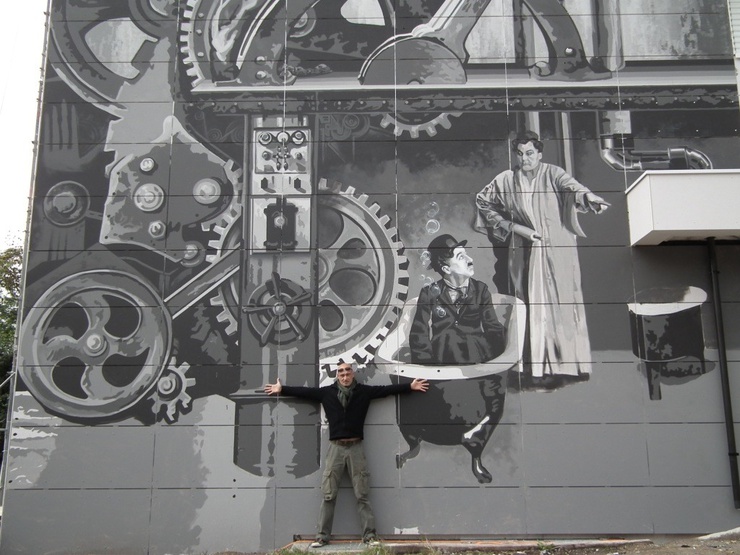 So, what's left for Franck Bouroullec to do? 'Relax. I spend hundreds of hours a week on planes. I lose half a pound for every performance. I'm 43 now…' Franck may burn out a little, but his talent, turn of phrase and personality are overwhelming. Harried by his assistants, the artist is needed now for an interview at the French national radio station nearby. As he gets up to leave, I'm astonished by his height - he's well over 6'2. That kind of sums Franck Bouroullec up. Whatever your expectation, he'll always supersede it.
Images and video from the Cuillère Suisse, courtesy of Olivia Goldman Communication
Translated from Franck Bouroullec, le peintre de l'express