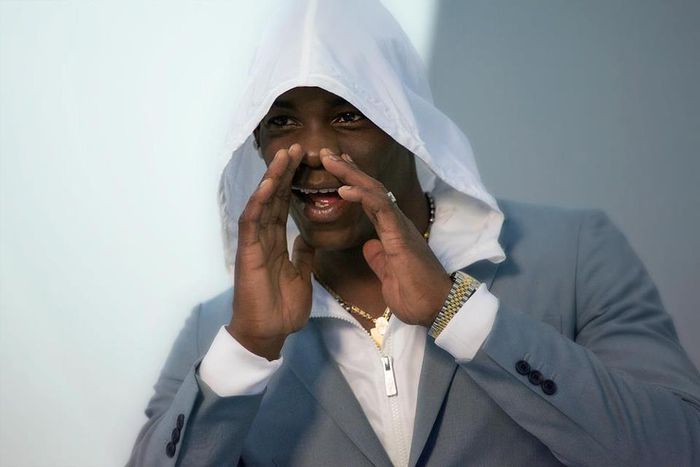 Football, politics and timing in Italy with Balotelli and Berlusconi
Published on
Could Balotelli make the difference? In buying football's Italian troubled child from Manchester City, AC Milan pulled off one of the biggest deals of the January transfer window. Its ramifications are not only impacting on the football pitches of Serie A, but also on the political scene
In confirming the transfer of Mario Balotelli on 30 January in the final hours of the transfer window, AC Milanand its owner - the former Italian prime minister Silvio Berlusconi, who is set to make a comeback in elections in February 2013 - have perhaps pulled off one of the biggest transfer coups alongside the capture of British footballer David Beckham by Paris St Germain football club. The fee for the controversial Italian international is thought to be 23 million euros, coupled with an annual salary of 4.5 million euros. It remains to be seen if Balotelli will follow in the English idol Beckham's footsteps and give his salary to charity…
Formidable running mate?
When he played for Inter Milan, Italian football's troubled child caused a scandal when he wore the shirt of the Milan rivals on a television show. During his two mixed seasons in the English premier league with Manchester City, Balotelli was best known for his exploits off the field: once setting his home on fire, and once breaking into a public school at night to use their toilets. His now infamous 'Why always me?' slogan emblazoned on his shirt has done the rounds on the internet, and he has been the subject of many parodies.
It would be very unwise to limit our opinions of Mario Balotelli to his off-the-field exploits, because his performances on the field today have earned him his undisputed status as an Italian international footballer. His two goals against Germany in the Euro 2012 semi-final endeared him as one of the national heroes. The new AC Milan striker has been keen to maintain this status since his arrival, scoring twice in his first game for the club. He has proven a breath of fresh air for a deflated AC Milan side already far behind Juventus in the fight for the Serie A (the name of Italy's premier league - ed) championship – even if his arrival has again made its mark off the pitch with clashes among groups of the supporters.
Good timing?
Balotelli's arrival certainly hit the headlines, though it has not always so much been about football. Many commentators in Italy have observed with a hint of irony the timing of Balotelli's transfer with the start of the presidential election campaign by 'Il Cavaliere', otherwise known as Silvio Berlusconi. Following Balotelli's debut and AC Milan's subsequent victory, the journalist Wolf Piccolimischievously tweeted: 'Balotelli scores in his first game for Milan. A great assist for Berlusconi, but Bersani claims he was offside.' On facebook, the bestselling author of Gomorrah, Roberto Saviano, refused to believe that Balotelli's purchase could lead to Berlusconi gaining thousands of votes, saying: 'If Balotelli's transfer can determine the way Italians vote, then we are really a lost country'.
People on social networks have been so critical towards such a move because the traditional newspaper media have covered the story in a similarly partial and unconditional manner. The day after the great showing of the Italian rugby team against Francein the six nations, the Gazetta dello Sport had only eyes for Balotelli. National daily newspapers also cover the performances of the Italian international. It's not surprising - the Berlusconi family control an important part of the press and Italian media through its Mediapart intermediary, which dictates the news priorities across the country's journalistic landscape. Since his ratings in the opinion polls are still as low as when he resigned, the only way is up, and all means to this end are good.
Read 'Missing you already Berlusconi - young Italians speak' on cafebabel.com
Truth be told, this has not been entirely surprising for Italians who have become used to seeing their elections take the appearance of reality shows in which Berlusconi personally takes part. It has gone from the 'Who wants lower taxes?' debate – Berlusconi recently promised to lower the IMU property tax that he had imposed under EU pressure in 2011 – to 'Life, my life as AC Milan President'. This includes the tale of Balotelli's signing just two weeks after describing him as a 'poisonous apple' which could contaminate the rest of the team. 'Super Mario' is not only Balotelli's nickname, but also that of Mario Monti, Berlusconi's successor as Italian Prime Minister and his main opponent in the forthcoming elections. Could this be a since of yet another turn around? The transfer window may have already slammed shut, but a pre-contract deal cannot be discarded…
Images: courtesy of © Mario Balotelli official facebook page/ videos: Balotelli (cc) dado98suv; 'Mela Marcia' (cc) AndreaTucci1/ both via youtube
Translated from Foot et politique : la passe décisive de Balotelli à Berlusconi