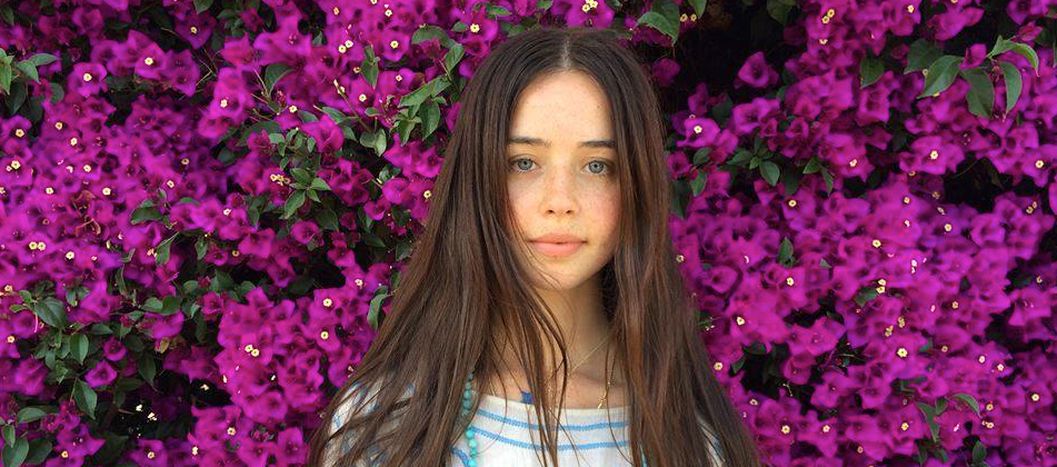 Flo Morrissey: old soul, young spirit
Published on
Only 20 years old, this young British musician finds herself being swept away by press attention. Her claim to fame? A song and a few covers.
But her first album comes out in one month and could give her a clean slate and present a girl as mature as she is tortured to the watching eyes of the world. 
It didn't take much. Four months ago, a song without a clip from the British singer Flo Morrissey held the web captive for a while. Called "Pages of Gold," the song invoked the charm of the sixties and swept away the media, French and British alike, in the ensuing frenzy. While some were already calling her the "next Joni Mitchell," others compared her musical career to that of Lana Del Rey.
Keeping Afloat 
Only 20 years old, Flo Morrissey finds herself thrown into the "Lana Del Game," the trend created by the generation that loves to track the newest buzz on social media. "I can understand," admits the girl in question, impeccably seated on the edge of a sofa at her distributor's office in Paris. "I suppose that it's because we're two girls who like vintage things." Flo Morrissey mentions this quite nochalantly, as if the truth just fell in front of her, on that dressy, green, embroidered jacket, that white, frilled shirt, as about twenty bracelets cover her forearm. The young Brit has cultivated a polished hippie style that seems to bring her a little closer to the image Lana Del Rey took on in her early days. Going through Internet pictures of this young English rose is like looking at an seventies icon that's just returned from an opulent garden party. "My look is an intimate part of my world, I need it to express myself," she explains, batting her eyes again.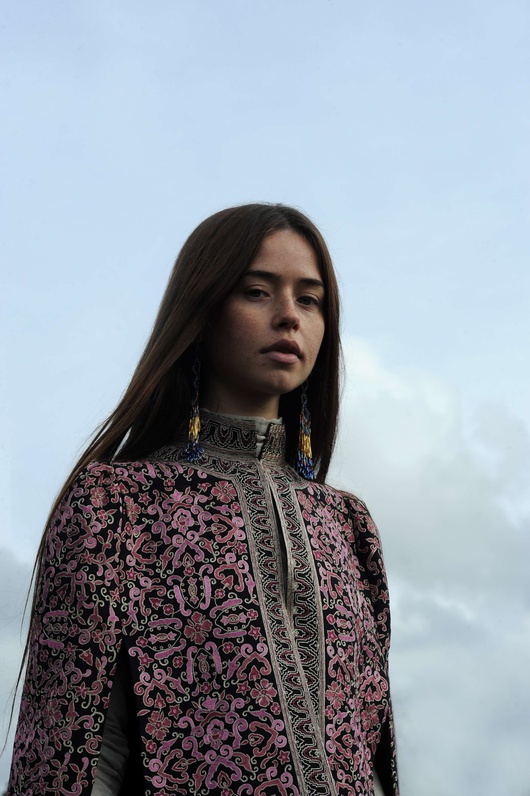 That said, even if the press wants to make her the latest star of Instagram, Flo doesn't really share the same musical scene as the American star. "I haven't really listened to her," she admits, apologising. If she were looking for inspiration, she'd have to look back 40 years, in the middle of the seventies, at a time where people could change each others' hearts with bouquets of flowers. The baby-faced young woman, her face a constellation of freckles, smiles at the mention of the likes of Tim Buckley, Karen Dalton, or Joni Mitchell as artistic inspirations, but she wants to be clear on one point: her music is "timeless." She repeats it in every interview. "I like the idea that my music could make you think that it's not a 20-year-old girl singing." Always perfectly poised, the young artist now has to use her hands and jingle her bracelets to really explain what this all means. "I didn't try to imitate an album from the 70s. I wanted to make an album that you can listen to in 10 years without thinking that it belonged to a certain time. Actually, I feel a little like Billie Holiday, who thought she came from another era."
"Like an old grandmother"
It isn't a big leap to imagine Flo Morrissey in the margins of her generation, looking to live on the very edge of her own time. "I always felt that I didn't act my age," she says, "I don't like the expression 'old soul' but I have to accept that it's true." Nostalgia is also the general feeling in the London singer's first album, ironically titled Tomorrow will be beautiful. Her first single, "Pages of Gold," is a song that voices the most tortured expressions of adolescence. "I was rather solitary in the sense that I didn't take part in the crazes of my generation. I never went to parties for example, a bit like an old grandmother. There is always a part of me that is trying to find the balance between enjoying my youth and having my desire for something else to grow."
Flo Morrissey - "Pages of Gold"
While searching for this balance, Flo Morrissey is already full of paradoxes. A young musician aged 20 who is as interested in a silky past as she is in new technology. An adolescent who sings of loneliness and loss in a family of 9 children. When she was 14, Flo wrote her first song. "I was so excited that I ran to meet my best friend to sing it to her," she relates. This was back when when artists where still using MySpace. From her room, using the username 9mary, she posted what were essentially covers, one of which was of a choir song composed by John Rutter, "Lord Bless You And Keep You." "Music isn't an idea from which you have to do everything alone," she adds. "In the 60s, 70s, and 80s, artists would sing the songs of others and it was very natural to do so." Even so, at 15, 9mary became Flo Morrissey again and composed "If You Can't Love, This All Goes Away," a song inspired by her brother, who encouraged her to save a few pennies to buy a camera. Shot by her sister in a Super 8 style, the clip would later attract the attention of Aram Goldberg, her future manager.
A pool and Devendra Banhart
"Actually, Aram heard about me through a Japanese blog where I'd given one of my first interviews. He saw the movie that we filmed in a pool and contacted me to ask me to come to Los Angeles. He introduced himself as the manager of Devendra Banhart. That convinced me right away. Devendra was my favorite musician since I was 10," she says with a barely concealed smile. A few months later, she returned to the city of angels to record her album to end once and for all her existential doubts and to begin a meteoric rise. Tomorrow Will Be Beautiful comes out May 18th, 2015.
This leaves enough time for the media to examine the apparent similarity between the grainy homemade clip of this young singer and the music video that introduced Lana Del Rey to the public, "Video Games". Either way, Flo will be, as she often is, at her parents' country home, with her brothers and sisters. "Near my family," she says, before moving aside discreetly. It's typical of this old soul, who seems far removed from the average conversations of people her age.
Listen : Tomorrow will be beautiful by Flo Morrissey (out on May 18 with Glassnote Records)
See : Flo Morrissey at the Gaïté Lyrique in Paris, May 12 (supporting Tobias Jesso Jr)
Translated from Flo Morrissey : à fleur de l'âge