Film 'The Lunchbox': Curries and Screen Loves
Published on
If you still think that Indian cinema equals only glitter and bare skin, take a closer look at your lunch box. In his film of the same title, Indian director Ritesh Batra serves us not only tender images and a poetic love story, The Lunchbox (2013) also marks the beginning of a tentative flirtation between the Indian and European cinemas.
First scat­ter some chilli on the fried veg­eta­bles, then stir the lentils and turn over the cha­p­atti (flat bread) on a gas flame. It takes Ila (Nim­rat Kaur) less than a minute to fill the home-cooked lunch for her hus­band Rajiv in a dabba, the metal­lic In­dian ver­sion of a lunch box, store it in a cloth bag, ad­just her hair and run to the door where a dab­bawalla is al­ready wait­ing. As one of 5,000 de­liv­ery men in Mum­bai, his job is to col­lect 200,000 lunch boxes daily from all over the city and to take them by bi­cy­cle, rick­shaw, bus and train from the far-away sub­urbs to the of­fice high-rises in cen­tral Mum­bai. Who wants to eat sloppy cur­ries at a restau­rant when they can also in­dulge in the tasty food cooked by their wives or moth­ers? No one in India, that's for sure. Like thou­sands of wives, Ila thus pa­tiently slaves away in the kitchen, so that her hus­band Rajiv needn't starve in his job.
There is a prob­lem, how­ever, with Ila's cur­ries: Rajiv doesn't care about his food nor for Ila. In order to spice up their love life, de­spite all its vi­cis­si­tudes, Ila con­tin­ues to put her heart and soul into her cook­ing. But as she fi­nally suc­ceeds in per­fect­ing a par­tic­u­lar dish, the dab­bawalla makes a mis­take: In­stead of being de­liv­ered to her hus­band, Ila's lunch box ends up on the desk of Saa­jan Fer­nan­dez (Ir­rfan Khan), a lonely wid­ower who is about to re­tire and knows nei­ther friends nor hap­pi­ness. Brought back to life by Ila's some­times spicy, some­times salty cur­ries, the un­likely pair start writ­ing let­ters which are de­liv­ered through the lunch box. As they are grow­ing con­stantly closer, they start hatch­ing a plan to elope to Bhutan to­gether. But can this lunch box love be­tween a re­tired wid­ower and a young mar­ried woman have a fu­ture at all?
What could eas­ily turn into a sug­ary ro­mance, pre­serves a ten­der bal­ance be­tween daily life and great emo­tions, fam­ily ties and un­con­ven­tional love, thanks to di­rec­tor Ritesh Batra, who also wrote the script of The Lunch­box (orig­i­nal title "dabba"; ed.). In his film you won't find colour­fully se­quinned saris, wild dance shows or cheesy love scenes as you might know them from the usual Bol­ly­wood flick. Nor does The Lunch­box de­pend on folk­loris­tic In­dian tin­sel like Dar­jeel­ing Lim­ited (2007) or dark im­ages of poverty and vi­o­lence as seen in Slum­dog Mil­lion­aire (2008). On the con­trary, Ila and Saa­jan both be­long to Mum­bai's mid­dle classes, lead­ing a steady life be­tween work and fam­ily, al­beit not being par­tic­u­larly happy. The lunch box, then, is a sud­den yet wel­come means to es­cape from the daily grind. The im­agery of the film is just as sub­dued as the story with muted colours and silent notes pre­vail­ing, such as when Saa­jan sits in his of­fice or Ila bus­tles around her kitchen.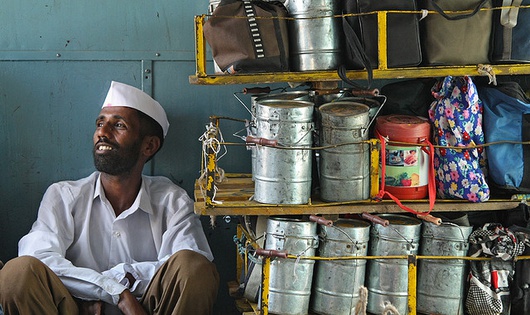 Apart from the outstand­ing per­for­mance of pro­tag­o­nists Nim­rat Kaur and Ir­rfahn Khan, re­cently seen in The Amaz­ing Spi­der-Man (2012) and Life of Pi (2012), Mum­bai's dab­bawal­las are the se­cret stars of the film. Started in 1880, their lunch box sys­tem is one of the most so­phis­ti­cated lo­gis­tics un­der­tak­ings of the 21st cen­tury, al­though most dab­bawal­las are il­lit­er­ate or only semi-lit­er­ate. That is why the lunch boxes are marked using al­phanu­mer­i­cal colour codes in order to clearly iden­tify both sender and re­cip­i­ent. Al­though there are no exact fig­ures, their error rate is so in­cred­i­bly low that it has given rise to an urban myth ac­cord­ing to which only one in eight mil­lion lunch boxes ever goes astray.
The usual flashy Bol­ly­wood film? think twice
Orig­i­nally from Mum­bai, Ritesh Batra planned to shoot a doc­u­men­tary about the thrifty dab­bawal­las be­fore the idea for a fea­ture film struck him. The quiet light­ness of his film has not only con­vinced In­dian cin­ema goers, but also Eu­ro­pean film pro­duc­ers and crit­ics: Fi­nanced by sev­eral Bol­ly­wood com­pa­nies, The Lunch­box is also an In­dian-French-Ger­man-Amer­i­can co-pro­duc­tion and was equally pro­duced by Asap Films, the Cen­tre Na­tional du Cinéma and arte France Cinéma in France, ro­hfilm and the Me­di­en­board Berlin-Bran­den­burg in Ger­many and Cine Mo­saic in the USA.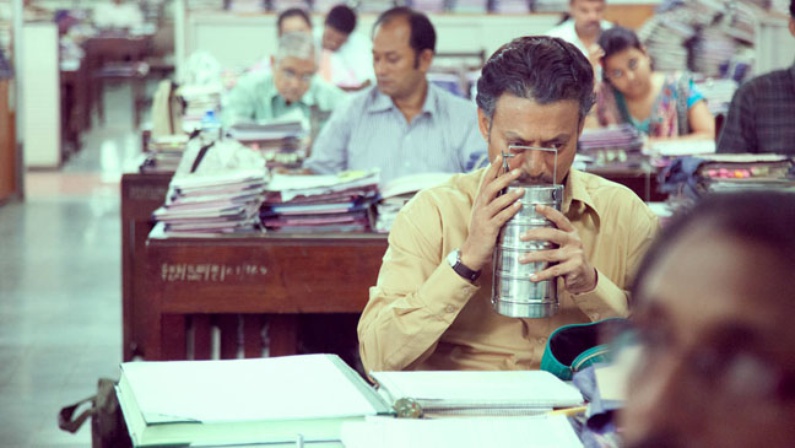 Eu­ro­pean film crit­ics are equally en­chanted. After an "ho­n­ourable jury men­tion" at the In­ter­na­tional Film Fes­ti­val Cin­e­mart in Rot­ter­dam, Batra went on to pre­sent his script in 2012 at the Berli­nale Tal­ent Pro­ject Mar­ket and the Torino Film Lab, be­fore win­ning the Grand Rail d'or (Crit­ics' Week View­ers' Choice Award; ed.) at Cannes Film Fes­ti­val. Yet when The Lunch­box failed to bag an Oscar nom­i­na­tion as best for­eign fea­ture film, this caused great up­roar in the In­dian and in­ter­na­tional press. But al­though not every­thing seems to be run­ning like clock­work, Ritesh Batra has al­ready done a lot to get the Indo-Eu­ro­pean film flir­ta­tion going.
This can only be to the ad­van­tage of both sides. Es­pe­cially in Eu­rope, it won't hurt to look at India with fresh eyes, be­yond glam­our, fi­nance CEOs and re­li­giously mo­ti­vated vi­o­lence, and to get in­volved in an ut­terly un­dra­matic love story. You might find this love at the bot­tom of a lunch box or in multilat­eral film pro­mo­tion schemes, but will it be happy? Batra chooses an open end to his film, but a true dab­bawalla is more likely to be able to read its fu­ture from the left­overs in the lunch box. Saa­jan, for his part, reg­u­larly emp­ties his box until the last grain of rice. If you take vis­i­tors' num­bers as an in­di­ca­tor, Eu­ropean cin­ema-goers might well be on their way to de­claring In­dian cur­ries to be their favourite new dish.