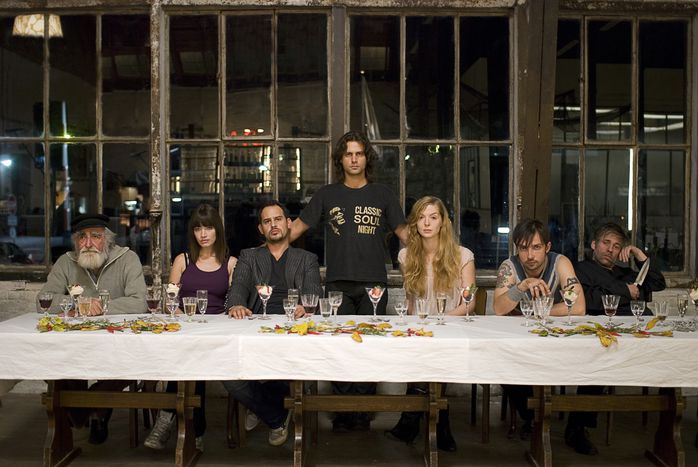 Film and fine dining: The perfect cinematic blend
Published on
According to the American celebrity chef Julia Child, the best people are generally speaking those who love to eat. But what if you're a person who loves the cinema as well? Cafébabel takes you on a gastronomic tour of seven European movies selected especially for those who find it difficult to choose between a thriller and a three course meal.
Soul Kitchen, Fatih Akin (Germany), 2009
There's a fine line between heaven and hell. Turkish-German producer Fatih Akin presents a tragicomedy in which Zinos and Illias, two Greek brothers, decide to open a tavern in Hamburg packed with soul, music and its fair share of mix-ups. It's a story about social inclusion, friendship and the search for a future in an environment that's far from perfect. Yet there's still one place to go as The Doors sang in their song of the same name. Just a coincidence?
"Mazurek" [Easter Crumble], Julia Kolberger (Poland), 2013
When the curtain rises, Urszula's hands appear mixing butter, eggs and flour in a crystal bowl. Her husband approaches and asks why she's making pie at 5:48 am. The reason? Her daughter Ada is coming to visit and won't be alone – her fiancé will be with her. What the family doesn't know is that the future husband, to everyone's surprise, is a man 30 years her senior. Thus a leisurely breakfast becomes a full-blown feast.
"La graine et le mulet" [The Secret of the Grain], Abdellatif Kechiche (France), 2007
A trip to North Africa without ever leaving the south of France. Kechiche has shown in the past with films such as Blue is the Warmest Color (2013) that there's something captivating – even obsessive – about fine cuisine. This time, he presents a portrait of Slimane, a divorced Tunisian family man whose desire is to open a restaurant in an old fishing boat. Amid bureaucratic obstacles, heated conversations and plates of fish and couscous, we reach a climax that shows us how life can sometimes be as absurd as it is exciting. 
"18 comidas" [18 Meals], Jorge Coira (Spain), 2010
Who hasn't experienced a tense moment around the table and said something like, "Well, shall we leave it at that and continue our meal?" Directed by Jorge Coira, this film is a tribute to all those seemingly irrelevant moments that, without our realising, form part of our everyday routines. He presents six stories in which his characters each have breakfast, lunch and dinner (hence the 18 meals) amid tears, anger, and frustrated loves. It's a nod to emotion, to the importance of good food, and, of course, to its Galician setting.
"Babettes gæstebud" [Babette's Feast], Gabriel Axel (Denmark), 1987
Babette arrives from Paris in a remote 19th century Danish village, where religion is at the centre of everything. One day, to thank people for the warm welcome she's received in the town, Babette decides to organise a feast consisting of the best of French delicacies. She hopes to demonstrate that paradise can be something earthly as well as spiritual. The diners try to keep their composure until the effect of the food begins to show, and they can no longer hide a very obvious fact: one can be very happy when eating.
"Politiki Kouzina" [A Touch of Spice], Tassos Boulmetis, (Greece), 2003
Cinnamon, paprika, salt and pepper. For a story set in Istanbul, these spices can clearly indicate for some an example of "political cuisine". In the fifties, a young named Fanis Iakovidis is deported to Greece along with his family. His grandfather, of Turkish origin, remains in his small corner shop in Istanbul. Fanis will not discover, until many years later on a trip to the Turkish capital, that there's an near mystical world created by these spices, that seems to so easily slip from our grasp. A portrait of a Mediterranean Europe marked by stereotypes, politics and, as always, the art of cooking.
"Mine vaganti" [Loose Cannons], Ferzan Özpetek (Italy), 2010
For every moment in one's life there's an Italian recipe to go along with it. What would be the main dish for a family dinner that ends up in disaster? The Turkish-Italian filmmaker Özpetek immerses us in a conventional Italian family running a pasta factory. Each character is a detailed portrait in their own right, yet at the heart of the story lies Tommaso and his sexual orientation. What will happen? Watch to the end and find out.
That's not all! For the animation fans – given that Ratatouille had to be left out of the list on accounts of being American – we propose this French short film Al Dente. We'll let you draw your own conclusions. Enjoy your meal!
Translated from Cine y comida: una receta de amor sin límite