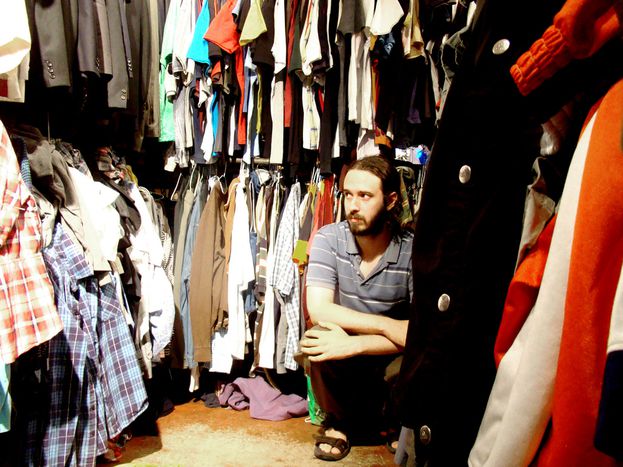 Fashion crisis: buying second hand clothes in Brussels
Published on
Translation by:
Peter Robbins
In November, French designer Lanvin releases its new collection for Swedish budget brand H&M – but the haute couture forces beyond once claimed they'd never go mass-market. The people of Brussels' flea markets advise on how citizens are dipping into alternative clothes-buying forums
Without a doubt, the fashion industry is one of the sectors of the European economy hardest-hit by the current crisis. The scale of the problem is clear, with the decline of fashion houses with rich traditions such as the German company Escada, French label Christian Lacroix and Italy's Mariella Burani group. High-profile designers are struggling to stay afloat, instead creating collections for 'ordinary' chain stores as recently done by the likes of Sonia Rykiel, Jimmy Choo, Karl Lagerfeld and most recently Lanvin for the Swedish fashion retailer H&M.
All this market upheaval is encouraging the woman on the street to search for new, alternative sources from which to stock her wardrobe. Maybe fashionistas are heeding the advice of French designer Jean-Paul Gaultier in July: 'The crisis is the time when one should create new ways of doing things, find solutions and put even the most basic things into question.' The need for belt-tightening can be added to this concoction. Denying yourself a new clubbing top comes easier than denying yourself food. This is all the more so since you can find the very same item by rummaging through the racks at almost any second-hand shop or flea market.
Second hand shopping in Brussels
'So what if this top is probably as old as I am?' is the rhetorical question posed by twentysomething Annette. It's Sunday morning in the Place du Jeu de Balle flea market in Brussels. 'It's a real mecca for people looking for quirky clothes on the cheap,' continues Annette as she trawls through a pile of clothes laid out on sheets on the ground. The drizzle has not put her off her weekly clothes-hunting expedition. 'I really try to have a laid-back approach. I know that there's a true fashion gemwaiting there for me somewhere, but I have to find it myself.'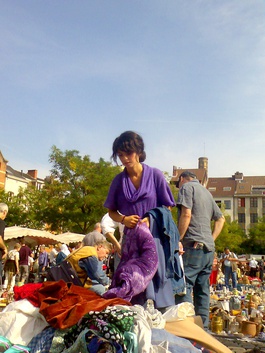 'It's not that difficult at all,' stresses Sophie, another bargain hunter and self-confessed fashion addict. 'You just have to know what you're looking for.' One of the most prized treasures Sophie bought for next to nothing has been a 1960s Barbara Hulanicki dress – she's the Polish designer behind the store Bibi. 'The man I bought it from had no idea what he had in stock,' says Sophie, 'and it has a leather back. It's virtually as good as new. It makes me think of how my grandmother must have been a girl.' Sophie herself dreams of setting up an online shop for second-hand clothes. 'Ultimately, I would get rid of all the rubbish currently gathering dust in my wardrobe, although it could turn out to be harder than I think.' One of the stallholders on the square agrees with Sophie's comments. 'Nowadays, the competition is fiercer. Many people are trying to make a bit of money by having a small clear-out of their wardrobes. That's why so many occasional sellers are coming to the market trying to sell some clothes, most of which are rather well-worn. Rarely does someone stay in business for long.'
Les Petits Riens in Brussels
It's a similar story with the buyers, who are both occasional customers and real hunters. One sales assistant from a second-hand shop in the Brussels district of Molenbeek-Saint-Jean reveals that this latter group of people are looking for good-quality clothes, for which they are prepared to pay a bit more. But there are also people for whom quality is of secondary importance – it is above all the price that counts. 'Some people take the clothes they buy home and do them up,' adds the assistant. Looking around the shop, I really do see people who I would never in my life have imagined rifling through a second-hand shop in their lives as well as those who probably have no choice but to buy from places like this. Next to me, an elderly lady with a pile of well-worn clothes begins haggling at the counter. This shop is run by the Les Petits Riens ('The Little Nothings') association. It's almost impossible to push your way through to some of the baskets of clothes. The salesdesk queues and even signs proclaiming that no haggling is allowed do not put off potential customers. 'I come here regularly. The prices are reasonable and, even if my son or grandson doesn't like the odd item, it's no great loss,' says a well-dressed woman in her early fifties, before heading off towards the end of the queue with an armful of T-shirts.
Buyers are both occasional customers and real hunters
There's no clear answer to the question of whether second-hand clothes have become more popular with the onset of the economic crisis. As the sales assistant from Molenbeek-Saint-Jean points out, a fixed group of customers who come regularly regardless of the current economic situation. But there have been a few newer faces. Sylvie, who I caught buying a dress in the Place du Jeu de Balle, admits that it has been a bit harder to find interesting clothes for some time now. Annette reminds me that she lost her job because of the crisis and had to settle for a rather poorly paid internship; she has recently been spending less money at the flea market. 'More and more people are starting to sell things. It's a comfort to know that if things get really tight I'll be able to do the same.'
The people of Brussels' advice on buying second-hand:
Time
Devote more time to rooting around in the clothes baskets. If you're in a hurry, it's easy to miss a star find
Experiment
Don't be afraid to combine second-hand clothes with items bought as new. It will only improve your appearance
Risk
It's sometimes worth the risk to buy something we're unsure about. Maybe a top that would lend character to the trousers you bought without any real conviction will just turn up in a few weeks' time?
Alter
It's worth having a sewing machine or a friend who's a seamstress. Sometimes even a true gem could do with a few small adjustments
The author would like to thank the cafebabel editorial team in Brussels for their help in preparing this report, which was first published in its original Polish on cafebabel.com in February 2010
Images: main (cc) matness4dummies also on wewerestrangers.com; in-text stttijn/ both courtesy of Flickr
Translated from Second hand me!