Exhibition 'Creature di carta'
Published on
INTERAZIONI 2008 "Creature di carta" – Exhibition of Anna Deflorian, Angelo Mennillo, Eugenia Monti e Emanuele Rosso
OPENING: FRIDAY 7th NOVEMBER, 9 p.m.
Place: Galleria Sessantaquattro Baricellarte
Via Roma, 64 Baricella (Bo)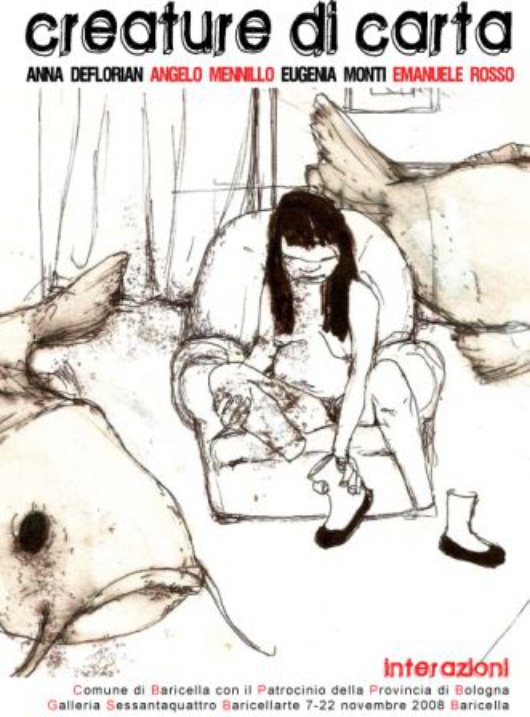 At 9 pm open the exhibition 'Creature di carta' curated by the cultural association Mirada. Works of Anna Deflorian, Angelo Mennillo, Eugenia Monti e Emanuele Rosso.
These four young Italian authors come from the comic scene of Bologna. Very different in style, techniques and narrative features, in 2007 attended the prize Iceberg addressed to young artists. Eugenia Monti won the contest while the other three authors have been reported thus forming a kind of group, representative of what happens better among the younger generation of cartoonists.
There will be also the concert of the Alhambra.
Biographies of the artists:
Born in 1985 in San Marino, she attended the Accademia di Belle Arti di Bologna section Illustration and Comics. Won the "Iceberg" (2007) with the feature Aceto di semi di girasole, and then published in the special issue of Inguine MAH! Gazine dedicated to the competition. For the same contest won the prize Guercino.
You just come out for the types of Edizioni del Vento Mozziconi with text by Monica Nardozi.
Born in 1985, she has a diploma in Applied Arts - Visual Art and attended the Accademia di Belle Arti di Bologna. She has been reported in the contest of "Iceberg" (2007).
Born in 1982 in Germany, he lives and works in Bologna. He won for the comics section in 2002, the contest RAM of the City of Ravenna and was reported in 2007 Iceberg competition in the City of Bologna with the short story Metamorphose. He published in 2003 No Words and No Comment for the publishing house Luca Bonanno, and also on InguineMAH! Gazine and "Inguine-MAH! 2008 ' illustrating texts of Elettra Stamboulis, Christian Del Monte and Boris Battle. In 2007 he participates in the realization of Guadalajara será la tumba of fascism, published in Spain with Edicions de Ponent. In 2008 he was asked to participate in the collective work Futuro anteriore for the Festival Comiconin Naples, which has produced a short story on texts by Edo Chieregato. It is just come out Strawberry for Edizioni del Vento, by Mennillo on the text of Salvatore Cacace. This is a story that sees a borderline personality, a magician dressed in black who sees his dreams lost because of heroin and whose anchor of salvation is indeed "the ultimate magic".
Born in 1982, he graduated to the DAMS of Bologna. He also attended several workshops held by important cartoonists. He has done illustrations and posters for public and private. It has been reported in the 2007 Iceberg comics section, in the 2003 and 2004 editions of Baraccano Bologna and 2001 and 2002 of PierLambicchi of Prato. In addition to its auto productions (special mention for Schnell! Like teen spirit, and Anemic Cinema), he took part in the volume Resistance (2007) published by Beccogiallo and a piece can be found in the catalog of Futuro Anteriore for the Festival Comicon in Naples with the story Se un lontano giorno tutti leggessero fumetti l'enigmistica dovrebbe adeguarsi?.
Info:
Associazione Mirada
Via Mazzini 83 Ravenna
Tel +39 0544 217359
info@mirada.it