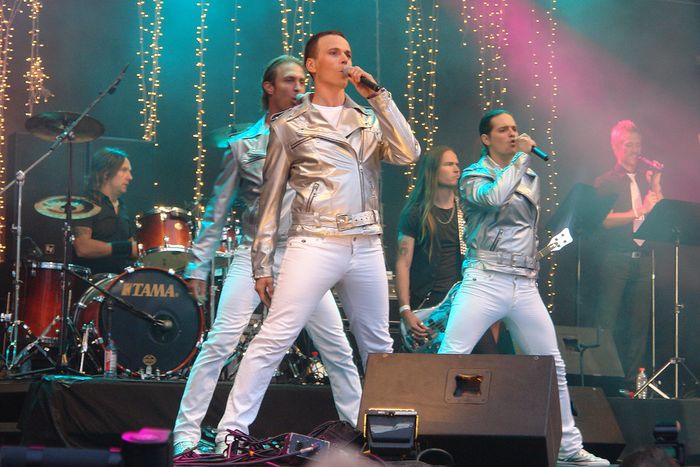 Eurovision 2011: French losers and queer angles
Published on
Do you have to be gay to be a eurovision fan? A French researcher has looked into the culture of the fan clubs of the famous European song contest. Whilst references to the competition are ever camp, good old eurovision has turned out to be an excellent recognition tool for sexual minorities - whether the European cultural elite like it or not
Kitch, behind the times, vulgar. Every year, eurovision attracts more critics than enthusiasm in France. 'It's because we haven't won for thirty-four years,' exclaims Marie Myriam, the last singer to have won the competition for France in 1977.
While in a number of countries eurovision is a unifying event free from initial prejudices, it is looked upon condescendingly in France. Philippe Le Guern is a culture and media sociologist and professor at the University of Avignon who has studied the musical competition from various angles. Above all, he says, eurovision poses the question of the relationship between the people and popular culture. The lack of importance attached to the competition here stems from the fact that popular culture is still not recognised legitimately in the hexagon. 'Whereas in anglo-saxon countries popular song has been studied for more than forty years, in France it has only aroused a little scientific interest,' he says. 'The only term used to qualify popular song in France is 'popular music'. That speaks volumes as to its status. We would call it a vague, non-identified cultural concept.'
'We know only too well that the French don't like losing'
If the competition struggles to be recognised as established in France, it is also due to the not so warm welcome given to it by the media. 'Over the past few years, French eurovision commentators have taken a voluntarily ironic tone, which imposes a specific interpretation on viewers and creates prejudice,' he adds. Myriam says change would come in winning; 'It's very simple. We know only too well that the French don't like losing.' At the 56th eurovision song contest in 2011 however, France ranked 23rd out of 43 countries with Amaury Vassili's Corsican song, Sognu.
Eurovision's queer touch
In his article 'Does liking eurovision show a lack of taste?' ('Aimer l'Eurovision faute de goût ?'), the sociologist analyses the structure and the behaviour of some of the eurovision fan clubs, whose members mainly consist of gay fans. 'The question is to be handled delicately. If the fan clubs are gay, it does not mean that all gay people are fans of eurovision,' he clarifies. You can attempt to identify a predominant social profile of this population, which he says consists of provincials of an average socio-professional class, who are often civil servants.
Marie Myriam is hardly surprised. 'Without doubt it's also true of gays and heterosexuals; eurovision is mostly part of popular culture. It is a time to celebrate flamboyantly. That contrasts strongly with the daily grind.' It is difficult to tell whether the appeal of eurovision to the homosexual population is a recent phenomenon or not. What is certain is that for many gay people who are a part of the eurovision fan club is that it is a way of affirming their lifestyle identity without saying it. 'Eurovision is a very coded competition,' says Philippe Le Guern. 'It is not by chance it often borrows a queer aesthetic. But eurovision is very tongue-in-cheek. From year to year, the allusions to a homosexual erotic nature increase as much in the songs as in the comments from the commentators. The latter are incidentally often overtly gay,' adds the sociologist, referring to Britain's Graham Norton or Germany's Thomas Hermanns.
With Israeli singer Dana International's victory in 1998- the first by a transsexual- the competition affirmed its role of revealing minorities and communities from the margins of society. Incidentally she was back for the 2011 edition before being kicked off for the semi final. 'By extension, the competition is susceptible to attracting the attention of anyone who feels marginalised for whatever reason. They find comfort in seeing other minorities recognised and glorified,' says Philippe. 'The same reasoning can be applied to the participating countries. Eurovision allows a good number of so-called 'small countries' to come onto the international scene and to get exposure without being in a common position with regard to their political or economic influence.' Should the sequin show therefore be a place of freedom which is capable of flouting social conventions and a liberator of identities repressed by the dominant culture? Eurovision is not as foolish as that.
Image: (cc)CharlesFred/ Flickr
Translated from L'Eurovision : un concours gay friendly et intégrateur