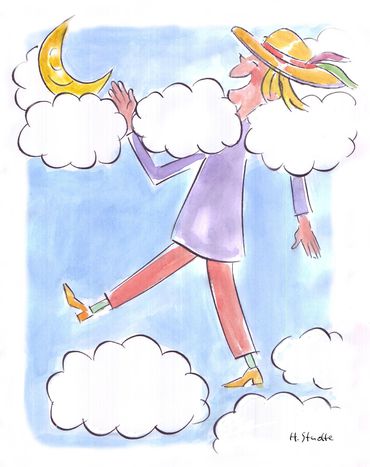 Europe's 'head in the clouds'
Published on
Why is when you have an unrealistic expectation that you are told your head is in the cloud or on the moon? We reach dizzy heights with this week's collection of idioms and audio
Got a little too many high expectations in this time of economic crisis? Across the Old Continent you'll be told that you have your head in the clouds (être sur son petit nuage in French, avere la testa fra le nuvole
in Italian, a fi cu capul in nori
in Romanian or mieć głowę w chmurach
in Polish. The Brits and Germans' more eccentric diagnostic are inspired by Greek mythology's little birdies (thankyou Aristophanes' The Birds, 414 BC): you live in Cloud Cuckoo Land
(im Wolkenkuckucksheim leben
).
There is also a joke that takes you higher than the clouds. That's one for German Hans-guck-in-die-Lufts
(Hans looks in the skies). You can also be up on the moon (estar en la luna
in Spanish, du lebst doch auf dem Mond
in German, être dans la lune
in French, chiedere la luna
in Italian). Being momentarily lost seems to be always related to height in expressions: Spaniards might also accuse you of being on a grapevine (estar en la parra
).
See more from our resident illustrator, Henning Studte