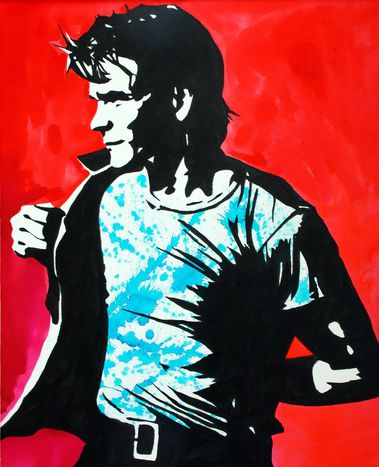 European versions of 'Nobody puts baby in a corner'
Published on
On 14 September American actor Patrick Swayze died of pancreatic cancer, aged 57. Generations of teenage – and grown-up girls – knew him as the hunky dance teacher of the 1987 film Dirty Dancing, a cult hit in Europe
The door of the Kellerman's holiday resort flies open with a bang. Johnny Castle, late American actor Patrick Swayze's most famous screen incarnation, steps in. The leather-clad resort dance instructor, who has been fired, stands complete with shirt unbuttoned to waist and a sweet mullet, his dance crew whooping along in eighties-style jubilation. He makes a beeline to the table where the Houseman family sit with their 'Baby', as played by Jennifer Gray. His face looks deadly serious.

It wasn't for nothing that in this summer of '63, Baby had to carry watermelons up to the stage for the dancing staff members, Johnny battled against the nasty womaniser and rehearsed climactic lifts with Baby when he took her under his wing to train for the dirty dance concert. All this for a single moment – the dance finale of the season and the climax of a cornball film classic.
Nobody puts baby in a corner
, thunders the cult quote with which Swayze's character silences the father, only to sweep his daughter literally off her feet to the stage to dance: cue the grand theme song, 'The Time of My Life'. In translation, the French, Italian, Spanish and Russian language versions of Bébé aren't left sitting in the corner like a lemon either. These languages stayed true to the original English quote, the last words uttered by the rebellious Johnny: On ne laisse pas bébé dans un coin
, Nessuno mette Baby in un angolo
, No dejaré que nadie te arrincone
and Никто не поставит малышку в угол
. In Poland, nobody 'jams' Baby in a corner: Nikt nie upchnie Baby w kącie. The Germans completely modified the sentence in translation: Mein Baby gehört zu mir, ist das klar?
(My Baby belongs to me, is that clear?)
The famous quote also underwent a revival with the song Nobody puts baby in a corner by US rock band Fall Out Boy, from the album From Under a Cort Tree (2005) – whether the punky tattooed boys from the alternative group from Chicago are secret Dirty Dancing fans remains open:
Drink down that Gin and Kerosene
And come spit on bridges with me
Just to keep us warm
Light a match to leave me be
Light a match to leave me
Translated from Mein Baby gehört zu mir, ist das klar?