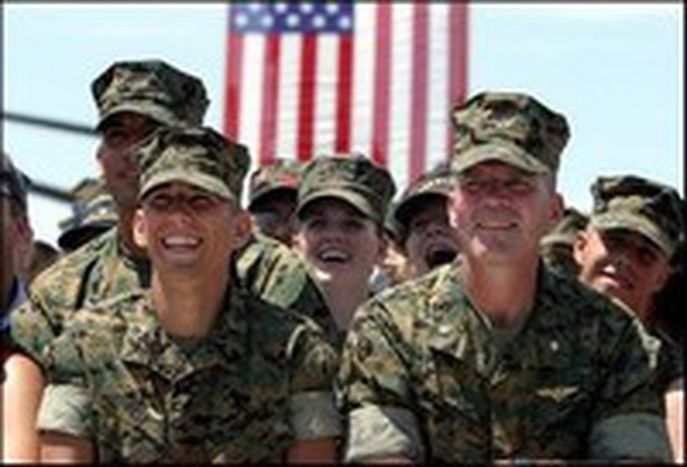 European troops must stay
Published on
When the US invaded Iraq on 20 March 2003 they asked for the support of Europe. Some countries sent forces while others didn't, but it is important that those that are there now do not leave. Indeed, what is needed are more troops.
The Madrid bombings on 11 March 2004 proved that not just the U.S but the whole world is susceptible to terrorist attacks and that there is a need for international cooperation to fight it. Spanish Prime Minster Zapatero's decision to concede to the terrorists and withdraw its troops from Iraq may have been a way to keep peace in Spain, but was an encouragement to all terrorists in Europe to use civilian bombings as a way to get their demands met.
America cannot do it alone
Fighting a multi-front war since the 11 September attacks in New York has made America weary of battle. The recent re-election of President Bush was only by a small margin and a poll last month showed that only 42% of the people questioned believed that President Bush is doing a good job in Iraq. However, now that we are there, the job needs to be finished. The problem is that America cannot do it alone. Enlistment levels have been lower then needed for the last quarter and veteran troops are leaving the Army in waves following their completion of stop-loss (the contractual clause that allows the Army to keep troops mobile in times of war even after their initial enlistment time is over), no matter how much of a cash bonus is offered. National Guard and Reserve units, there to supplement the ordinary army units, make up 40% of troops in Iraq but, as General James Helmly put it in December 2004, this reserve component of the Army "is rapidly degenerating into a 'broken' force." Unlike during the Vietnam War, conscription is not obligatory and so the US simply cannot undertake the type of drawn out war it could in the sixties and, as a result, needs the help of the world in its fight against terrorism.
Image problems
It is not just the army's internal functioning that is causing problems; the US is currently suffering from an image problem. Recent bad press combined with the Abu Ghraib incident, where a small group of Reserve soldiers humiliated Iraqi prisoners, and the recent allegations of Koran desecration in Guantanamo Bay's prisons have damaged faith in American soldiers. A larger multi-national force would be more widely accepted by Muslim communities, both within and outside Iraq, as it would have legitimacy bestowed on it by the international community. Moreover, America is Israel's strongest ally and, as such, has been dubbed by many Islamic terrorists, including Osama Bin Laden, as a Zionist state. Europe is less included in the supposed conspiracy and could be seen as a neutral force that could work out the problems of both sides. This does not, however, mean that the number of European casualties in Iraq would dramatically increase as most of the European forces, particularly the smaller ones, only perform auxiliary and support functions. Thus, a lot of the burden of combat would still rest on the shoulders of America.
Good for Europe
But increasing European forces in Iraq would not just help to tamper America's cowboy image. By making Iraq the focus for terrorist cells, attention and man-power is drawn away from other targets. Thus, by creating a Mecca for terrorism, civilians back home cease to be targets and are replaced by well-trained soldiers who are prepared for the threat: war in Iraq is expected, but a terrorist attack in Europe is a horrific event. Moreover, an increase in the number of European troops means a defeat of terrorism in Iraq is more likely, and this would constitute a major morale loss all terrorists. This is particularly important because many of the terrorists imported into Iraq from such countries as France, England, and Germany are low-income youths for whom fighting in a Jihad is an attractive option. If transport to Iraq is seen as suicide with no positive outcome, the number of recruits is bound to diminish.
Terrorism affects everyone, no matter what their personal opinion of the invasion of Iraq. Putting behind past arguments about the legality of the invasion and coming to an agreement about how Europe and America can both work together to fight terrorism is the only way to win the fight. If Italian and Polish troops pull out of Iraq as planned, it would deal a demoralising blow to Iraqis for whom a retreat would sanction the belief that Iraq's freedom is a lost cause. It would reinforce the will of terrorists and create a larger force for the whole world to fight later. Will all but a few European countries be seen in the history books as sitting idly by during the fight for democracy and the end of terrorism in the 21st century?