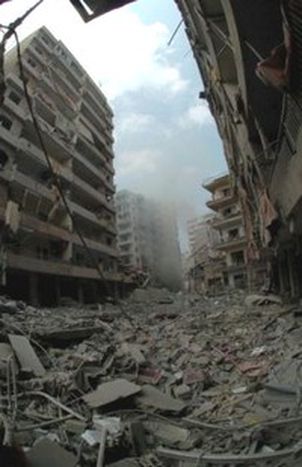 Europe and the Middle East: brothers in arms
Published on
Though European governments have been quick to criticize the escalation of violence in the Middle-East, the EU still sells weapons to Israel and Lebanon. Europe needs to strengthen its arms trade Code of Conduct
Hundreds of people have already died in the current military confrontation between Israel and Lebanon to the great consternation of EU citizens. And yet, for several years, EU states have approved arms exports to Israel and neighbouring countries - despite concerns that these may lead to regional instability and human rights abuses. The publicly available data from the UN Commodity Trade Statistics Division (Comtrade), as well as states' annual export reports, show that several EU governments have licensed the export of conventional weapons, machineguns, bombs and military rifles to the region.
Hidden exports
For instance, between January and March 2006 the UK approved exports to Israel of military equipment worth £2 million, including components for both military utility helicopters and submarines. The Czech Republic also exported a Mi 24D helicopter in 2004 to Israel. In 2004 substantial transfers from EU countries to Israel included; $25,996 worth of pistols and revolvers (including parts and accessories) from the Czech Republic; $208 000 of small arms ammunition from Germany; and $383.918 of parts and accessories of revolvers or pistols from Austria. In 2004 Italy exported $470,691 of revolvers and pistols and $338,647 of ammunition to Lebanon.
These transfers, though substantial, do not represent the whole picture of the legal trade. Unlike EU countries, Israel does not declare its arms imports. Without this information, observers must rely on data provided by exporting states. This data is not comprehensive, however. Indeed transparency is major issue in monitoring the arms trade. And though we have some data on arms shipments to Israel and its neighbours, we do not know whether the weapons are for civilian or military use.
Yet an arms control instrument has existed in the EU since 1998. The EU Code of Conduct was designed to create "high common standards" for arms export decisions. Accordingly, member states must refuse to deliver arms export licences to destinations where there is a risk that the weapons will cause human rights abuses, internal repression, international aggression and regional instability. The code also requires states to take into account the recipient country's attitude to terrorism and its respect for international law. Nevertheless the code is not legally binding and does not not oblige individual member states to enact its criteria. And ambiguity over the arms trade and the Code allows EU countries a certain room for manoeuvre when licensing arms exports to destinations with suspect human rights records.
Loopholes
Indeed the vague language of the Code allows member states to interpret its criteria quite freely. And the EU regulations do not cover all types of military equipment, technology and components. A further issue concerns a lack of information on the users of the weapons exports; arms exports could be destined for civilian use. This is connected to difficulties in finding evidence that EU exports are being used to commit human rights abuses.
Loopholes in the Code of Conduct, combined with the absence of international controls, will continue to allow EU arms exports to reach destinations where the risk of human rights abuses is very real. While the EU Code would benefit from tightening, the long-term solution would be to create a legally-binding international common set of procedures and criteria. An international treaty on the arms trade would be based in international law thus making it easier to judge violations, while greater transparency would allow for proper scrutiny.