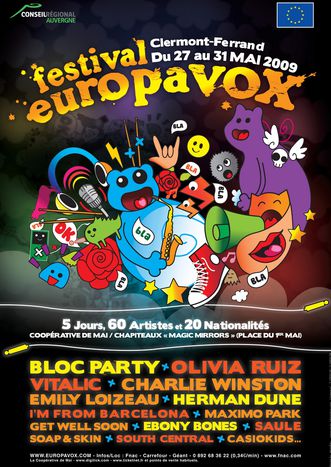 Europavox festival: Sindri Már Sigfússon, Ebony Bones, Lonely Drifter Karen get down in central France
Published on
A huge music festival with acts from all over the world in the heart of the Auvergne? It was the stuff of pipe dreams, but Europavox has done it. From 27 to 31 May more than fifty concerts will be held in Clermont-Ferrand, a medium sized town just to the south of the centre of France
This initative, which first took its baby steps in 2006, comes of age this year with names as big as Charlie Winston, Slimy, Bloc Party and I'm from Barcelona. Sixty or so artists from 27 different countries will be at this crossroads for European music. It's an opportunity to discover musicians whose names might not be known outside of their own countries, and to hear Czech, Danish and Finnish music.
In Clermont, the region's capital, the festival can be found in the area around the emblematic Cooperative de Mai venue, with two marquees and an entire road given over to various events. As part of its Europe-wide ambitions, there are 52 young ambassadors for you to meet who have come to represent the 27 countries of the European Union.
French electro's main ambassador to the US, Pascal Arbez-Nicolas, aka Vitalic, uses nothing but synthethisers to create his music. Nicknamed 'rave's Wagner', he's just one of the young talents the festival has to offer.
It's hard to get more European than Lonely Drifter Karen: an Austrian singer gets down with a Spanish pianist and an Italian drummer. A fresh, jazz-folk hybrid.
As sexy as Beyonce and as angry as The Clash, Britain's Ebony Bones doesn't just fill the stage, she takes it over. This wild, psychedelically dressed singer headlines the festival's indie rock night.
Who has never asked themselves what Icelandic folk music sounds like? Sindri Már Sigfússon, from the group Seaber and performing as Sin Fang Bous (a name apparently created from his name, his teeth and how he thinks his music sounds) , has music as experimental as his solo project's name. If you're new to freak-folk, come and discover this mix of acoustic guitars, percussion and drones (long sustained notes).
Keep up to date with all the news from the festival with the videos on the Puy de Babel, the official babelblog from the local cafebabel.com team in Clermont-Ferrand. And with a bit of luck, hearing all these Europeans make their voices heard might inspire you to make yours heard too, in the European elections!
Translated from Europavox : des guitares européennes en plein terroir français